Business
›
Banking & Finance
The banking giants' dim sum offerings are the first after the city is allowed yuan-clearing
HSBC Holdings and Standard Chartered sold 1.5 billion yuan (HK$1.9 billion) worth of notes in Singapore yesterday in the first dim sum bond issuances since yuan-clearing became available in the city state.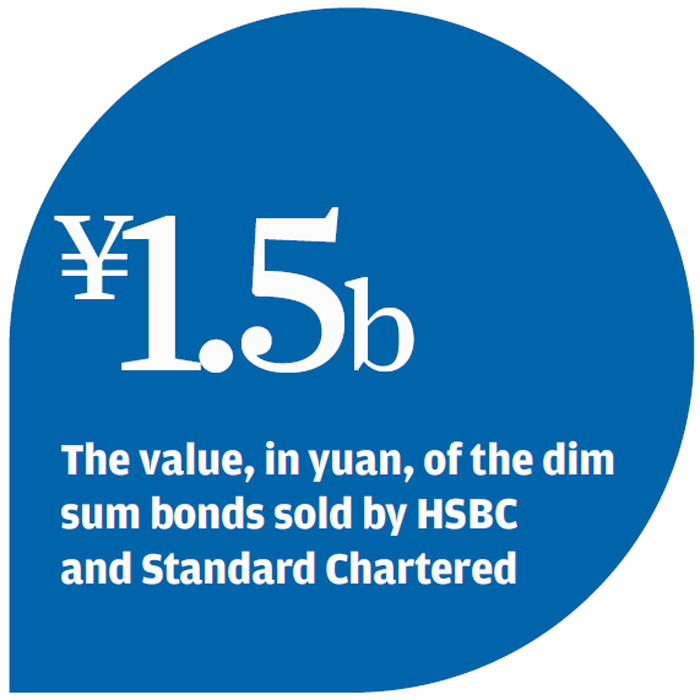 China has been relaxing controls on the yuan in order to gradually increase the use of its currency abroad.
Industrial and Commercial Bank of China has begun yuan-clearing in Singapore, the world's fourth-largest foreign exchange trading centre and the main Asian base for oil and commodity traders.
Separately, Singapore Exchange yesterday launched depository services for yuan-denominated bonds in a bid to support the city's development as an offshore hub for issuers and investors of such bonds.
Yuan-clearing has already been available in Hong Kong and Taiwan, and previously, much of the yuan activity in Singapore had to go through Hong Kong where yuan transactions could be cleared by Bank of China.
Matthew Cannon, the head of global markets at HSBC Singapore, said proceeds from the yuan notes, which offer a yield of 2.25 per cent, would be used to finance the bank's expansion of yuan-based lending assets.
"This issuance will help open the market to other issuers looking to fund themselves internationally in yuan, offer new investment opportunities to the substantial pool of wealth managed in Singapore and assist in funding the rapidly growing RMB-denominated trade business in Asia," Cannon said.
HSBC's earlier pricing meant it beat rival Standard Chartered to the punch.
Standard Chartered raised one billion yuan through a three-year offshore bond priced with a coupon of 2.625 per cent. The bank received more than three billion yuan in orders from 75 investors across Asia, it said.
Besides HSBC and Standard Chartered, DBS Group is also planning to issue yuan-denominated bonds. Singapore's largest lender announced its plan last week but has yet to launch the debt securities.
The yuan hit a record high against the US dollar yesterday after the central bank set the midpoint of its trading band at its strongest level.
Topics:
HSBC
Standard Chartered
Yuan