Despite strong export figures for last month, outgoing commerce chief says depreciation of US dollar and yen may have negative impact
The outgoing commerce minister fired a parting shot at Japan and the United States over the negative impact of their monetary easing on China's trade.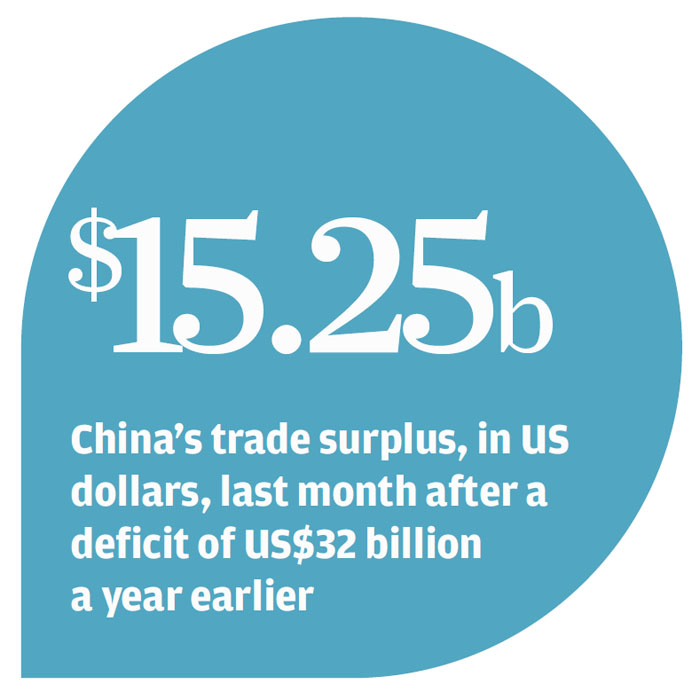 Chen Deming's criticism came as unexpectedly strong figures were released yesterday for mainland exports last month.
The data may boost confidence in improving demand from export markets. But analysts say the figures may also provide China's major trade partners with ammunition to press Beijing for a stronger yuan.
Chen, speaking at probably his last press briefing as trade minister, warned that the depreciation of the yen, euro and US dollar could hurt China's trade and fuel inflation.
Mainland exports jumped 21.8 per cent last month from a year earlier, customs data showed, far surpassing a consensus estimate of an 8.1 per cent rise. Imports fell 15.2 per cent, again confounding market forecasts of an 8.5 per cent decline, following a 28.8 per cent year-on-year gain in January.
That created the mainland's first February trade surplus of US$15.25 billion in three years, compared with a trade deficit of US$31.98 billion a year earlier.
"The yuan will likely continue to see appreciation pressures," said analysts at Australia and New Zealand Banking. "But it may not be in China's interests to see a strong yuan while the Japanese yen weakens."
Chen urged developed countries to curb spillover effects resulting from their quantitative easing policies.
The yuan will likely continue to see appreciation pressures. But it may not be in China's interests to see a strong yuan while the Japanese yen weakens
"Regarding the economic trend this year, I'm most concerned about inflation. I'm concerned about competitive currency depreciation," he said.
Many economists suspect exports last month may not have been as strong as reported.
Analysts at banks including ANZ and Goldman Sachs said exporters may have overstated shipments in an effort to sidestep Beijing's capital controls and move more money into the mainland. Societe Generale economist Yao Wei noted a disparity between China's figures and those of its neighbours.
The customs data showed mainland exports to the European Union rose 15.3 per cent, while shipments to the US gained 14.4 per cent. But South Korea and Taiwan reported double-digit contractions in trade with those regions, she said. Mainland exports to Japan declined.
Imports fell more than expected, partly owing to holiday distortions. But imports of commodities including copper and crude oil dropped from a year earlier in the first two months combined, indicating domestic demand may have weakened.
Chen also called on Washington to be "more open and transparent" in its national security review process, saying some legislators still have a Cold War mentality when assessing investment from China.
In October, mainland heavy industry giant Sany sued the Obama administration for blocking its investment in an Oregon wind farm, accusing Washington of unfairly discriminating against Chinese firms.
"For every three Chinese yuan planned to be invested in the US, only one yuan is approved by the authorities," Chen said.