When a failed global-warming experiment kills of most life on the planet, the sole inhabitants are on board of the Snowpiercer, a train that travels around the globe. Unsatisfied with the class system that has formed within, the poor revolted to seize control of the engine. A sci-fi action thriller, "Snowpiercer" is also the winner of Best Film, Cinematography and Director at the 33rd Korea Association of Film Critics' Awards.
Now it is your chance to experience "Snowpiercer" which is opening in Hong Kong on 28 November.
Terms and Conditions:
TERMS AND CONDITIONS
- The first 50 participants with the correct answer will be notified by email and have tickets delivered to their specified address. 
- Each winner will be entitled to a pair of tickets to "The Snowpiercer".
- One entry per HKID holder will be qualified for the registration, multiple entries will be deemed disqualified.
- South China Morning Post Publishers Ltd. ("SCMPP") reserves the final right of decision on all matters relating to this offer.
Images: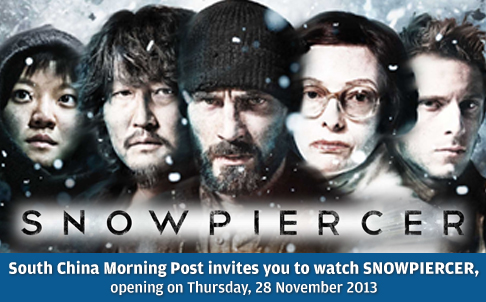 Sub-heading:
Opening on Thursday, November 28th
This promotion has now closed.
Get your free tickets to "The Snowpiercer" by answering the question below. The first 50 participants with the correct answers will receive a pair of complimentray movie tickets.
Question: 
What is the name of the train that goes around the globe in the movie?
You have already entered this promotion.
Saturday, 07 December, 2013 (All day)