A fictional film set in the alluring world of one of the most extraordinary scandals of the 1970s, American Hustle tells the story of brilliant con man Irving Rosenfeld (Christian Bale), who along with his equally cunning and seductive partner Sydney Prosser (Amy Adams) is forced to work for a wild FBI agent Richie DiMaso (Bradley Cooper).  DiMaso pushes them into a world of Jersey powerbrokers and mafia that's as dangerous as it is enchanting.  Jeremy Renner is Carmine Polito, the passionate, volatile, New Jersey political operator caught between the con-artists and Feds. Irving's unpredictable wife Rosalyn (Jennifer Lawrence) could be the one to pull the thread that brings the entire world crashing down. Starring Bale (The Dark Knight trilogy,) Adams (Man of Steel) and Jennifer Lawrence (The Hunger Games series,) this powerful film, rife with raw emotions and life and death situations, has already received ten Academy Award nominations and won three Golden Globe awards.
Terms and Conditions:
- The first 100 participants with the correct answer will have tickets mailed to their specified address.
- Each winner will be entitled to a pair of tickets to "American Hustle".
- One entry per HKID holder will be qualified for the registration, multiple entries will be deemed disqualified.
- South China Morning Post Publishers Ltd. ("SCMPP") reserves the final right of decision on all matters relating to this offer.
Images: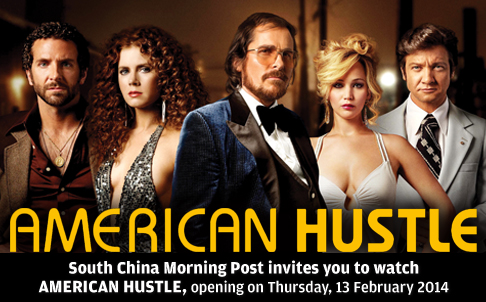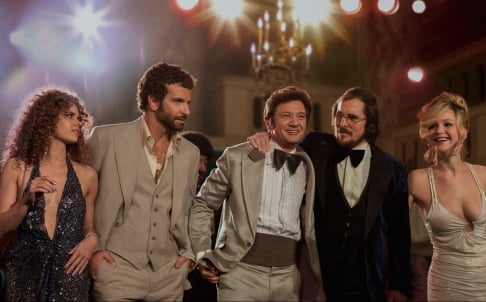 Sub-heading:
Opening on Thursday, February 13th
This promotion has now closed.
Get your free tickets to "American Hustle" by answering the question below. The first 100 participants with the correct answers will receive a pair of complimentary movie tickets.
Sponsored by:

Question:
How many Golden Globe awards did American Hustle win this year? 
You have already entered this promotion.
Saturday, 08 February, 2014 (All day)