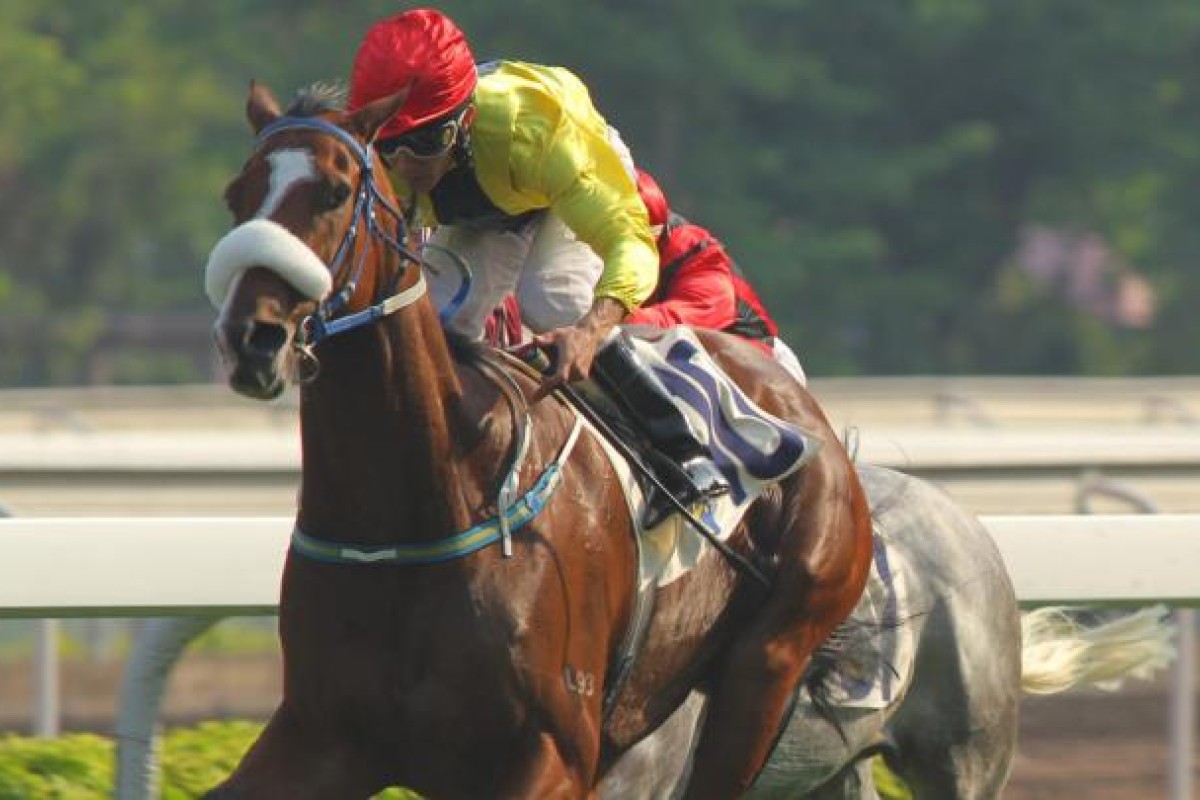 South African Richard Fourie was a man on a mission at Sha Tin twice this week with six-year-old Chater Way and the success of the second plan may well have had the first to thank for it.
The first mission was when Fourie jumped on the David Ferraris-trained Chater Way for his final piece of work before the Class One Egret Handicap yesterday, and then over did it.
"David let me take him on the grass and he said to me to let the horse do a bit," said Fourie. "Well, when he started off, he took a bit of a hold and I thought he was a bit fresh and might be hard to handle in the race so I let him work pretty hard. As a result, he was much more relaxed today and that's why I was able to take a risk and push forward on him and he didn't overrace like he might have."
After Fourie had led throughout to give Chater Way his first win in over two years, Ferraris agreed "maybe that hard gallop was just what he needed."
"In South Africa the jockeys don't work horses the same way, they don't have the same sense of the sectional times horses are working and I was a bit worried he might have done too much. But with the couple of days to get over it, he was great today," Ferraris said.
Chater Way has been something of a victim of the Hong Kong system, winning impressively in Class Three on debut, then placed in the Group One Classic Mile at his fourth start and his rating has been 99 or more for 2½ years since, despite not winning.
Recently, though, he has had a little assistance from the handicapper and got a drop in rating to the bottom-end of Class One which paved the way to the win at the bottom of the weights, with Chater Way ridden more forward than usual.
"With the light weight and the trend of the day, I said to Richard that they didn't seem to be winning from back in the field," Ferraris said. "My one concern with going forward though was that he might get stuck wide and then overrace. But once he got around to the lead and the rail, he pricked his ears and I knew they would have a job to run him down - he can run some terrific times."
Late moves in the betting for the race proved entirely accurate, with Chater Way backed from $140 to $76 and he never looked like being gathered in by the chasing group, while Fulfil A Wish, himself $100 to $66, staved off Beauty Flash for the quinella spot.
While he hasn't been in the winner's photo for a while, Chater Way hasn't been exactly wasting his time, with the trainer pointing out his stake earnings.
"That takes him past HK$7 million in stakes here, so he has paid his way. And he is just a lovely horse to train," Ferraris said.
And the second mission for Richard Fourie? Well that was to win a race, any race, yesterday in celebration of the fourth birthday of his daughter, Mia, whose name is quite literally tattooed on the jockey's arm. It just happened that the race he won was also the biggest race on the day.