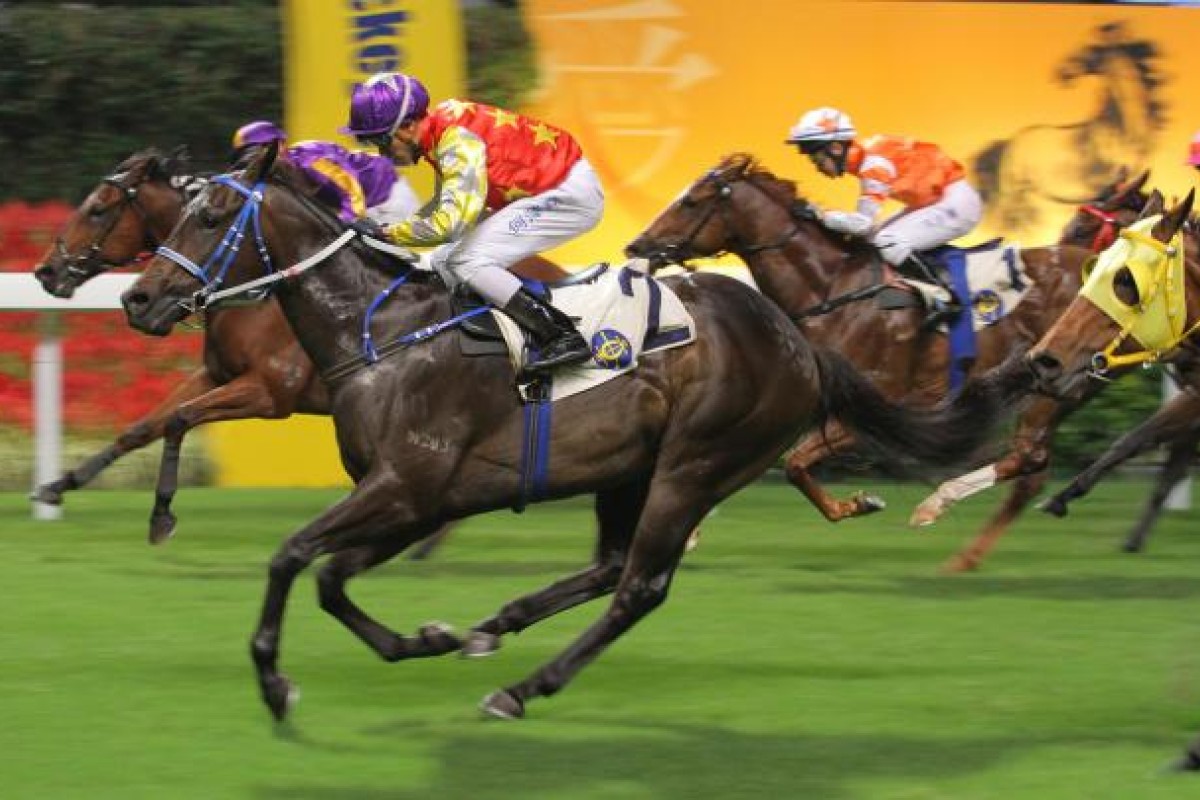 Caspar Fownes linked up with his apprentices past and present to land a winning double at his happy hunting ground last night but the future of the two horses could still be headed in different directions.
A former Fownes junior, Jacky Tong Chi-kit, was on board as Easy To Rich stunned punters by leading all the way in the third race at over 50-1 odds.
And Fownes' present apprentice, Vincent Ho Chak-yiu, was in the saddle as Silver Osmanthus stamped himself a useful sprinter in the making to take the feature race, the Community Chest Cup (1,000m).
Silver Osmanthus was gelded during the off-season, usually a gear change that sees horse drop in body weight,.
But Fownes said he had been pleased at how strong Silver Osmanthus had remained.
"He's done really well. He was such a big bull of a horse prior but even after the gelding he hasn't dropped away," said Fownes.
"I think he has the makings of a useful sort around here at 1,000m and 1,200m - probably the extra 200m at 1,200m will be better for him. It took him all the 1,000m tonight to get to the front."
While things are looking up for Silver Osmanthus, Easy To Rich is still on a provisional licence despite winning at his fourth race start in the 1,650m Class Four contest.
"He had had a race this season so he was fit and up in trip and Jacky rated him well in the lead but frankly the horse has never shown us much," Fownes explained.
"He was a real ratbag to handle last season and we were in the process of giving him his five races before deciding whether he would be retired and replaced.
"And he's not out of the woods yet - I'm going to back him up from this and see if he can do that again and whether we should persist with him."
Fownes narrowly missed a treble when Best Win just failed to hold out All Victory in the seventh, but the winner gave trainer Tony Cruz and jockey Matt Chadwick their first success of the season and took Cruz down memory lane in his association with owner Lam Chok-fai.
"The first time I won for him was a horse called All Brave when I was an apprentice, more than 30 years ago," Cruz said. "So we go back a long way and he has just given me a new horse, All Lucky."
Last season, All Victory won on opening day to give Cruz and Chadwick their first win for the term and so it was last night, with Cruz strangely without a win until the fourth meeting.
"Last season, I thought this horse would run 1,400m but we tried him and he failed so I think he is only a 1,200m horse - maybe 1,300m would be perfect but we don't have those," Cruz said.
"He was trapped wide at Sha Tin first-up from a bad draw - it was nobody's fault - but he had an inside draw tonight and that was the difference."
Fownes also had a "hand" in another winner, as he was the trainer of Ocean Wide in his early days.
The eight-year-old had not won since the move to Gary Ng Ting-keung - in fact he hadn't won for 3-1/2 years - but led throughout for Eddy Lai Wai-ming in the sixth.
Tye Angland was the riding star of the night, winning for Danny Shum Chap-shing on Eastern Empire in the second race.
He then added to his tally on the Derek Cruz-trained Fun Rider at long odds in the final race.