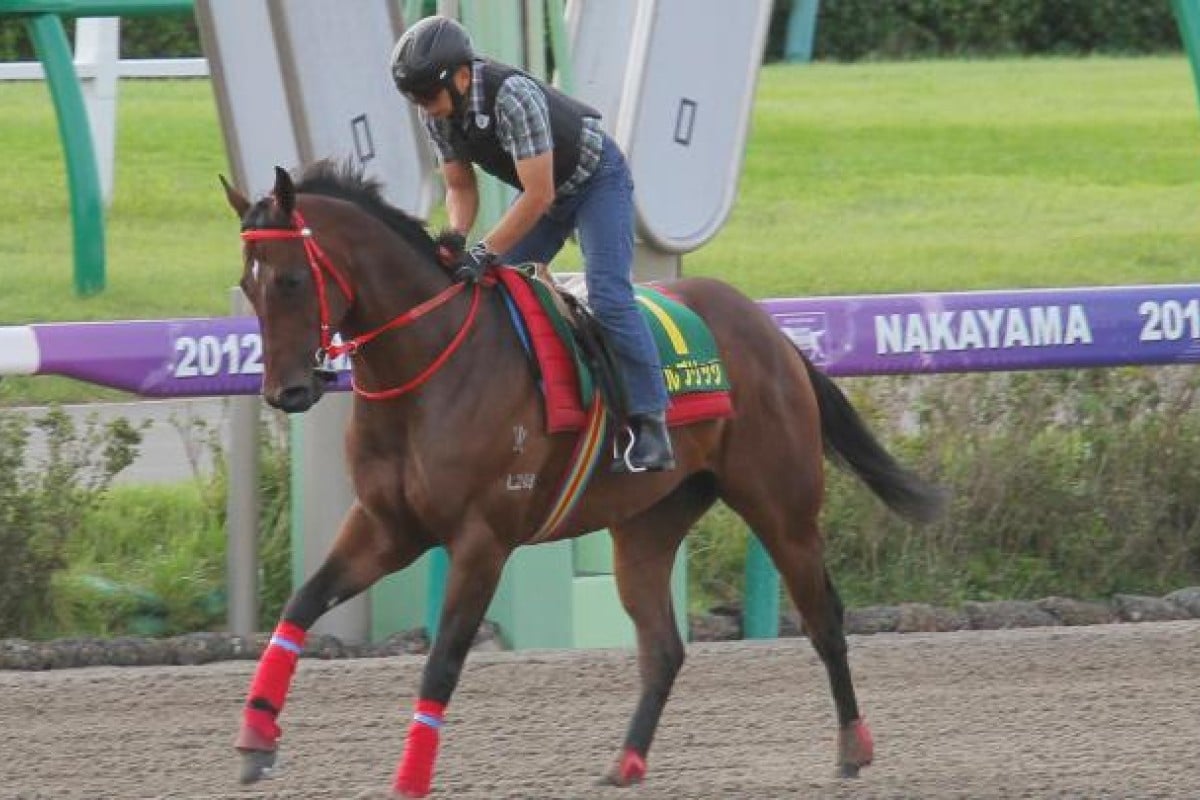 The confidence of Little Bridge's trainer, Danny Shum Chap-shing, was as much of a juggling act yesterday as his preparation of the star galloper for Sunday's HK$19.7 million Sprinters Stakes at Nakayama.
While beaming at the condition of his Royal Ascot winner, Shum was alternatively admitting there were question marks to the whole Tokyo trip.
Little Bridge has not run since his King's Stand Stakes triumph on June 19 in the UK - a question mark in itself and also an extra test of the trainer's skill in having him fit to run well on Sunday.
Victory in the eighth leg of the Global Sprint Challenge would set up Little Bridge to earn a US$1 million bonus for taking three legs of the GSC series if he also wins the Longines Hong Kong Sprint on home soil in December.
"I can't say he is 100 per cent but he is getting better every day," Shum said. "After Royal Ascot, Little Bridge stayed five weeks in quarantine in England and then another two weeks when he got back to Hong Kong.
"When he was in quarantine at home, I sent my staff to give him some light exercise, otherwise he could never have been fit enough to come to Japan - and that was always our plan."
When Little Bridge barrier trialled at Sha Tin on September 1, jockey Zac Purton got off and told Shum the horse would need a lot more work to be competitive in a top-grade race.
"At that time, I would say Little Bridge was probably only 80 per cent fit. I was really a bit worried about whether to come here or not,," Shum said.
"Now I would say Little Bridge is 95 per cent fit. Not as fit as he was at Ascot, but that is balanced by the fact that he is fresh.
"Royal Ascot came at the end of the season so he was very fit but not as fresh."
For Little Bridge, who finished his serious preparation work for Sunday's race on Wednesday, the highlight of his session yesterday was the appearance of other horses.
Shum arrived in Japan on September 11 with the gelding and Little Bridge had been alone at Nakayama for the best part of two weeks until fellow Hong Kong representative Lucky Nine and Singapore sprinter Captain Obvious arrived on Wednesday.
"When you have him on the track on his own, he is very relaxed and just saves his energy, but when he sees other horses he is happier and he wants to chase them and he made me pull him back this morning," Shum said.
Shum travelled horses around the world many times as the assistant to the late Ivan Allan, including several trips to Japan, but he has departed subtly from the methods Allan used.
"We never took a horse to a race more than 12 days before, anywhere," he said.
"But I think I gained some experience doing that which told me the horse would benefit from going earlier. That's why I wanted Little Bridge to be in England for five weeks with me before Ascot.
"Of course, the Jockey Club wasn't happy about that so the horse went for three weeks and I went for two. And it's also why I came to Japan early.
"I wanted Little Bridge to have more time at Nakayama racecourse after he came out of the quarantine centre, so he could get used to it."
By contrast, rivals Lucky Nine and Captain Obvious will have only a few days at the track before the race. Shum said: "Training for this race is slightly different from training Little Bridge for Ascot.
"For one thing, this is the first time he has been more than three months without racing - and I just don't know if it will have any effect until we see in the race.
"My job is to have him fresh, fit enough to do well, but also have him relaxed.
"After coming to Japan many times for Mr Allan, I know the procedure before the race here, from the stables to the start, is quite long and horses can become quite nervous.
"So I have been walking Little Bridge a lot to keep him relaxed but still fresh."
Both Shum and Dale Bussey, travelling with Lucky Nine for Caspar Fownes, declared their horses' bodyweights right where they want them after putting them on the scales yesterday morning.
"Lucky Nine is spot on his fighting weight," Bussey said.
"He just loosened up on the dirt this morning but Caspar will be here Friday morning and Brett Prebble will do something more serious with him."