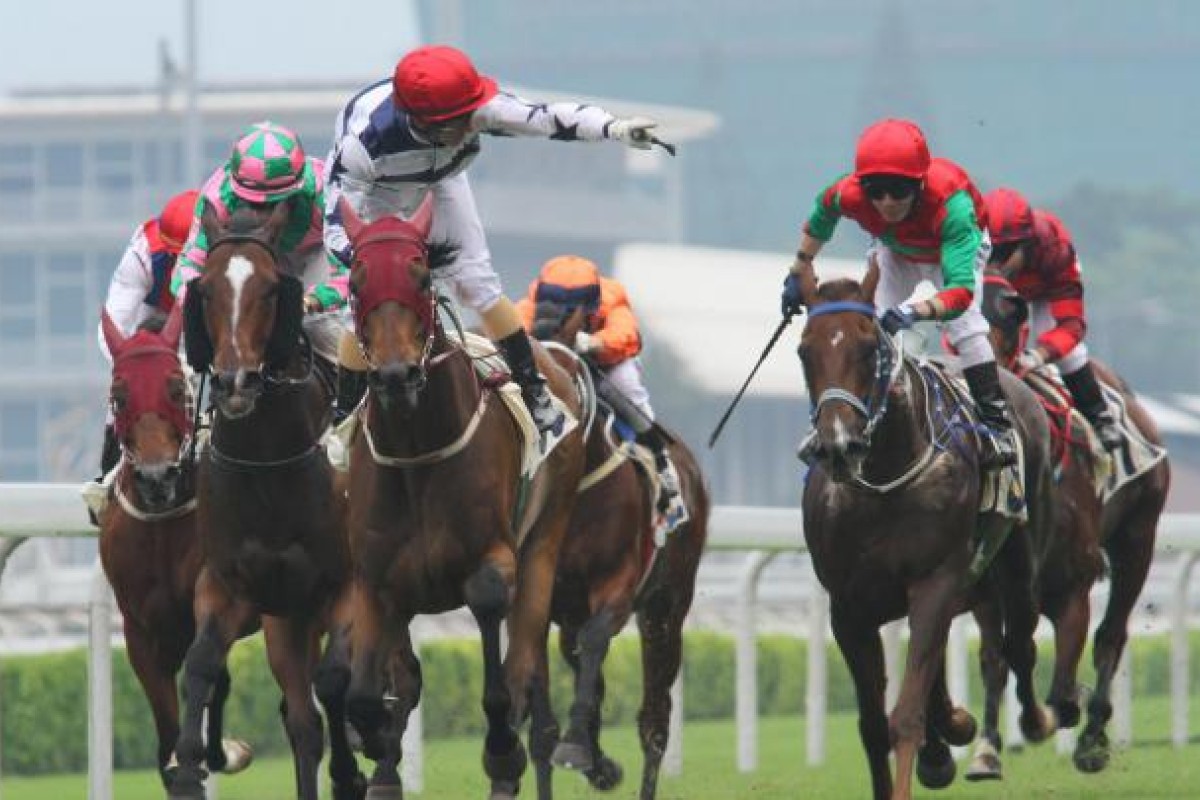 John Moore was at it again yesterday winning the day's Group Three feature at Sha Tin with Packing Ok, but what was different was how much attention he put on a Class Two winner for the same owner's family.
Olivier Doleuze used gate one to perfection to score a 20-1 upset in the National Day Cup for Moore, downing Aashiq and Helene Spirit, and relegating some more highly rated stablemates to the unplaced brigade, including Admiration, Dominant and Destined For Glory.
It kept intact Moore's status as the man to beat any time the Group races are on, yet it wasn't the race that was getting Moore excited.
"I just said to the owner then, 'there's your Group One horse,' " said Moore later after Packing Whiz and Tim Clark came from near last to win the 1,600m Class Two brilliantly for Lee Man-yan, whose son Raymond Lee Man-chun owns Packing Ok.
"Packing Ok was headed to the Ladies' Purse in two weeks at 1,800m but this win might take his rating too high and make him ineligible. And that means he'll have to take on the really big names. You can catch him fresh because he's not a good doer in the stable and doesn't put a lot of condition on - he probably won't eat for three days after winning this."
Doleuze was having his first ride on Packing Ok and had been greatly encouraged by a "very pleasing" barrier trial and some excellent lead-up work to yesterday's race.
"I felt he was flying - I thought he was a chance and then when I got barrier one, I wouldn't have changed for any other ride before the race," Doleuze said.
"John is the trainer and I'm sure he knows what the best is for the horse, but the way he feels to me is that if he was kept to maybe 1,400-1,600m, that might be how to get more out of him."
Stepping up against the likes of Ambitious Dragon or Xtension now is a proposition Moore feels might be beyond Packing Ok, but Packing Whiz is a different proposition altogether. Every jockey who rode him last season called Packing Whiz a future star, and Moore and Clark were singing the same tune yesterday.
"I think this is the horse that might go to the top level for the family," Moore said. "I can't say I was confident of winning today - actually I thought my runner-up, Victory Master, would win the race. At 1,400m, I thought Packing Whiz was ready to run well but there were no 1,400m races for him and we had to go to a mile and that was the problem.
"I just asked Tim to drop him out the back because he could overrace a touch last season, but he settled well, finished off strongly up the inside and surprised me."
Clark said that far from being on the steel overracing yesterday, Packing Whiz had even been off the bit in mid-race.
"What really pleased me was that, although I got the front too soon and he was in need of the run, when the stablemate came at me with the big weight difference, Packing Whiz really wanted to fight," Clark said. "That's a very good sign."
Moore said he had been happy enough with season-opening runs in the National Day Cup from stayer Dominant and from Destined For Glory, but explained he would be watching Admiration's progress in the coming days.
"Brett said Admiration came out of the gates a bit awkwardly and might have overreached," Moore said. "The vet will keep his eye on him to see if he is sore at all after that, but all being well, he'll go on to the Group Three mile race on the 28th of this month."