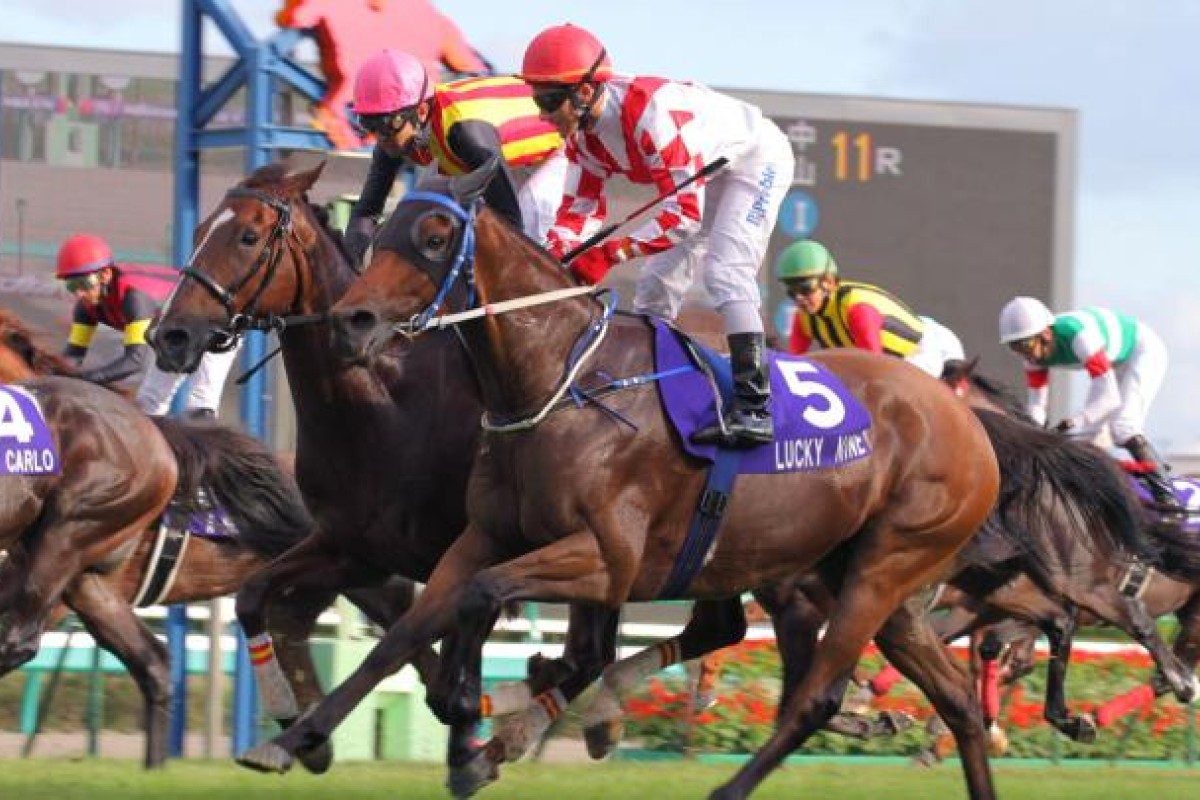 Sunday's Sprinters Stakes in Japan only served to highlight how difficult it is to win races on foreign soil, even if you have the horsepower.
For Lucky Nine, the switch of venues, and the rules that go with the venues, meant being unable to have an attendant in the gates and that helped him to miss the start. When any mapmaker could have expected him to be sitting midfield and in a great striking position behind the hot pace, Lucky Nine was towards the rear instead.
Then he was going backwards rounding the home turn to get out from behind runners when Brett Prebble would certainly have wanted to be working into the race and ready to issue a big finish. He did unleash that big finish, but from further back - the official leader-to-leader sectionals from the 400m to 200m and 200m to finish, respectively, were 11.3 seconds and 11.5 seconds and you can probably slice Lucky Nine's sectional to 21 seconds and not much change.
In Little Bridge, the lesson was one that we have seen many times in past Decembers - local horses target their own international events, are screwed down tight and not leaving anything out on the track, and woe betide the visitor that turns up without giving the race the same focus. It can't be an afterthought and it can't be tackled with something left in the tank for later.
Sunday's quinella horses, Lord Kanaloa and Curren Chan, had been beaten at their previous run when resuming from breaks and lacking fitness - in Curren Chan's case, six months away from racing. But for the Group One, and there are only two a year for sprinters in Japan, their trainer, Takayuki Yasuda, had worked them and squeezed them and they turned up rock-hard fit.
Considering Little Bridge had spent seven weeks in quarantine in the UK and Hong Kong after Royal Ascot, and there was 15 weeks between the King's Stand Stakes and the Sprinters Stakes, the race was a decent ask for horse and trainer.
As Zac Purton pointed out, trainer Danny Shum Chap-shing had done well to have Little Bridge back to his winning weight from Ascot, but the sprinter just wasn't fit enough for what transpired. The official splits from the 1,000m to the 800m and 800m to 600m were 10.1 seconds and 10.6 seconds, low flying, and it was clear an underdone Little Bridge was feeling the heat by halfway.
Curren Chan was the moral winner in the duel with Lord Kanaloa - the winner had a much easier trip - and last year's brave fifth in the Hong Kong Sprint is a worthy visitor again, along with her stablemate. But the shoe will be on the other foot when they get here in December to find the Hong Kong horses at their best and on home ground.