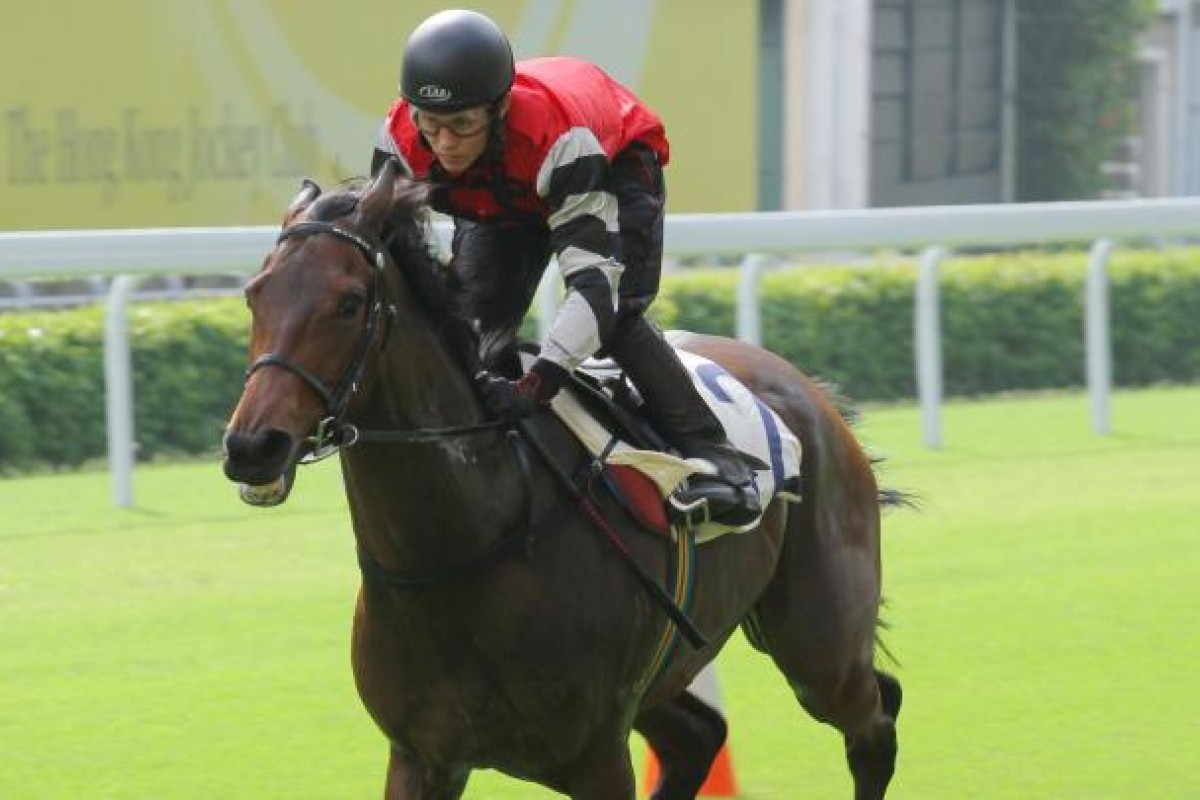 Sudden Thunder returns from injury with a tricky draw, but it is still the best gate the talented Tony Millard-trained sprinter has jumped from and he can be at the centre of selections in tomorrow's Triple Trio at Sha Tin.
Barrier seven and top weight of 133 pounds are the obstacles facing him, but Sudden Thunder has shown a tendency for toughness in a fight and seems better than his Class Four opposition in the middle pin of the TT.
In two starts on the circle, Sudden Thunder has drawn nine and 12, enduring torrid trips both times and, if jockey Richard Fourie can catch even a glimpse of the rail, he will be in better shape than those pair of brave efforts.
A suspected stress fracture in his right front cannon bone stopped Sudden Thunder's season in May, but he has since returned with a strong Happy Valley trial and produced two strong gallops since, to soothe any doubts about his soundness.
Finishing second to Sudden Thunder was Silver Dragon - drawn one and with a huge weight turnaround since that last clash - who looms as the biggest danger and a possible double banker option.
Silver Dragon (Zac Purton) seems soft in a finish - but he has dropped six pounds, and Sudden Thunder has gone up five, since their last meeting - and the Me Tsui Yu-sak-trained grey also gets some points for a decent first-up run.
Approve (Tim Clark) is an exceptionally bred and high-priced yearling purchase who has shown rapid improvement in his three trials and should be included, along with Bless Us All (Derek Leung Ka-chun), Speechmaker (Olivier Doleuze) and Always Well (Vincent Ho Chak-yiu).
The first leg is another Class Four, 1,200m, where a lack of pace could bring a couple of moderately performed plodders into play.
Maelstrom (Andreas Suborics) can run cheeky races when left alone in front or box seating and is coming off a decent first-up effort. He goes in with All Friends (Tye Angland ), another horse second-up who drops to a good draw (two) and has won off this mark over this trip on the dirt previously.
It's rare that a John Size-trained, Douglas Whyte-ridden runner would make a play for the lead from gate nine. With blinkers on, the raw but talented All Bountiful may be let stride - he has some quirks but seems above-average in ability and should be included.
Two to consider are bottom-weight Sunshine Boy (Ben So Tik-hung) and stable transfer Danewin Tiger (Howard Cheng Yue-tin).
The final leg, a Class Four over 1,400m is by far the strongest and most open and, from gate two, Supreme Genki (Matthew Chadwick) is the only strong hope to draw well. Include him as a banker from Craig's Pride (Whyte), Elephant Magic (Terry Wong Chi-kit), Super Horse (Purton) and Cool Bean (Ho).
The Jockey Club will introduce new racing programming tomorrow night, focusing on its simulcasts of major overseas racing events.
The show, Racing 360, will be hosted by Jeremy Greene, Jason Tan and former well-known Australian racing presenter Jo McKinnon and tomorrow night's opening edition of the programme will be a guide to the Prix de l'Arc de Triomphe meeting in Paris on Sunday.
Racing 360 goes to air at 7pm on Cable 64/204, 10pm on Cable 18/203 and at 11.30pm on ATV World. The Arc meeting will be shown from 7pm Sunday on ATV World.
---
TRACK STARS
Race 1: (2) Able Dragon, (3) Full Value, (7) Precision Magic, (10) Hong Kong Fat.
Race 2: (1) Diamond Angel, (4) Real General, (6) Telecom Top Star, (12) Viva Dolphin.
Race 3: (1) Travel Brand, (5) Good Thinker, (6) Glory Of India, (8) Panther Run.
Race 4: (1) Intellectualstride, (8) All Bountiful, (11) China Angel, (12) Danewin Tiger.
Race 5: (1) Sudden Thunder, (4) Country Charm, (6) Speechmaker, (13) Able Magic.
Race 6: (1) Craig's Pride, (3) Elephant Magic, (8) Super Tiger, (10) Twin Turbo.
Race 7: (2) Loving Star, (3) Winning Leader, (4) Radiomarelli, (5) Jolly Fine.
Race 8: (2) Helene Fun Star, (6) Glory Horsie, (8) B Choice, (8) Super Fresh.
Race 9: (3) Rich Tapestry, (11) Sir Eagles, (12) Frederick Engels, (13) Simple.
Race 10: (2) Racing Hero, (7) Galaxy Prancer, (10) Shahjee, (12) The Fast Lane.