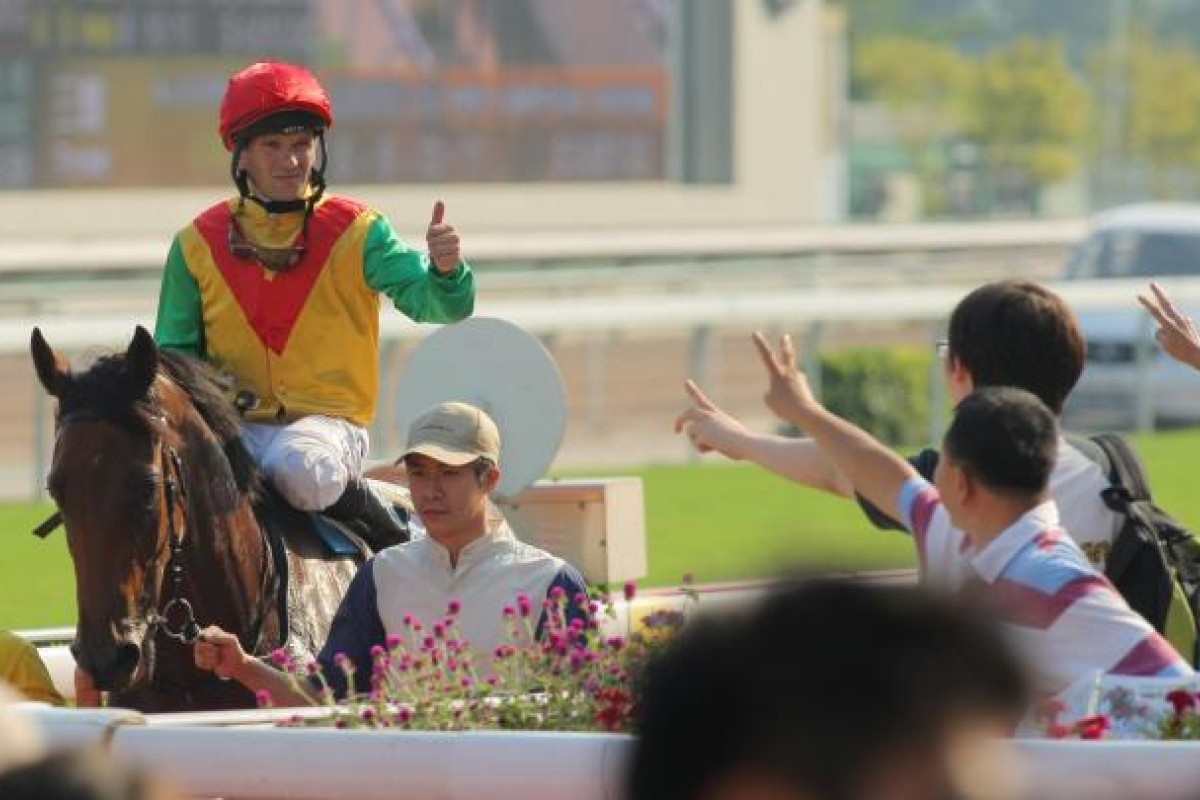 The last trainer to get off the mark for the new season, Sean Woods did it in style with back-to-back victories and was seen an unusual role leading in the previously unraced Goldland Dancer to break the ice.
Woods tends to concentrate his business around experienced imports, Private Purchases, rather than unraced youngsters that come into Class Four and those he does have kicking off in the latter category usually race themselves into form and understanding before winning.
As a result, Goldland Dancer (Andreas Suborics) was just the second unraced debutant to win for Woods during his 10 years based at Sha Tin, and for one of his longest-standing clients, Peter Chu Ka-lok.
"I think Peter was the first to give me a horse here when I got a licence but our association is much longer than that - I trained for him in England for years and we had great success," Woods said. "I won Group Ones for him, and he owned the best horse I've had here, too, King Dancer, so we've had a terrific association over probably 25 years."
So when Goldland Dancer, bought out of a New Zealand trial, comes out to win on debut, the indications all round are that he is going to be something special.
"It's not my way to push them early so he has done that just on his natural ability," said Woods. "He's looked a nice horse in what he's done at home, even last season. We gave him three barrier trials but if he had raced as a two-year-old, he'd have had to race in griffin races and I said to Peter I didn't want that, it could mess him up. We just trialled him and left him alone."
Goldland Dancer is a brother to Le Baron, a middle-distance Group performer in New Zealand, and his grand dam is a sister to the Australian Group One performer, Getting Closer, famous for one of the greatest betting plunges of all time.
"He's by Golan and they improve with time and I'm sure this horse will be better with more time and more ground," Woods said.
Suborics was "very confident about the horse" going to his debut before the draw came out with him in barrier 12.
"In the end, we got a perfect trip and, for a first timer, he gave me plenty of help. His response was good when the gap came, although he was looking around a bit when he got the front," Suborics said.
Woods was back 30 minutes later to win with Radiomarelli (Douglas Whyte), a six-start maiden last season who benefitted from the addition of blinkers and some better luck.
"There was at least twice he could have and should have won last season, put it down to bad luck," said Whyte.
"But I thought his trial the other day was very positive and after it, Sean and I discussed it and were both of the opinion he needed blinkers. He had been getting there and not following through as I thought he could from what he had shown us and today he showed real tenacity. The second horse fought all the way to the line, so Radiomarelli had an excuse if he wanted to give up but he really wanted it."
Both jockey and trainer said the gelding will be better suited as he gets over even further than yesterday's 1,600m.