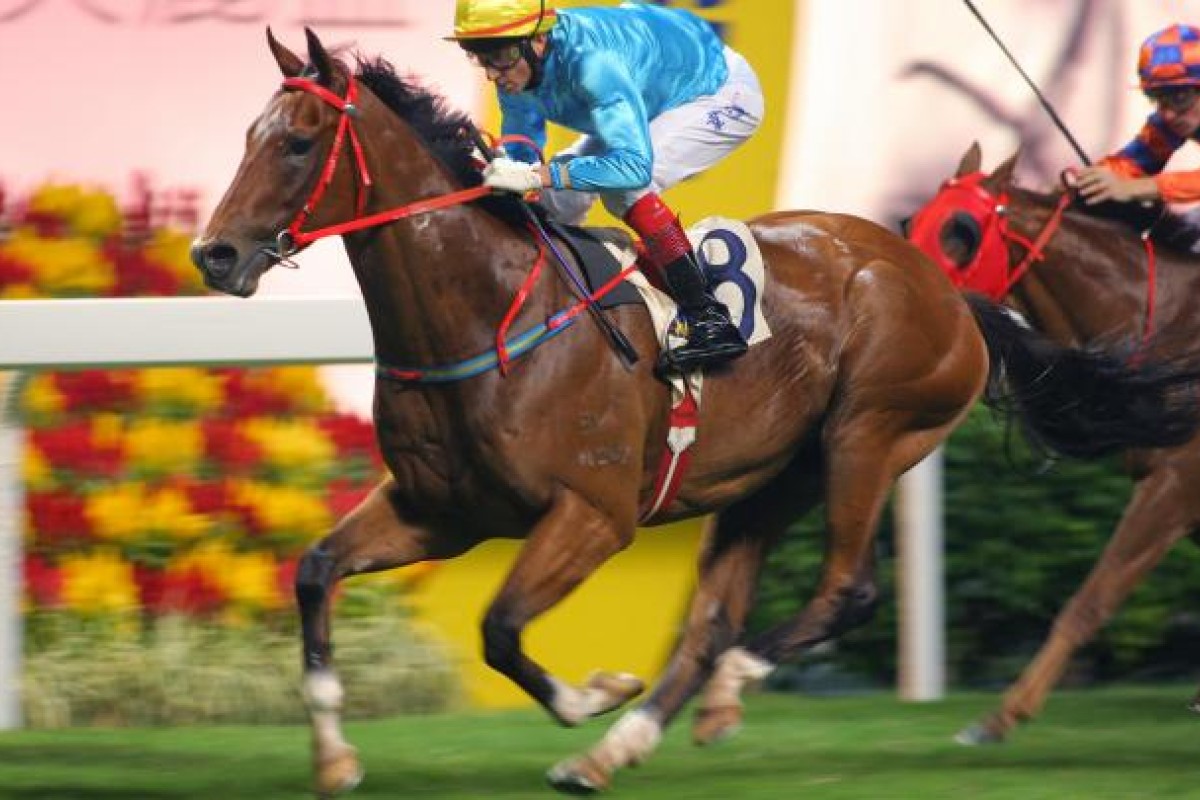 Champion jockey Douglas Whyte managed just the one winner at Happy Valley last night but it was enough to bring up 700 Hong Kong successes for the other half of the Dream Team, trainer John Size.
Size-trained Tour De Force had struggled manfully with awkward draws in two runs from his summer break and run with credit, but barrier two and a surface that was generally favouring horses up on the pace and near the rail turned it around.
The son of Al Samer took his record to two wins from four starts and was strong on the line as Size reached the 700-win milestone away from his preferred hunting ground at Sha Tin.
"He'd run well in both starts this time but he had the gate, had all favours and a soft run behind the lead," Size said. "He was strong to the line after it looked like the backmarkers running on might trouble him, but I suspect that they had to do too much work just to get up in striking range and they died on their runs.
The "no repeats" meeting saw eight winning jockeys and trainers, and Caspar Fownes and Tye Angland combined for the Carbine Club Cup, 1,650m, winning with Mighty K in the feature.
"Last season, he ran really well despite being immature," said Fownes. "He had the frame but needed to fill out and looking at him now I think there's still plenty of that to come. He's going to make a nice bread and butter horse."
Mighty K had been to Happy Valley once last season without making an impact but Fownes said he liked to persevere with horses like him at the city track.
"You find that they build up the strength to get around the turns and they often take a liking to the track, which is good as it gives you more options," he said.
Paul O'Sullivan had a similar tale to tell regarding Victory General (Tim Clark), who took advantage of his good draw to win the third race at his first appearance this season.
"In many cases, you win or lose your race at Happy Valley on Monday morning at 9am," O'Sullivan said. "I think you can safely say that Victory General is a product of an institutionalised Happy Valley preparation.
"When he arrived in Hong Kong, he was a bit crazy - he'd get to turns and just want to keep going straight. So I raced him here over and over last season till he started to get the idea. What I do like about him now is that he is switching off, so perhaps later in the season, I'd like to stretch him out beyond short sprints. I can see him handling 1,650m here if he'll relax."
Also getting the hang of things lately has been Fortune Bravo (Eddy Lai Wai-ming) who made it back-to-back wins in the Pine Handicap, 1,650m.
"He's a slow maturer - it took him 15 starts to know what he's supposed to be doing," said trainer Ricky Yiu Poon-fai. "He found it hard to win at Sha Tin but at least he has some tactical speed which helps him here. Still, he might be on his mark."
Secret Of Winning (Alvin Ng Ka-chun) finally made it back to the winner's circle last night, courtesy of a low draw and trainer Dennis Yip Chor-hong said the apprentice rider followed his instructions to the letter.
"I told him get to the front and get the rail and he did both," Yip said after leading Secret Of Winning back for his first victory photo since March 31, 2010. "This horse needs Happy Valley and needs a lot to go right. He's seven years old now so maybe we'll look at retiring him at the end of the season." Andreas Suborics earned himself a two-day ban on Straight Forward in the final race and he will miss October 21 and 24.