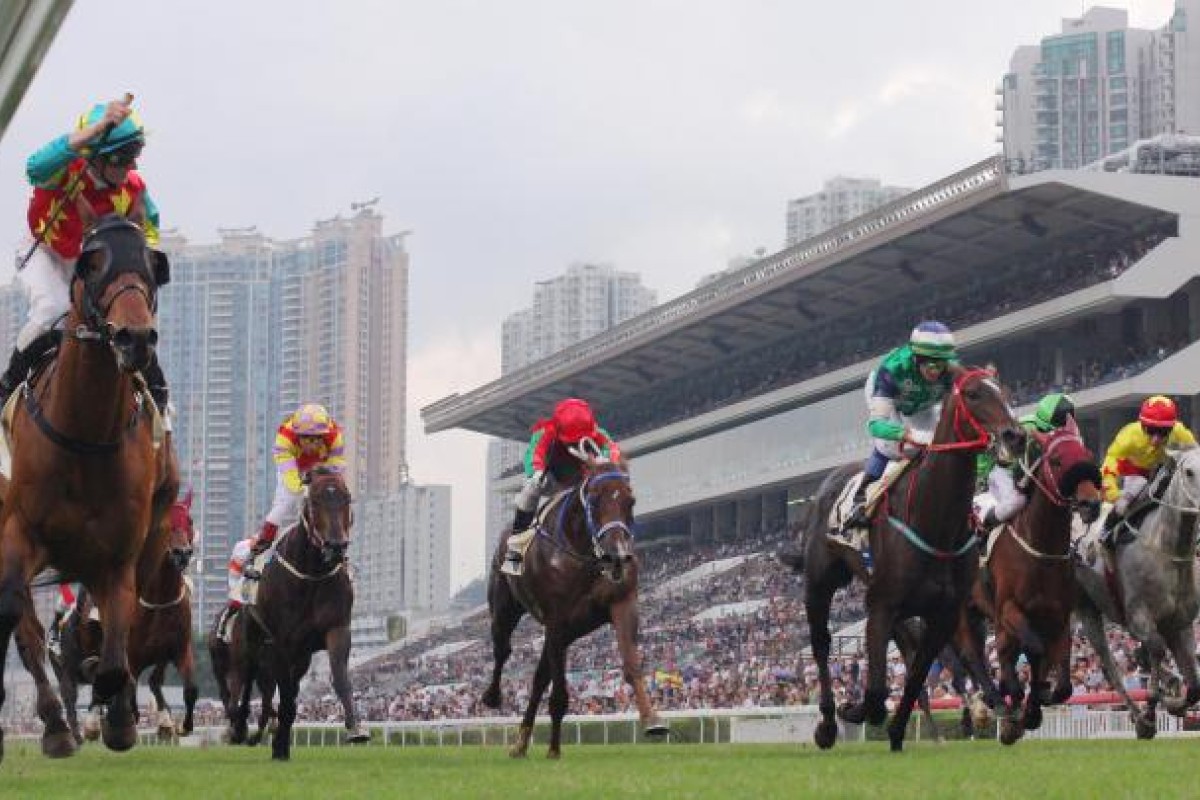 A deft move to slip away from the rail as soon as he bounced the gates in the Group Two Oriental Watch Sha Tin Trophy yesterday was all that Ambitious Dragon's new partner Zac Purton needed to flush all the words out of his head and let the Horse of the Year do his thing.
"Before the race? I thought we would be jammed up on the fence," admitted trainer Tony Millard post-race.
"Having barrier one is a great draw as long as you can utilise it and Zac did a great job, putting him in the right position and the biggest thing was that he was sitting where he was but hadn't had to do anything to get there. Then he asked him and we got the explosion."
Purton's first time on the gelding was fraught with difficulty when he drew barrier one and the possible tactical scenarios in a race with a question mark over tempo were myriad.
"I think that was the most instructions I've ever given a jockey, ever," Millard laughed in the afterglow of Ambitious Dragon's comprehensive defeat of Glorious Days, Military Attack and half a dozen of the other stars in training.
"Before the race, there were so many options and we had to think about it very carefully. Zac rode a copybook race - I love how the horse went today and I love how he rode him, so he's got the ride next time. No doubt."
But Purton began faster on Ambitious Dragon than Helene Spirit in gate two and moved immediately to cross in front of him and sit two wide.
"Full credit to Tony, having him in such good shape for a mile first-up and he wanted to try something different and have me be a bit more positive at the start, get off the rail and ride my own race from there," Purton said.
"When he began so well, it couldn't have worked out more perfectly. Going down the back, Zaidan was outside me three wide and I didn't want him staying there and being a pest so I came back a touch and let him get in two wide and then I was going to be able to come out whenever I wanted."
Ambitious Dragon had a familiar, menacing look at the 400m, ready to round up his rivals but Purton's job was to start counting.
"I said to Zac, whatever you do, you wait, then you wait, and then when you want to go you say to yourself Tony said wait and you wait a little bit more," Millard said. "That was the longest any jockey has had the guts to wait on him and you saw how he exploded."
Millard has yet to decide on Ambitious Dragon's goal in December, with entries for both the Mile and the Cup over 2,000m, but he will run next in the Jockey Club Mile on November 18 before any decision is made. John Size was happy with Glorious Days, who ran favourite and appeared to have his chance in second, while Derby winner Fay Fay had a wide run and ground out a worthwhile effort further back.
"We might tinker with the gear on Glorious Days - I wanted to try him in blinkers last season but decided not to while he was racing so well," Size said.
John Moore sent out five of the 14 runners and was most pleased with Military Attack and Zaidan (sixth), while Irian (10th) disappointed.
"The track was very firm and Irian would have felt that today," Moore said. "Any European horse would. But Military Attack and Zaidan ran well, they just blew up in condition late in the race as well as I thought they might. Admiration didn't get much peace up near the lead but I'm wondering if we should put blinkers on him and drop back to the International Sprint as we did last year."
Hong Kong Cup holder California Memory was a strong-finishing fifth, but trainer Tony Cruz said the big handicap weight had beaten the grey.