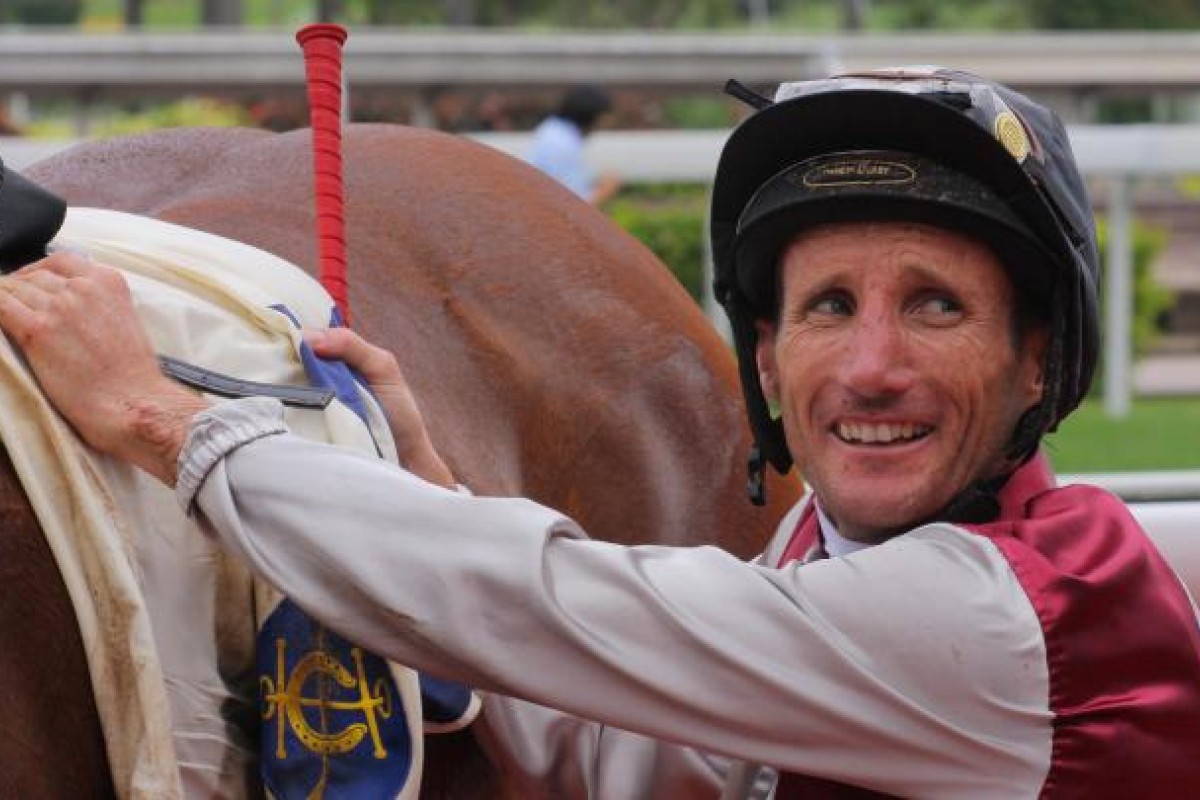 A betting scandal overshadowed the build-up to the Melbourne Cup after top jockey Damien Oliver reportedly admitted putting money on a rival horse in 2010.
The two-time Melbourne Cup winner wagered A$10,000 (HK$80,000) and expected to be charged soon, Fairfax Media said.
Fairfax said sources close to the champion jockey confirmed that he admitted last month breaching the rules of racing by betting on Miss Octopussy, who won at odds of 2.3 two years ago at Melbourne's Moonee Valley. Oliver rode the second favourite and finished sixth.
The scandal threw a dark cloud over the Melbourne Cup, in which Oliver finished in 11th place on well-fancied Americain.
Newspaper reports alleged Oliver told his supporters that he expected to be suspended for between nine and 12 months for his controversial bet but that he may retire to avoid a public hearing or a penalty from Racing Victoria. Jockeys are forbidden from betting on any horse, while betting on a horse in the same race is one of the "gravest breaches" of Australian racing laws. Publicly, Oliver has refused to deny placing the bet, and Fairfax said there were serious questions about why he had been allowed to continue riding and why he had not been charged by stewards.
Racing Victoria chief executive Rob Hines said he would not comment on the affair other than to say he expected an investigation to be completed in the next few weeks. But Hines did call on the Victorian state government to give racing stewards more power to stand down jockeys suspected of wrongdoing.
"Racing Victoria would welcome a wider stand-down power for the stewards or police that could be used when there is information to support the need to avert a serious risk to the integrity of racing," Hines said.
Victorian Racing Minister Denis Napthine said Racing Victoria operated separately from his government and it would be inappropriate for him to comment.
Gerry Ryan, part owner of Americain, said he had not questioned Oliver over the betting scandal story.
Ryan offered Oliver the Cup ride on his horse after sacking French jockey Gerald Mosse following his fourth placing in the lead-up Caulfield Cup race.
"Damien did call us and explain to both [fellow owner] Kevin Bamford and I that this was going to come up," Ryan told the Seven Network. "He also said he is focused and won't let us down [with Americain]."