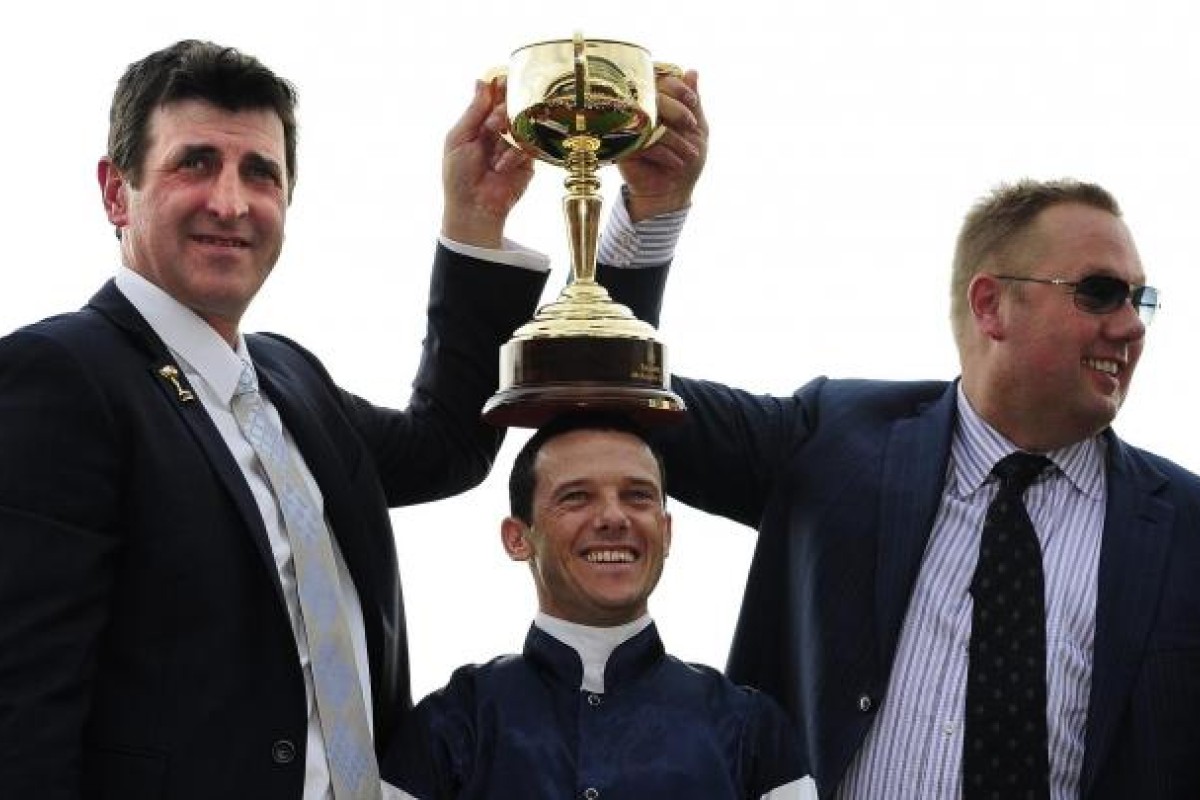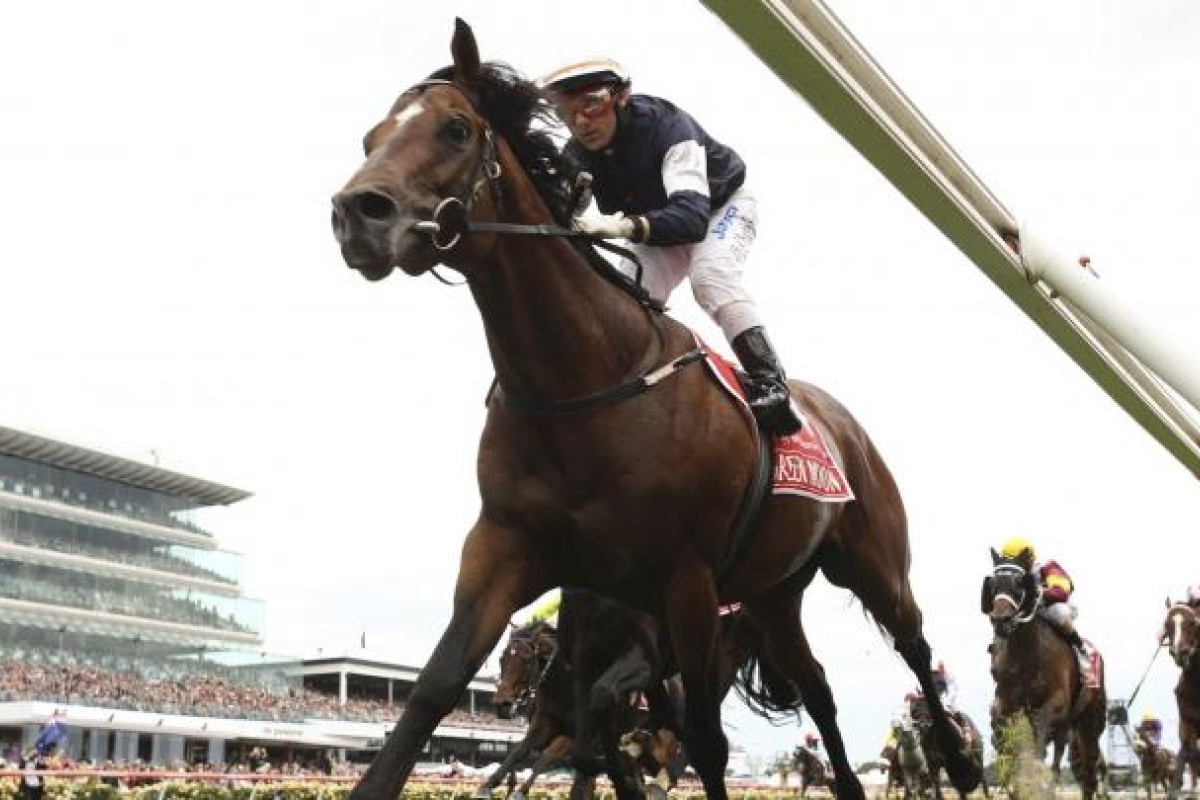 Hong Kong-based Brett Prebble cemented his place among the world's best jockeys and repaid millionaire owner Lloyd Williams for two decades of faith with Green Moon's victory in the Melbourne Cup yesterday.
Prebble, 35, was aboard Green Moon on a fly-in, fly-out basis for the world's biggest staying event, having been booked by owner Williams only last week.
But their connection goes back to his days as an apprentice.
The jockey spent a good part of his indentures at Flemington with trainer John Meagher, who trained 1985 Cup winner What A Nuisance for Williams, along with most of his other horses at that time.
"We've been associated with Brett for 20 years, back to when he was an apprentice," said Williams' son, Nick.
"And as a senior, Brett did all our riding before he left to ride in Hong Kong. With everything he's done over there, and now this, he's established himself as probably one of the two or three best riders in the world."
Prebble's previous best Cup finish was third in 2009 on C'est La Guerre for Williams.
Green Moon was the fourth winner since 1981 for the wealthy businessman, who has spent vast fortunes in search of Cup glory.
"The four have all been trained by different trainers, ridden by different jockeys and each one was different in its own way," Lloyd Williams said. "I'm a Melburnian. I was a committeeman at the Victoria Racing Club. I love this race."
Prebble looked to ride a perfect race on Green Moon, parking him a few lengths off the pace throughout the race.
But he confessed he went for home early and threw out tactical advice he had sought from career mentors like Meagher, Melbourne Cup-winning trainer David Hall and Lloyd Williams himself.
"Johnny Meagher told me to count to 10, David Hall told me to count to 10 and Lloyd told me count to 15 - I counted to five," Prebble laughed. "Actually, I pressed him a bit soon but it's hard to wait when you've got so much power underneath you.
"As far out as 1,200 metres, I knew nothing would go with me if he sustained the distance and he ran right through the wire. It's my life's dream."
Prince Charles attended the Cup for the first time since 1985 when, coincidentally, he presented the trophy to Williams after What A Nuisance's success.
Prebble's wife Maree did not fly to Melbourne for the Cup but stayed in Hong Kong watching his triumph on television in their Sha Tin apartment. "I stayed here with the kids and when he got to the front, we all went absolutely crazy," she said last night.
Prebble was due to return for rides at Happy Valley tonight, but Jockey Club stewards acceded to a request from the hosting club for Prebble to be released from those rides "to allow him to fulfil a considerable number of media and sponsorship obligations".
Chief steward Kim Kelly said: "We did the same for Gerald Mosse two years ago after he won on Americain and we thought it was important to take a pragmatic view."
The world's biggest handicap became a blowout for punters, even though a local turned back the tide of visiting northern hemisphere trainers.
Robert Hickmott landed his biggest success with Green Moon's win at 19-1, while leading Sydney trainer Gai Waterhouse finished runner-up for the third time in the Cup with 30-1 chance Fiorente. The third horse, Jakkalberry (80-1), was the first foreign-trained finisher for Marco Botti, while Australian-trained horses also took fourth and sixth.
Defending his Cup, 6-1 favourite Dunaden finished 14th, while 2010 winner Americain battled home in 11th place.