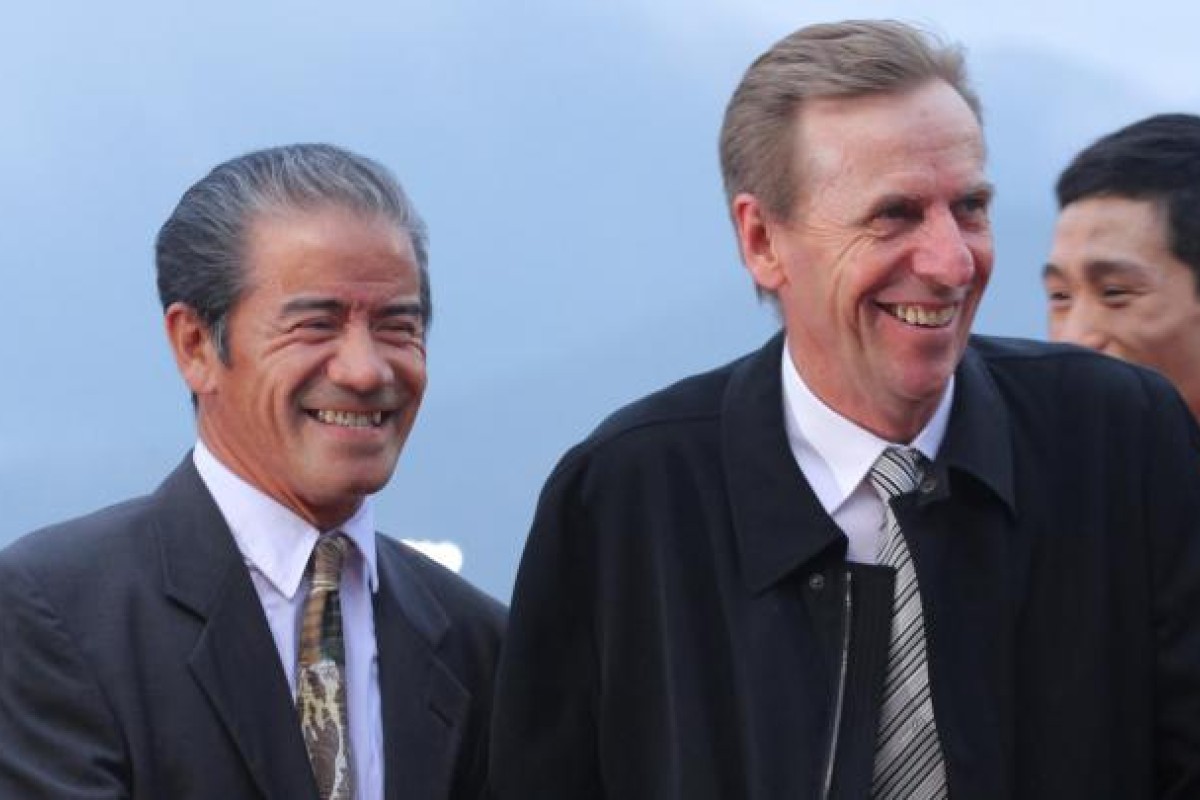 The championships have got a business as usual look about them with Douglas Whyte and John Size putting the foot down on the accelerator in recent meetings, but it was the dead-heat win for Fulfil A Wish in the Chevalier Cup that gave Size the most satisfaction.
Holyangelholy and promising Happy Era saw Size and Whyte notch a double together earlier in the card, but Fulfil A Wish arrived just in time to claim half of the feature with Ben So Tik-hung aboard.
Fulfil A Wish and the Tony Cruz-trained outsider Penglai Xianzi (Vincent Ho Chak-yiu) couldn't be separated on the wire in a blanket finish to an event that was a far cry from when Size first took it out 11 years ago with top-class miler Electronic Unicorn.
"But I'm happy with a deadheat because I thought he'd got beaten - and I'm happy to win anything with Fulfil A Wish because it really has been tough for him to win at this level he's at now," Size said.
"He's so honest, he doesn't lose any points, he just tries. He in there giving it his best all the time and when a race comes along where none of the others is really flying - which is what we had today - then he's able to get into the finish.
"Last three starts I've asked him to run a mile and he's tried hard, and 1,800m and he's tried hard and back to 1,400m and he does his best wherever you put him. Ben rode him well and he was able to get a win, but I'm not sure what the next trick will be."
The same was probably true of many of the runners, including the other dead-heater Penglai Xianzi, who had been battling since his rating went into three figures last season and only half-a-length covered the first five home.
Unbeaten Happy Era is a different matter altogether, with the rising four-year-old taking himself out of Class Three at his third start with another tradesmanlike performance in the seventh.
"He's got speed to put himself in a position, he could travel a little better through his races but that's just him, then when you ask him to pick up he does it. He's not much to look at but he's shown some quality to win three out of three and quite quickly - not many do that here," said Size, although he said the Classic Mile may come too soon.
"There isn't much time between now and the middle of January and Happy Era would need to find some more ratings points to put himself into a race like that."
Whyte said the gelding's professionalism was going to help him to punch above his weight even as Happy Era got higher in the ratings.
"He didn't have it that easy today, I had to use him a little to get around Lucky Warrior early, but when he got there he just went to sleep," Whyte said. "Those manners will take him a fair way and he feels like he'll be better at a mile and maybe further."