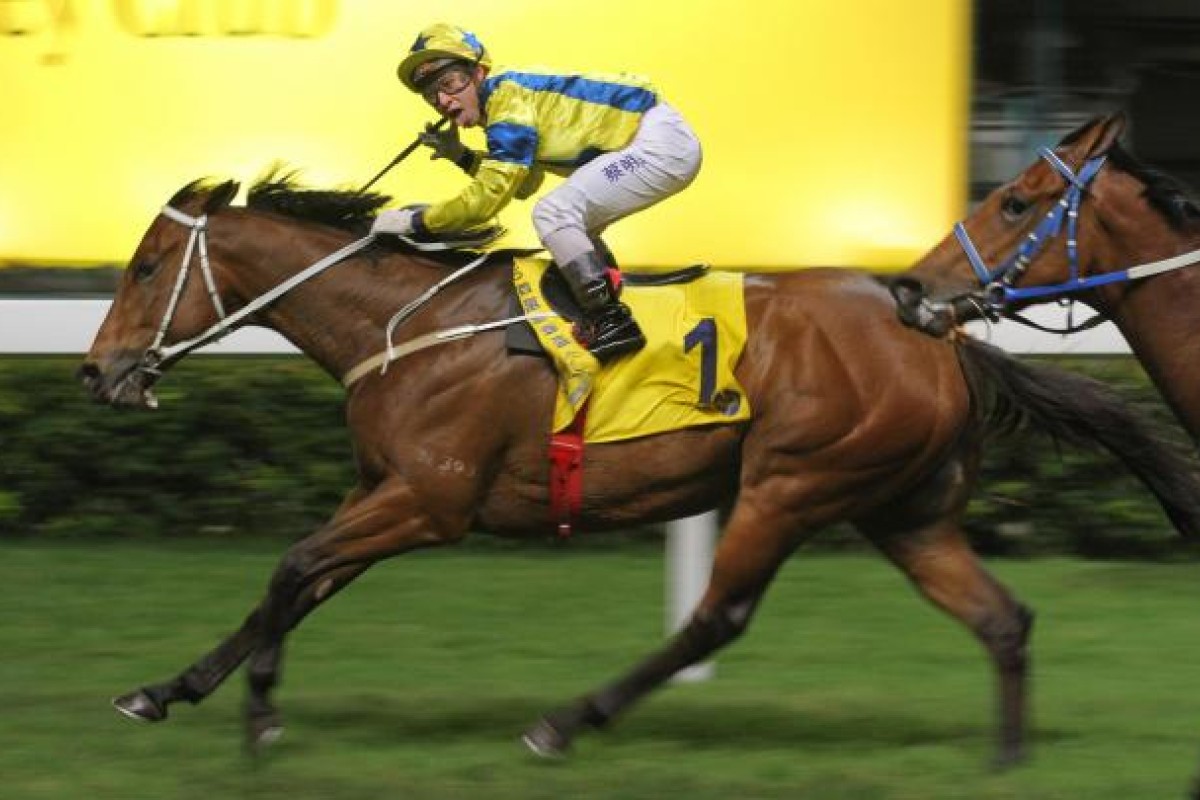 The Tony Cruz-trained Cape Canaveral scored his third win for the season last night and has thrown down a 1010 Happy Valley Million Challenge to any rival in the HK$1 million contest - beat me if you can.
The victory was part of a double for Cruz and Matthew Chadwick, after El Zonda took out the night's featured Happy Valley Trophy two races earlier, and shot the four-year-old Cape Canaveral to 63 points in a Million Challenge he led clearly even before last night.
The Million Challenge runs from September to February and points are awarded for performances in Class Three and upwards, and with 63 points from his three wins and four placings, Cape Canaveral already has more points to his credit than any winner of the contest has ever required.
In 2007, Caspar Fownes-trained Socrates tied on 60 points but won under countback rules and likewise last season's winner, Super Plus, required a countback after racking up 60 points to finish joint first. In other years, scores in the fifties have been sufficient to get the result, so Cape Canaveral has posted a big score for any other horse to get by him in the next two months. And his own scoring may not be finished either.
"The more I run him here, the better he seems to get," said Cruz. "He's such a professional horse.He'll go into Class Two now and I think he's going to be competitive there too."
And Cruz took time out to give credit to Chadwick, who returned from suspension and clicked straight into gear last night with the Cruz pair.
"He's riding with a lot more confidence this season, riding really well," the trainer said. "As for El Zonda, he had the perfect draw tonight and he has always been better here than at Sha Tin, so I was sure he would run well after the way he's been going at Sha Tin.
"He had problems early but grew out of them and these days as a six-year-old, he's very consistent and better than ever."
Howard Cheng Yue-tin was the other jockey to ride a double and he kept the stewards busy all night.
Cheng's winner, Happy Homing, was the subject of an objection in the second race, while it was Cheng throwing in the protest against Racing Hero (Zac Purton) in the final race.
The early protest was thrown out, though Cheng did get a two-day riding ban over that ride, while Purton on runner-up Demon Demon had to talk his way out of a ban for more than one incident during the event.
But when Racing Hero was demoted to second behind Absolute Fantasy in the final race after some significant shifting in the last 100m, there was no amount of Perry Masoning that was going to save Purton and he copped a two-day suspension as well.
Terry Wong Chi-wai was the other jockey in hot water, handed a three-day suspension for careless riding on Horseshoe Fortune in race four.
Purton did get some consolation out of the night, winning the battle of the riders in the 2,200m Class Three that punters boiled down to a two-horse race between Travel Brand (Purton) and Endowing (Douglas Whyte) and the winning trainer probably summed it up well.
"Zac got my horse in the clear - and I think he could see where Douglas was," smiled Dennis Yip Chor-hong, who also had a double after saddling up Happy Homing.