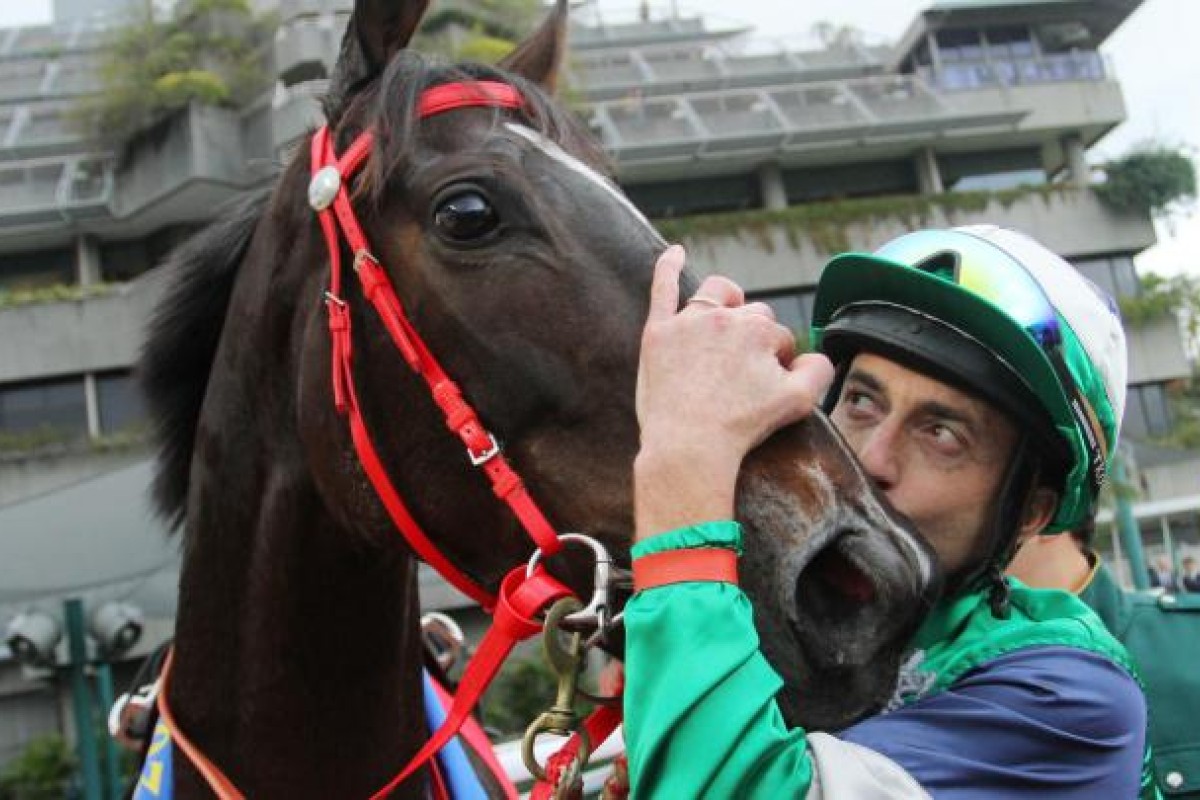 Glorious Days turned on the power to break his Group One maiden, give trainer John Size his fifth Stewards' Cup in 12 attempts and added another chapter to what is building as one of Hong Kong racing's great rivalries.
In a race that could not have played out more perfectly if it had been scripted, jockey Douglas Whyte found himself perched behind a group of John Moore's runners who led the field up and broke it into two halves by the middle stages.
"The way he travels in a race has been transformed by the blinkers. I could have put him anywhere in the race today but I was very happy with where I was - I had four in front of me and the rest behind and Glorious Days was very comfortable," said Whyte later after adding the latest edition of the Stewards' Cup to his wins on Armada for Size in 2007 and in 2012 on Ambitious Dragon, who struggled in his wake yesterday.
"I thought I gave Glorious Days a great ride in the Hong Kong Mile and Ambitious Dragon was too good on the day, but he did feel very strong on the line today, which he hasn't always been in the past. We've always felt the horse was good enough for these kinds of races, he just hasn't had the mental game until now."
It was the fourth time the pair of top milers had met this season and they have taken turns in winning, though Ambitious Dragon (Zac Purton) shocked punters in finishing out of the placings at odds-on and any dreams of him completing the elusive Triple Crown are now over.
"Prior to straightening it was a little bit tight and I had to hold my ground a bit but he was able to go through there and I thought I was still going to win the race," said Purton. "But when I let him go, he just never let down like he has been."
Size had won the Stewards' Cup at his first three assaults on it with Electronic Unicorn in 2002 and 2003 and Super Kid in 2004, but had been missing from the winner's dais since Armada six years ago.
"The race was run really to suit Glorious Days," he said matter-of-factly. "A fast pace, two sections and he was in the perfect spot trailing the leaders. When the pace is as fast as it was, the backmarkers are left with a lot of ground to make up and that takes the sting out of their finish. Sectionally, it couldn't have set up better."
It was a breakthrough success at the elite level that didn't surprise Size, who has maintained all season that a trip away to Japan for 2012 Yasuda Kinen was the making of Glorious Days mentally, despite finishing 14th, and he has every intention of targeting the Tokyo race again in June.
"This was his best performance today - it was run so the overall time was quick and he's always promised to deliver a performance like that but he's had the racing now to do it," Size said. "The future is pretty clear, it's all mapped out for these top horses with no options. I don't think he'd run any further than 1,600m but he could come back to 1,400m in the Queen's Silver Jubilee, then go Champions Mile and then the Yasuda Kinen looks an ideal target.
"Last year he went there and travelled beautifully, did everything right, so he's already got the experience but I think he'd go back a different horse this time and probably perform a lot better."
California Memory was an eye-catching third in the Stewards' Cup, ridden somewhat closer than usual, was caught wide behind midfield, and kept coming in the run down the straight for the bravest of thirds that sets him up as the one to beat in next month's Hong Kong Gold Cup at 2,000m.
"We didn't want him to have too much to do from the turn, so I tried to have him closer," said jockey Matt Chadwick. "His run was fantastic."