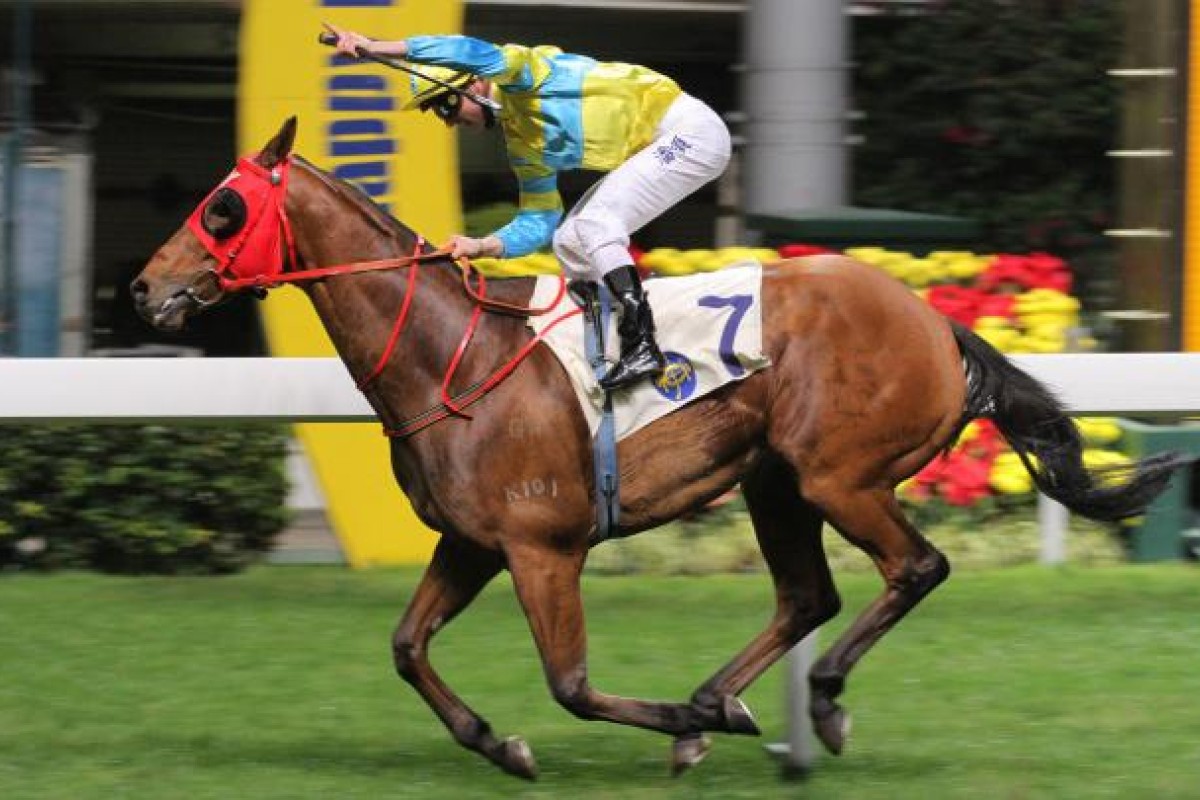 The enthralling jockeys' championship race took another twist on Sunday when Douglas Whyte snared a treble at Sha Tin and moved within one win of leader Zac Purton at the top of the table. But the tide could turn again at Happy Valley tomorrow when Purton climbs aboard leading hopes in all three legs of the Triple Trio, which is expected to reach HK$6 million.
Genuine Leader and Twin Turbo can bookend the TT as bankers and provide Purton with a push for his championship challenge, while in the middle pin, Travel Guide looms as another leading chance and likely race favourite.
The Tony Millard-trained Genuine Leader is a progressive sprinter who is gunning for four straight wins over the course and distance, and while he will be lumping 133 pounds at the top of Class Three, the impost is offset by being blessed with drawing gate two on the tricky "C" course.
The formlines around a dominant 1-3/4-length win in late November have stacked up, too: Genuine Leader beating Turf Magic and Cape Canaveral home - the minor placegetters both winning their next start, the latter winning his next two.
Genuine Leader's runs have been spaced, but he has been kept up to the mark with a recent 1,050m all-weather track trial, so fitness isn't a worry.
Pressure will come from the outside gate in the form of Smart Kids (Howard Cheng Yue-tin), who stuck on gamely for fourth when forced to adopt similar tactics last start.
Include Smart Kids and the well-drawn M agnumous (Matthew Chadwick). With decent speed on, also consider run-on hopes Make It (Derek Leung Ka-chun) and Finn Maccool (Neil Callan).
Twin Turbo lines up in a Class Four special-conditions race over the extended mile, for horses with three or more local starts that haven't won this season.
Gate six is a luxury after Purton was forced to adopt mixed tactics in recent starts from wide draws.
He can adopt an aggressive style more to the horse's liking against underwhelming opposition.
Consider John Moore's Approve (Weichong Marwing) as a double banker option. Unlike his rivals he, at least, could have some upside and has drawn gate one.
Approve has raced greenly and been one-paced at times in his five starts, but he certainly has the look of a good horse - the flashy chestnut standing out in the parade ring - and the market has assessed him a single-figure chance every time out.
Gate one is gold for an inexperienced galloper, and all he has to do is follow the bunny until straightening, from there he should fill a place.
Others to consider are Billion (Alvin Ng Ka-chun), Care Free Pegasus (Olivier Doleuze) and Healthy Manner (Tye Angland).
The middle pin is a Class Four over 1,650m, and gate two puts last-start winner Travel Guide on top of a relatively weak and open contest.
Cool Bean (Gerald Mosse) has always promised something. Drawing 10 was a blow, but if he can get cover in the run he should figure.
Other place hopes are Sure Champ (Tim Clark), Fortune Bravo (Andreas Suborics), Win Esprit (Callan) and Common Goal (Brett Prebble).
---
TRACK STARS
RACE 1:
(2) Mega Castle, (4) Medic Champion, (5) White Hart King, (11) Young Supreme.
RACE 2:
(2) Tomodachi, (3) Dragimova, (5) Amazing Always, (9) Glory Win.
RACE 3:
(2) Diamond Angel, (3) Fascinating Smile, (8) Asmodai, (9) Seize The Day.
RACE 4:
(1) Good Fellow, (4) Care Free Pegasus, (6) Twin Turbo, (11) Empire City.
RACE 5:
(1) Common Goal, (2) Travel Guide, (10) Record High, (11) Sure Champ.
RACE 6:
(1) Genuine Leader, (2) Sunny Fay, (5) Finn Maccool, (11) Ride On The Fire.
RACE 7:
(4) Regency Winner, (6) Indigo Way, (8) Turbo Jewellery, (12) Super Tiger.
RACE 8:
(1) Galaxy Prancer, (6) Circuit Star, (7) Packing Cross, (9) Fay Deep.
Read Michael Cox's blog – If horses could talk: how we could change sports media forever. Go to: http://www.scmp.com/author/
michael-cox-0