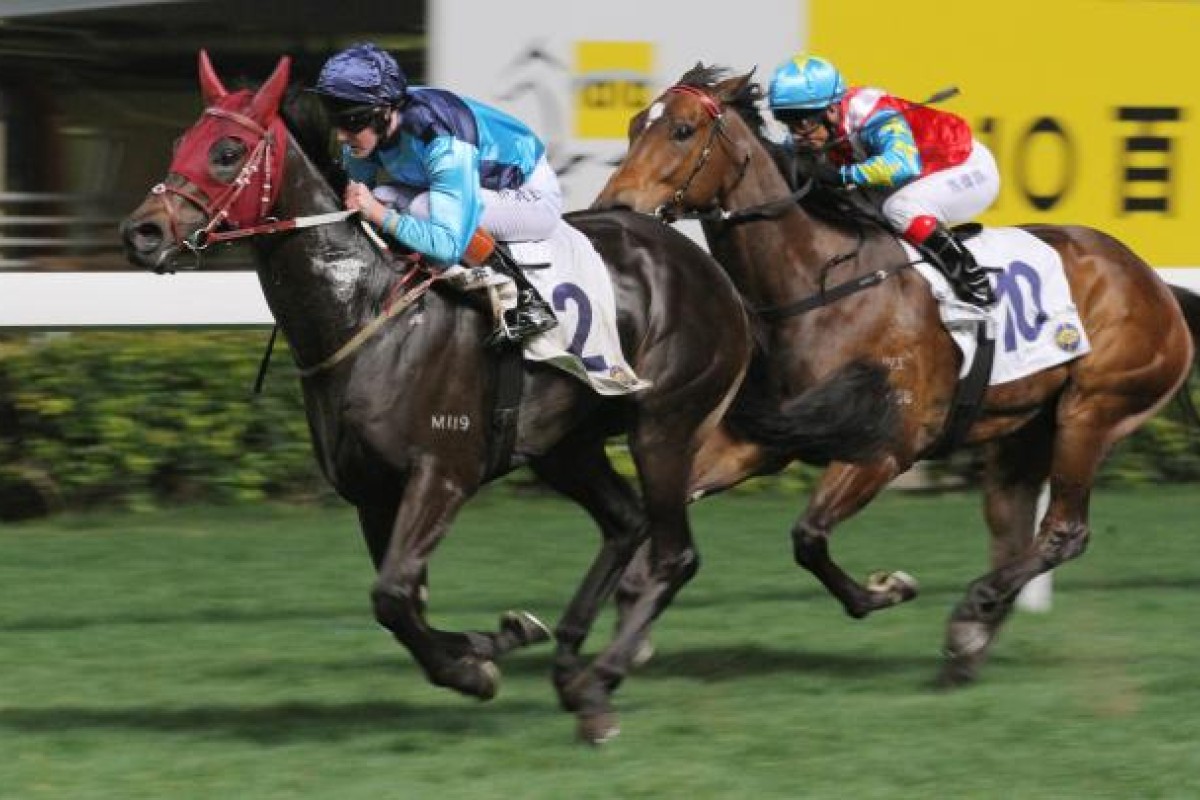 John Moore never knows which version of Sunny Fay is going to turn up to the races - a moody horse with an inclination to act erratically and not put in, or one capable of performances like last night's upset win in the Craigengower Cricket Club Challenge Cup at Happy Valley.
Tony Millard's Genuine Leader was backed into 1.4 top pick in the Class Three, but jockey Zac Purton struck trouble late on the favourite - stewards awarded him second on protest after he crossed the line third - as Tom Queally swooped on the winner.
"This horse is a solid Class Two sprinter - when he is in the mood," Moore said after his 21st win of the season.
"You just don't know with him, even when you get to the races. You get some idea when the jockey is getting legged on, he'll pin his ears back and you know that he will be a handful and won't want to get to the line.
"But he has got all the attributes as far as being a good horse and is a beautiful type."
Peter Ng Bik-kuen said that as long as the confidence of Asmodai (Alvin Ng Ka-chun) kept improving, the six-year-old could continue to add to his win tally and climb out of Class Five.
"He used to be a very nervous horse," Ng said. "You couldn't even walk near him before, he would just run away from you. Now he is like a pet, he will walk alongside you without a lead."
Another trainer crediting his horse's improved temperament as the key to victory was Peter Ho Leung, who had some nervous moments of his own during the Class Five victory of Dynamic Cross (Derek Leung Ka-chun).
It looked as though Dynamic Cross would get his own way in front, before the saddle shifted on Keith Yeung Ming-lun's mount Young Supreme and he took charge, pressuring the leader.
"My heart was pumping," Ho said. "In the past he might have over-raced when the horse came to his outside, but you look at him tonight in the parade ring and he was very relaxed. It made the difference."
Gear changes played a part in both legs of a double for Manfred Man Ka-leung. The trainer chose a restricted Class Four for horses who hadn't won this season to put blinkers on Care Free Pegasus, but he was deflecting all praise to jockey Olivier Doleuze.
"The gear change was Ollie's idea, and without his ride there was no way he would have won," Man said. "From gate seven he found the fence before the first turn and when he was stuck in the straight, he was strong enough to barge his way out."
Man said side winkers had switched on Indigo Way, but also a trimming of the horse's figure: "He can get a bit fat, his body weight was down closer to 1,080 pounds, that's where I want it to be," he said.
Lai also came up with the goods when he gave Ricky Yiu Poon-fai's Glory Win some cover from gate 12, then clinched a Class Four win with a late run, the first half of the trainer's double.
"It was a gem of a ride," Yiu said. "He found cover quickly, let the horse take a breath and his light weight also helped." Yiu said it was the "hunger" of Andreas Suborics - who hadn't won since mid-December - that helped grab the third win of the season for Fortune Bravo.
"You could tell Andreas really wanted that one, it pays to have a hungry jockey on sometimes," Yiu said. "We raced this horse very hard earlier in the term, but I think he appreciated a month off."
Tony Cruz moved to within two of the Trainers' Championship lead when Circuit Star (Matthew Chadwick) broke through for his first local win in the last.
"He is a young horse with plenty of improvement in him," Cruz said. "He is doing everything better, but the main thing is he is relaxing and settling better in the run."
Stewards had a busy night, dishing out three suspensions for careless riding and a big fine for trainer David Ferraris. Ben So Tik-hung, Eddie Lai Wai-ming and Weichong Marwing all received two day bans.
Ferraris was fined for an incident on January 20, when he presented Bear Hero for a post-raceday veterinary inspection after being treated with the anti-inflammatory phenylbutazone.