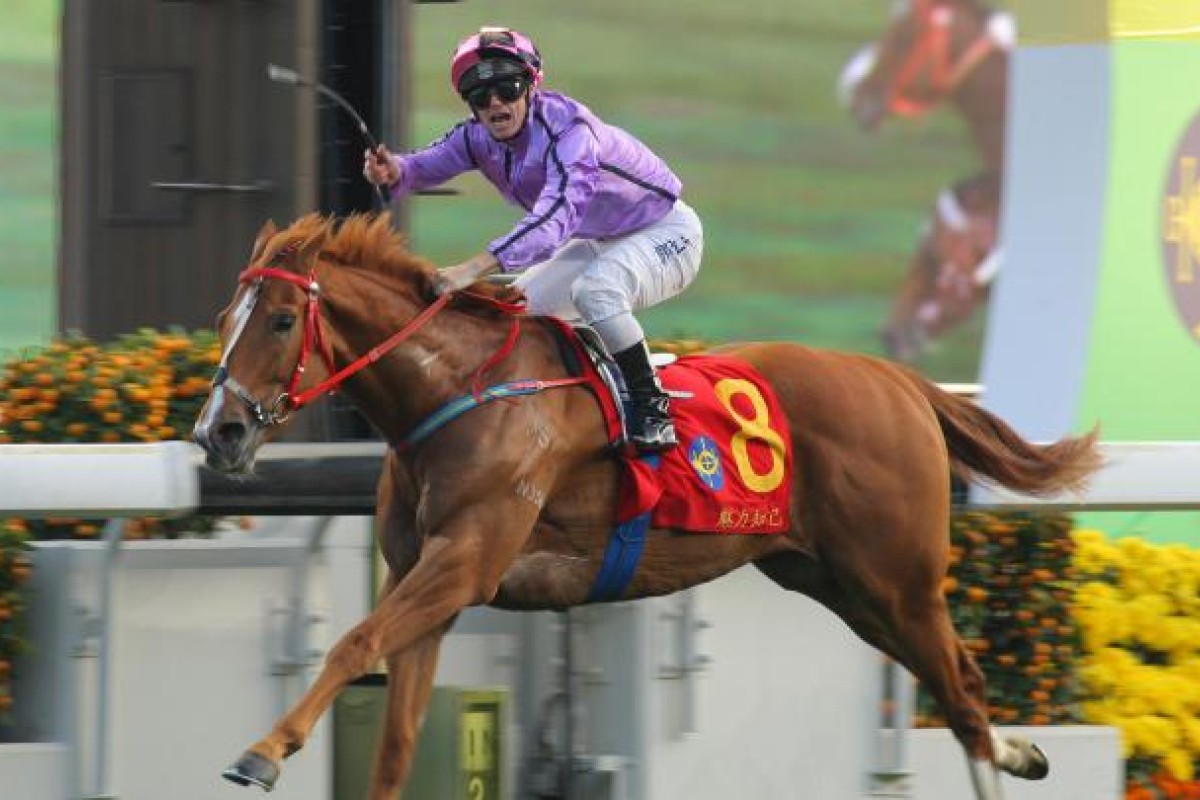 The irony of the Classic Cup, not just on Sunday but every year, has been that the concept of the race was to give racing fans a linear guide to the Hong Kong Derby and it fails miserably.
The concept mimics similar step-by-step build-ups in other racing jurisdictions, providing a stage for the same slice of the horse population to line up against each other at 1,600m, 1,800m and then 2,000m.
Before there was a Classic Cup - or its previous title, the Derby Trial - as an "official" lead-up, the Derby runners took any number of different paths to the race through the normal handicap system, and some, like Elegant Fashion, even went there via the Gold Cup.
The first thing that establishing a standard Derby lead-up over 1,800m did was to remove any four-year-olds from the Gold Cup picture, and even the Centenary Vase, which had been used as a good lead-up.
But if there was a view that having the Derby runners arrive along the same path made it easier for punters to sort out, channelling the classic horses into their own level-weight Class Two race hasn't actually helped.
Only three horses have managed to win two of the three races in their year - Floral Pegasus, Helene Mascot and Ambitious Dragon - and four years of double-figure odds-winners in the Classic Cup have now been followed by a triple-figure winner.
In fact, the Classic Cup finish served only to shine a spotlight on what we already knew: the Classic Mile was one of the most stupidly run races in years.
Three horses at over 100-1 finished in the first five on Sunday, and they had one thing in common - they were three of the first five to the home turn in the Classic Mile when leader Wah May Star went warp speed in front and destroyed himself and those near him.
As we highlighted here after the Classic Mile, in terms of the handicapper's ratings, these current four-year-old events are as moderate as any in memory.
That first leg of the four-year-old treble averaged only an official rating of 89 and Sunday's Classic Cup was not much better at about 90.5, both significantly inferior to recent crops.
That doesn't mean they will turn out to be the worst bunch of four-year-olds in years - the handicapper's ratings actually don't tell you much about where a horse is going, only where he has been - but the irony is that it might actually make it easier for horses to take a different route to the Derby.
Winning trainer John Size summed it up best in his post-Classic Cup press conference when he pointed out that no four-year-old had, as yet, established proper credentials to be the Derby winner, and he conceded that It Has To Be You was the beneficiary of all favours in the run and it may well be a rival who is gifted that trip next time.
It's so open that Zac Purton has decided to stick with Garlic Boy, who suffered a heart irregularity, simply because there is no more obvious offer to take up and we might see that horses out of the usual ratings requirements are not too late to put their hand up even at this late stage.
Andreas Schutz was probably thrilled by the Classic Cup, as his recent Class Three winner Genki Twins went better that day than It Has To Be You did in winning the so-called "Group One".
In fact, in our view, It Has To Be You barely ran up to his own Class Three-winning performance last July, and most of the four-year-old performances all season have not been much better than that.
Even Tony Millard got some sniff of encouragement for Jolly Victor, his Zabeel four-year-old who may be good enough to deserve a chance but he has a lot to do, and quickly, to make his case for inclusion off a 69 current rating.
Again, based on our own performance ratings, the best run in Hong Kong by any of the current four-year-olds was established by Wah May Star towards the end of last season, albeit over 1,400m and on soft ground. But he was one of the runners in Sunday's race who did probably look in trouble from a Derby point of view as he was given every chance, had the tempo to suit and simply didn't appear to stay in the final 100m after looming as the winner.
Neither he nor any of the others of his age group has been to his peak level this season, but Mizani's first-up win was close and the standout this season. He offers another Derby factor coming from outside the standard lead-up path.
The takeaway from Sunday's race may also be that the expected improvement to come from Akeed Mofeed can still make him the horse to beat on Derby day, and that trainer Richard Gibson holds a strong hand.
In the slow tempo, Akeed Mofeed overraced but produced a strong finish to be close behind the placings at the finish, despite still being new. That lack of fitness may have been partly due to his traffic-jam run on his local debut when Akeed Mofeed didn't really have a proper race as a result. Sunday's assignment was a little more testing, hopefully enough to bring his fitness on quicker and he now has a platform to return to something like his Irish form for the Derby, which would be good enough.
On the minus side of things, Gibson offered a hint leading up to Sunday's race that getting the stallion trained is no simple matter with the tracks as firm as they are, when he said he was "working him as hard as we dare".
And with Mizani already carrying the reputation of being a touch delicate on the firm ground, it's going to be a balancing act for Gibson to get those two to the race in the right condition.
Meanwhile, Gibson's other horse, Gold-Fun, lost no caste on the weekend after spending half the race facing the breeze. He is hard fit and racing well and surely due for a decent barrier draw.