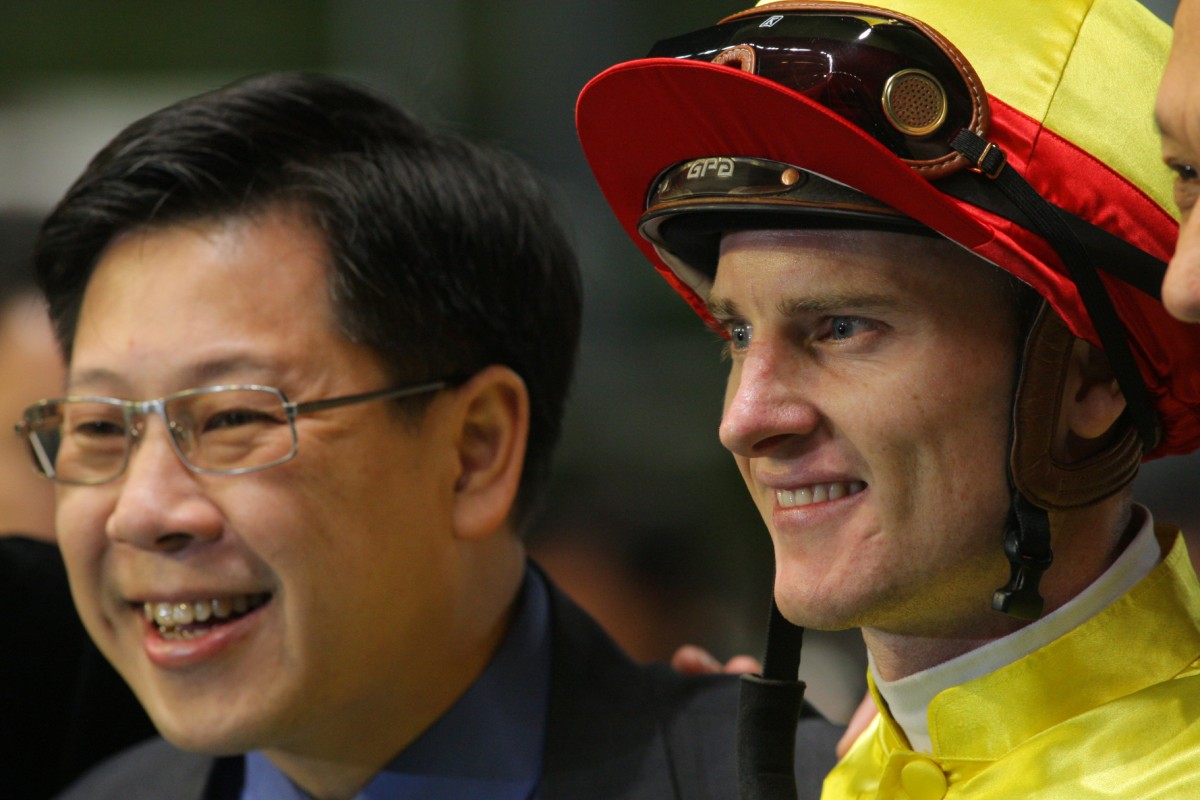 In the gripping battle between Douglas Whyte and Zac Purton, it's the allocation of rides by trainers – all the while locked in their own fight for championship standings – that could decide the outcome.
It was a sight to behold as the top two jockeys stood shoulder-to-shoulder in the parade ring before Sunday's feature, looking like teammates in Steven Lo Kit-sing's lime green colours, then competing shoulder-to-shoulder in the run, with Purton scoring on Military Attack and Whyte third on Xtension.
Purton might have got the Group One glory with a rare ride for John Moore, but Whyte clawed two wins back with a treble, including a pair of wins for his rival's main supplier, Dennis Yip Chor-hong.
Last Wednesday, Yip had two winners – splitting them between Whyte and Purton – and on Sunday he basically said he couldn't lose and won't be playing favourites. "They both do a great job and are hungry," he said. "But I don't care which one wins the title – that's not my championship to worry about."
A jockey's relationship with sometimes volatile trainers, while dealing with the ever-present possibility of meddling and impulsive owners, is equally as important as on-track performances in the final tally of wins.
Since Darren Beadman's retirement there are no dedicated stable jockeys and overseas jockeys are classified as "club jockeys", meaning it's catch and kill and you're your own. There are no agents either, as far as rides are concerned.
The alliances forged in the Sha Tin trainers' stand sometimes resemble the famously flimsy deals cut by contestants on Survivor, but this is a far more ruthless setting than any jungle-based reality game show.
Whyte (48) now trails Purton (49) by one with 45 of 83 meetings gone. While Whyte's championship drives have been powered by the John Size machine – and that's where more than half of his winners have come from this season – he also has the uncanny knack of attracting a ride at just the right time from other stables.
It's why the old-timers still sagely quote short odds about Whyte winning his 13th championship; everything needs to go right for the challenger and plenty needs to go wrong for the king.
Essentially, Purton doesn't get support from the "big three" stables of Size, Moore and Tony Cruz, but has steadily built a coalition of local trainers willing to keep him on when Whyte might remove others.
As Whyte wields the mighty Size samurai sword, it's death by a thousand paper cuts for Purton as he lives off the lower-grade winners of Yip and Danny Shum Chap-shing (sevens winners this term), plus scraps from Me Tsui Yu-sak and Francis Lui Kin-wai (two wins for each).
The continued emergence of Yip is the biggest factor for Purton. One in four of his wins – 13 in all – have been from the yard, already up on the 11 he had for the trainer last season.
There was certainly a sense of timing to Purton's win for Moore – the Australian jockey had won earlier in the season on Frederick Engels – but before that opportunities with the trainer were scarce.
With Irish rider Neil Callan departing this week someone will have to pick up the slack for the Moore yard and it will be interesting to see if Purton can grab some extra opportunities. Even if he does become part of the big race rotation for the yard, getting on the right horse out of Moore's multiple and often evenly matched runners is something of a crapshoot.
Caspar Fownes provided Brett Prebble with the ammunition to launch his ultimately unsuccessful championship challenge three seasons ago and perhaps he can do the same for Purton.
But, just as Yip bluntly put it, Fownes has his own championship to worry about. He has 35 wins and leads an intriguing race by a solitary victory to Size and Cruz. Quietly creeping up behind the table-topping trio and becoming firmly entrenched as a top five trainer is Yip, who could hold the key to Purton's chances, despite his apparent indifference to who wins the jockeys' championship.