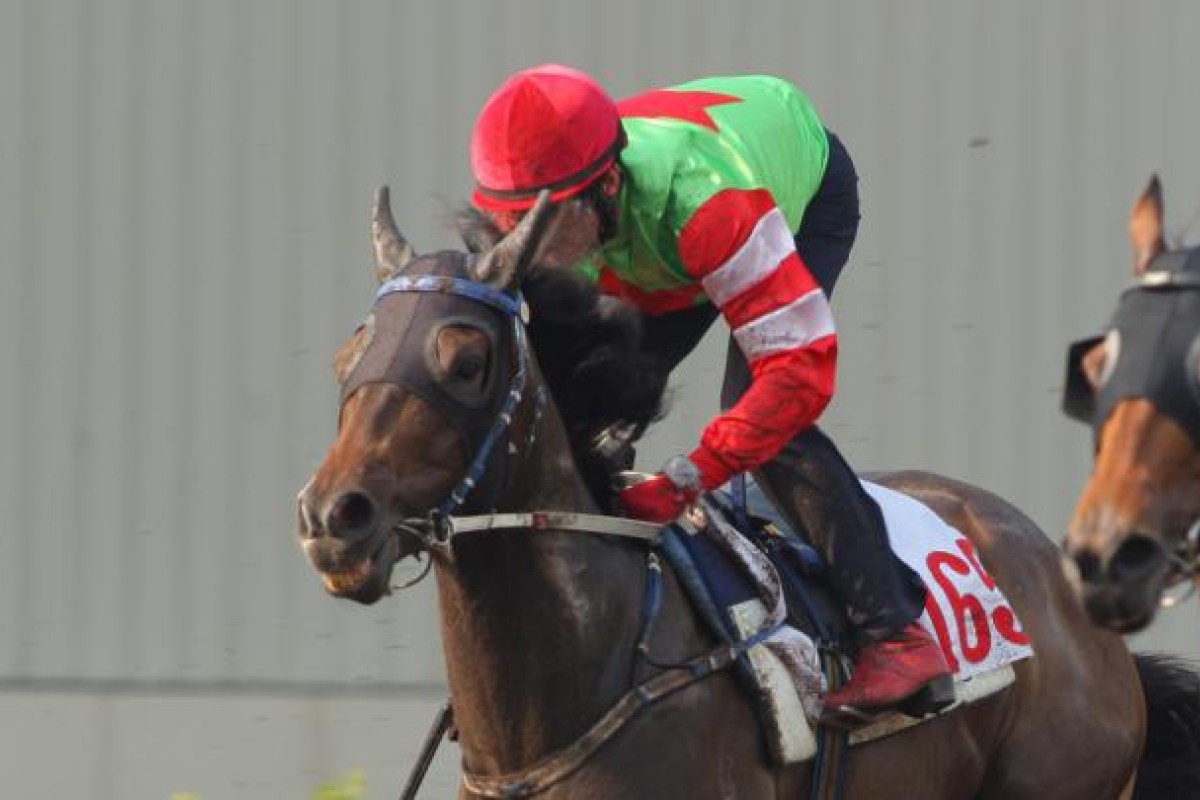 After jockeys' championship rival Douglas Whyte drew level at the top of the table during the week, Zac Purton will be keen to strike back with Lord Dragon tomorrow at Sha Tin.
Lord Dragon can act as a banker in the opening leg of a Triple Trio that carries a healthy HK$5.6 million jackpot after Super Lifeline (173-1 shot) blew players out of the water in the first leg last Sunday.
Caspar Fownes brings Lord Dragon back to 1,400m from a mile on a seven-day back up after he peaked on his run when third behind Little Men at Sha Tin.
It seems like his best distance at this stage; two starts ago over the same course and distance the four-year-old was a game third behind Sight Lover after being trapped three wide with no cover for most of the trip.
Barrier seven isn't perfect but in-form Purton should be able to find a two-wide spot with cover around midfield, behind what should be a genuine speed.
Noted leader Supreme Genki (Matthew Chadwick) has drawn 11 and will come across, with Fulgurite - Whyte riding for the first time - has drawn four and has also led at recent starts. With the rail in the "C" configuration, those two hard-and-fit front-runners should be included.
Another not to leave out is Richard Gibson's T-Bolt (Tim Clark), who comes into this off an educational run that had some merit up the straight. At his first start over 1,200m, T-Bolt hung out around the bend and was then taken across the track in the straight by the winner Rewarding Hero. The three-year-old kept on giving at the end, given how much he did wrong and the energy expended during the run.
A last-start sixth over 1,000m more than a month ago doesn't read all that well on paper, but hopefully being run off his feet will have chilled the green youngster out. Adding merit was the fact that three of the five horses finishing ahead of him have since won what is shaping as a strong form race - Sea Dragon, Dapper boy and Smart Volatility. T-Bolt drops into gate one and some cover might also curb his erratic racing manners.
The blow-out dangers are Triumphant Way (Eddie Lai Wai-ming) and Hey Cheers (Tye Angland) from low draws.
The middle pin is the toughest to sort out, but Deep Thinker (Angland) deserves favouritism, even with gate 11.
The Ricky Yiu Poon-fai-trained Deep Thinker is a banker, but after that it's hard to know who to rely on in the extended band Class Three.
Big things were expected from Longwah Supreme (Purton) last season and he has been disappointing since, but back in Class Three from gate one, he could figure. Dennis Yip Chor-hong will have Choice Exchequer (Howard Cheng Yue-tin) as forward as possible for a one-off shot at the Hong Kong Derby field and he has drawn well in four, and also consider Classic Jewellery (Whyte).
In the final leg, a switch to the dirt - and of course a drop into Class Three - seemed to switch veteran Vaugirard (Vincent Ho Chak-yiu) on last start, and he has drawn gate one against a weak field in the same grade.
The David Hall-trained gelding looked like becoming a perennial Group horse when he won the 2010 Ladies' Purse when beating Irian, but a neck injury put him off the scene and he has never been the same.
The last-start third was his first top-three finish in the three years since that Class One success, a time period where his rating has dropped a massive 32 points.
Vaugirard goes in, but maybe this is a race to play narrow without a banker, with four or five flat selections.
Include Turin Champion (Clark), who struggles in this grade but has drawn well and loves the surface, Horse Aplenty (Whyte) and Cheers Joy (Ben So Tik-hung), who is approaching a dangerous mark.
Read Michael Cox's blog – Heroes at home but humbled in Hong Kong. Go to: http://www.scmp.com/author/michael-cox-0
---
Track Stars
RACE 1:
(3) Gracytom, (5) Telecom Top Star, (8) Sunshine Boy, (12) Petit Prince.
RACE 2:
(1) Mark Two, (3) Africa Light, (6) Malayan Pearl, (8) Hit A Home Run.
RACE 3:
(3) Hearts Keeper, (7) Supreme Hong Kong, (11) Pure Victory, (12) City Of Lights.
RACE 4:
(2) Lord Dragon, (3) T-Bolt, (6) Hey Cheers, (13) Epee De Hua.
RACE 5:
(3) Strathtay, (4) Deep Thinker, (5) Classic Jewellery, (10) Open Sesame.
RACE 6:
(4) All Friends, (5) Horse Aplenty, (7) Speedygonzalez, (12) Cheers Joy.
RACE 7:
(2) Secret Sham, (3) Affluence Of Rain, (5) Sea Dragon, (12) Keen Tactics.
RACE 8:
(4) Let Me Handle It, (8) Absolutely Win, (10) Solar Great, (11) Talley Close.
RACE 9:
(3) Cosmic Boom, (5) Gift Is Gift, (6) Simple, (7) Masquerader.
RACE 10:
(1) Beauty Lead, (4) Akeed Mofeed, (11) Genki Twins, (12) Blazing Speed.