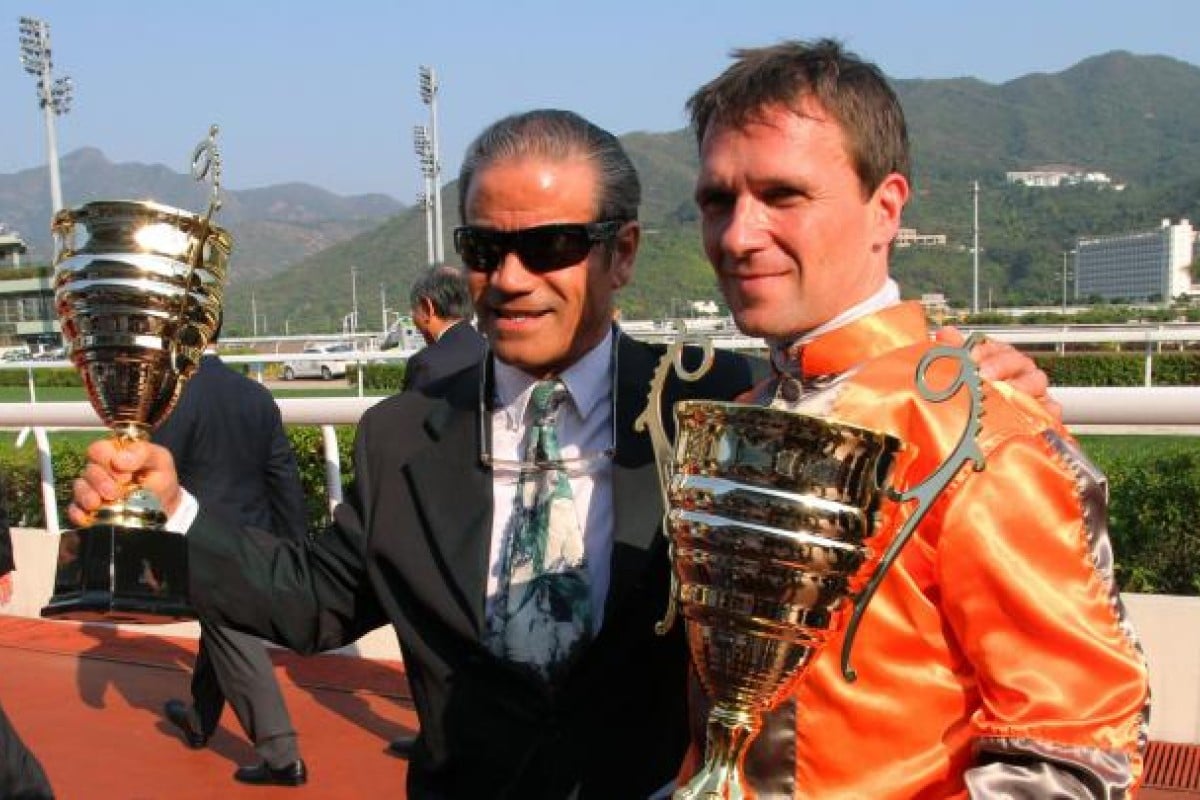 Austrian rider Andreas Suborics is making trophy races his speciality but was just happy to be ticking the winners over again after claiming the Pok Oi Cup for Tony Cruz on Real Supreme at long odds.
Suborics has had a tough season and Real Supreme's upset victory was only his seventh for the season, but he had also grabbed the cup race at Happy Valley during the week, and Cruz said he would use the jockey more often after his display on Real Supreme to give the stable a double and the quinella in the feature.
"He hasn't ridden much for me but that was a perfect ride and I might have more rides for Andreas," Cruz said. "The horse had it all his own way today, which is what he needs at this level. My other horse ran well, Beauty Touch, but he wants further than a mile - there just aren't enough races for him."
Suborics said Cruz had given him options pre-race for his first ride on Real Supreme, a horse who has been finding the going tough since he took himself to a 100 rating with six wins in the previous two seasons.
"He was drifting back down the handicap lately and I saw that he had won before off a similar rating last year and that gave me some confidence," Suborics said. "Tony said to lead if it was available without any pressure or sit behind if somebody else wanted the front. But when he jumped so well, I just found myself in the front and the others were happy to let us have it. I got a very soft time just rolling along in front. He doesn't really have a strong acceleration but when the others came he was very brave and fought hard the last 200m."
The win for Cruz, with the possibility of more opportunities for the leading yard, was a real positive for Suborics, who wants to stay riding here for a few more seasons.
"I just want to keep the winners coming - one a week, three or four a month is good here but it's hard to get on horses for these top stables," he said.
Cruz's earlier victory came in the second race with four-year-old Multiexpress (Matthew Chadwick), who had taken himself out of Class Five with only a second placing but found a moderate Class Four to his liking under a light handicap.
"He's been green and had some problems with bruised feet as well," explained Cruz. "That's why he hasn't performed in his early starts but now I think he's getting to his time. His feet are fine and he's showing the benefit of the race experience he has had. When the other horses came at him today in the last 150m he kicked on."
Multiexpress has always shown some speed in his trials and races, but Chadwick said that he might appreciate further than yesterday's 1,200m.
"He's just a plain sort of horse. He got all the favours today with no weight and I think as he goes up in the weights he might want 1,400m so he can travel at that even kind of pace," he said.