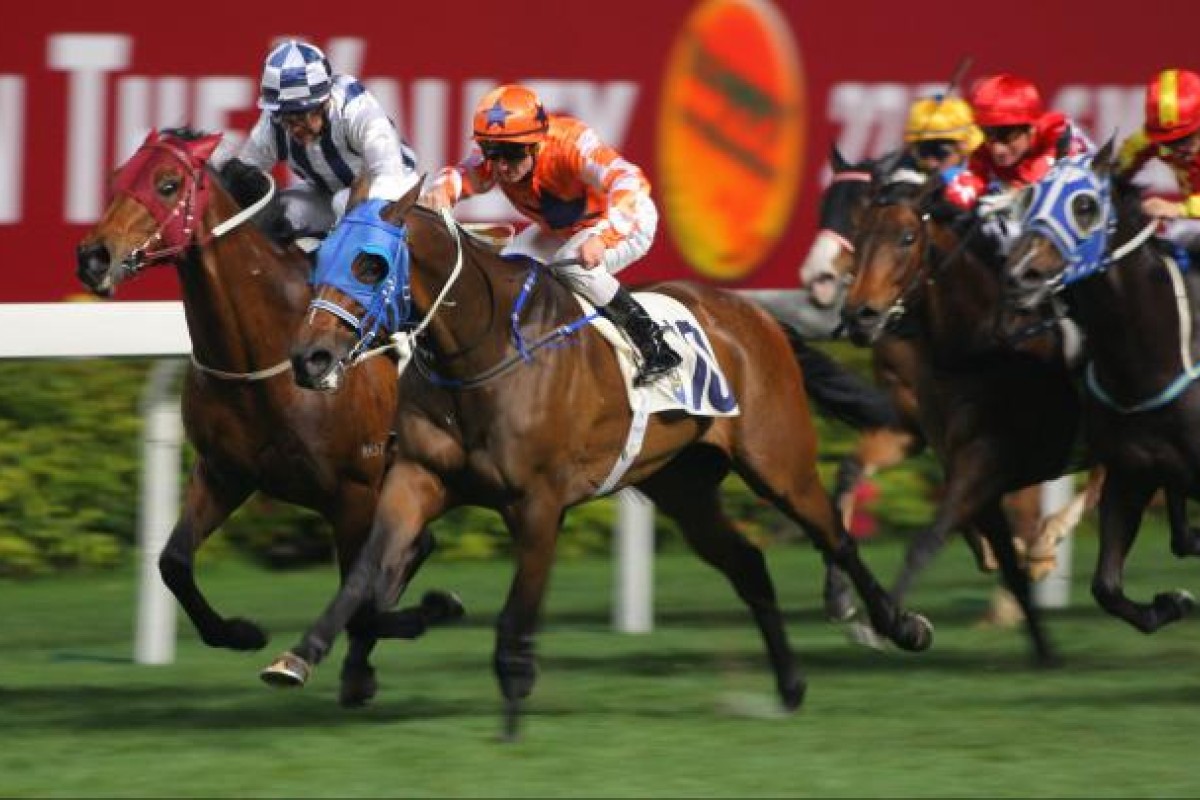 Perfect Cheers has paid the price for his consistency, but last night the Caspar Fownes-trained five-year-old overcame the ratings rise that results from going close without winning.
Fownes' five-year-old hadn't won in more than a year, but has steadily climbed from a winning mark of 71 to a career-high of 88 last night - the consequence of putting himself in the frame regularly, and then a recent run of three straight runner-up efforts.
"He really deserved that win - to climb up 17 points for one win is a lot in Hong Kong, he went up five points in the off-season," Fownes said. "It's hard when they keep going up those one or two points for running second all the time."
It was crucial to be near the fence and up close to the speed last night, and the plan was for Zac Purton to position Perfect Cheers - who can be tardy away - as close as possible. As it turned out, the gelding broke better than expected and he raced outside the leader Business As Usual, then got the better of him in a grinding finish.
"It all depended on how he broke, we went forward with a view of being one-out one-back, but it turned out even better," Fownes said.
For the second straight Happy Valley meeting the wins were shared among eight different jockeys and trainers. Purton's win on Perfect Cheers only temporarily closed the gap on Douglas Whyte at the top of the Jockeys' Championship, as the 12-time title holder hit back in the next race on favourite One Of A Kind. Whyte is clinging to a three-win gap - 57-54 - with 60 per cent of the season now gone.
Despite having already won two in a row coming into last night, Whyte said One Of A Kind had "turned the corner" in the past two weeks.
"He has developed into a real racehorse, he has been weak really, but I jumped on him 12 days ago and he had really developed," he said.
Michael Chang Chun-wai's Forgive And Forget was one of the few horses to be able to come from behind, but it was Tim Clark's aggressive ride that kept him close enough to strike.
"He has a great turn of foot and such a strong finish, but has been getting too far back," Chang said after his horse won for the second time in three starts.
"I wanted Tim to be midfield or better after seeing how the track was. That's as good as I can have that horse."
Danny Shum Chap-shing was proclaiming Matthew Chadwick a future champion after he ran his rivals ragged on Little Rainforest, crossing from the widest gate and leading all the way.
"That was a great ride - Matthew will be the champion jockey here in five years," Shum said.
Andy Leung Ting-wah gave blow-by-blow instructions to jockey Richard Fourie that were more akin to a battle plan, and then was sprouting war strategies after Creative Union won for the second time in three starts.
"I wanted him to jump, not too fast, but then move up and sit in behind the pace, then pull clear into daylight at the 300m," Leung said. "It was like a perfect war plan - we creep up behind, then catch, and then boom."
Gary Ng Tik-keung said the familiarity between Ben So Tik-hung and Nobody But You made the difference - and of course gate one didn't hurt either.
So has now won twice in five starts without missing a placing on the horse.
"We will be sticking to this course and distance (1,000m) with this horse," Ng said.
Olivier Doleuze won on Master Rio and clinched the Jockey Challenge, while Vincent Ho Chak-yiu took advantage of the apparent bias on Tomodachi and led all the way.