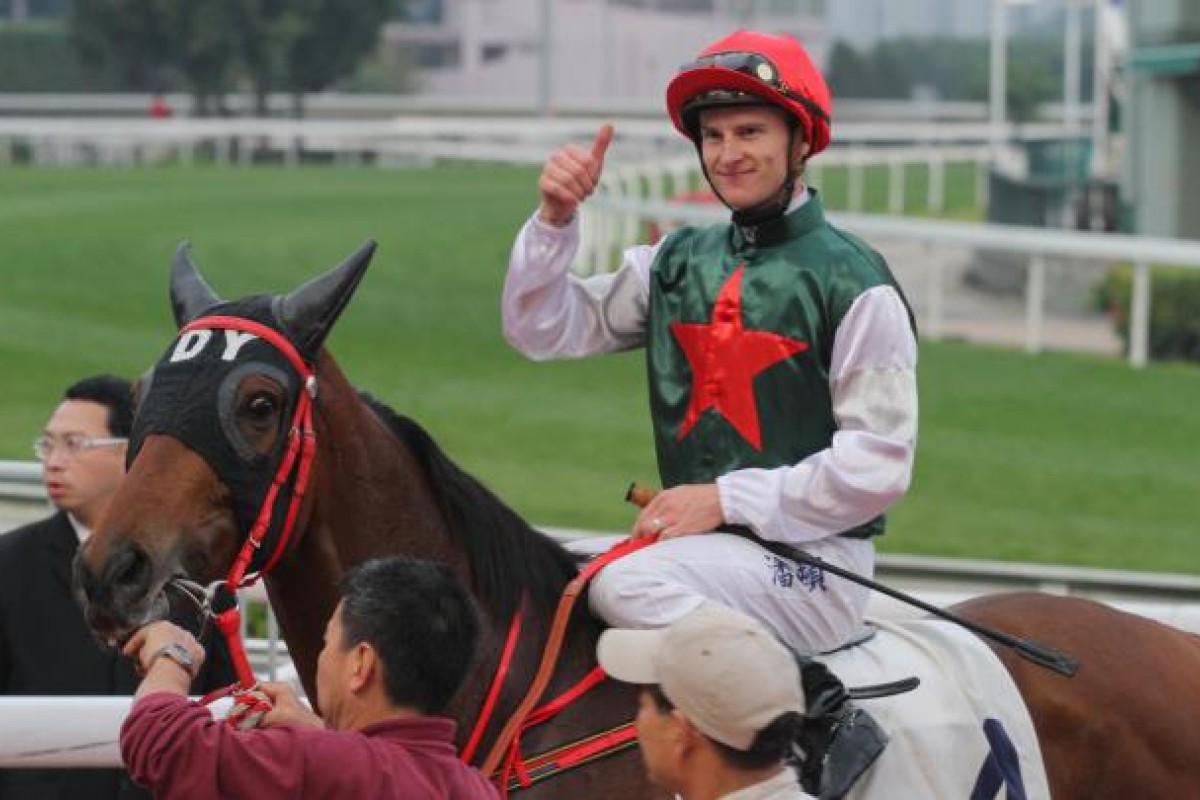 In most cases you would expect a three-timer would be enough to edge a little closer to the top of the jockeys' championship. But after a day where he bookended the programme with victories and rode a Group One winner in between, Zac Purton was left lamenting the dominance of championship leader Douglas Whyte, who got a treble of his own.
"It's a tough school," sighed Purton after wins on Backstreet Fighter and Metallic Star were added to a feature race triumph on Ambitious Dragon.
Whyte's three wins maintained a three-win cushion at the top of the standings, with the 12-time champion leading 60-57.
If Purton is to make a further push late in the season, the support of Danny Shum Chap-shing will be critical. Backstreet Fighter's win gave the pair a combined nine wins so far this term, with the duo striking at more than 20 per cent.
"The strike rate is so good because he refuses to ride any of my bad horses, only the ones he thinks can win," Shum said with a laugh.
Purton said: "There might have been an element of truth in Shum's tongue-in-cheek comment, but he does offer me a lot of rides and I think Danny does a great job with his horses. When he tells me I think I should be riding one because he thinks it can win, he is usually spot-on.
"This horse was not in that category though," Purton quickly added when talking about Class Five winner Backstreet Fighter. "I did think he was a shade unlucky in his last couple of runs and I thought there was something there. I thought there was a win in him."
On a day where it seemed the best place in the run home was in the centre of the track, Purton ended up there by necessity in the opening event and Backstreet Fighter broke his maiden at his 12th attempt.
"Obviously we didn't know what the bias was like, but I found the right lane. He needs the room anyway because he is a bit timid. He is nothing flash but he has won his race now," said Purton.
Purton has been an even bigger beneficiary of Dennis Yip Chor-hong, the emerging local trainer supplying 15 winners to the Australian at a strike rate of 24 per cent. The pair combined with Metallic Star, who had been freshened-up since a last-start win at the end of January.
"He raced handy last time, but because he was fresh from a wide gate, so I didn't think he would handle going forward. We went back and the race panned out well for us."