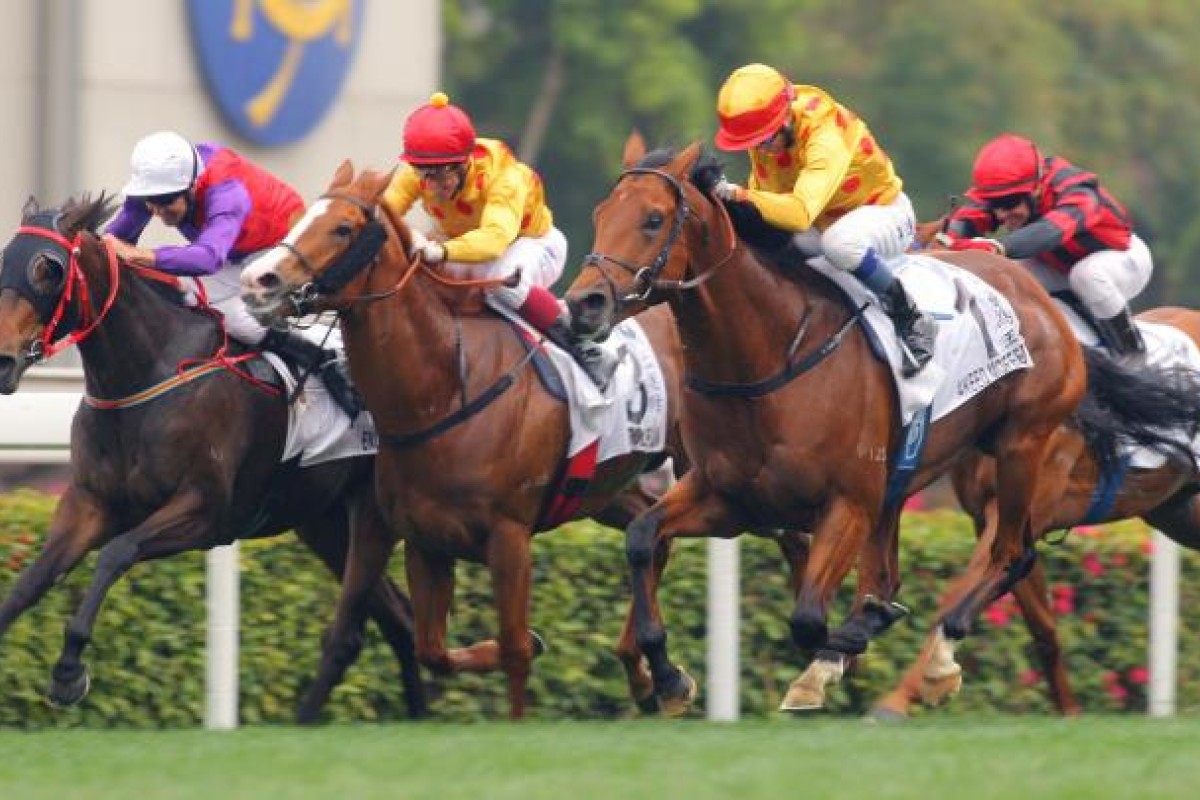 It was the moment when a big reputation and price tag meant nothing, and only a BMW Hong Kong Derby win would justify everything that led to Akeed Mofeed lining up as a hot favourite for the HK$16 million classic yesterday, but champion jockey Douglas Whyte believes the winning card had been played a fortnight ago.
Despite his short odds, Akeed Mofeed only scrambled in by a half-length over the John Size-trained outsider Endowing (Dwayne Dunn) and stablemate Gold-Fun (Olivier Doleuze), and a crucial piece of programming separated them.
"Richard Gibson won this Derby two weeks ago when he took the gamble to give Akeed Mofeed that extra race and won the 1,800m here - without that run, I don't know if Akeed Mofeed would have been seasoned enough to cope and relax in the stop-start race we got," Whyte said after landing his third Derby victory in the last four runnings.
"Those kinds of the decisions, they're the ones that top trainers make and they are the difference between winning and losing when you get to the day itself. Richard has to take a bow for that."
Yet again a messy race through the mid-stages, when long-priced leader, Jun Gong, slowed the tempo and set off a chain reaction behind him, it was all's well that ends well for Gibson after a Derby that hadn't started ideally.
Three-handed in the race at sunrise, he was down to two an hour prior when Mizani, who had stepped on a stone during the morning, was taken out by the club vets.
The remaining pair, Akeed Mofeed and Classic Mile winner Gold-Fun, both carried the yellow and red colours of owner Pan Sutong, who had set Gibson a huge budget and the task of finding him a Derby horse, and the trainer delivered in his second Hong Kong season with.
"I'm so grateful to Mr Pan for having this faith in me so early in my career in Hong Kong. I knew I had the right horse," Gibson said. "The Derby is all about Akeed Mofeed, it's all about horses. I think the racing fans and the professionals will all be happy tonight because the best horse has won the race. He's a really class act and I don't think we've seen the best of him yet. All my staff have done a fantastic job with Akeed Mofeed. His groom used to be nicknamed Mr Lucky, because he'd never had a winner - now he's got a Derby winner."
Both Gibson and Whyte had suggested before the race that 2,000m might not ultimately be Akeed Mofeed's right distance and he was more of a miler, but Whyte said in the afterglow of victory that the big Irish colt had run it right out.
"After that, I think he stays 2,000m, but it wasn't impressive because it was an ugly, messy race. Run it again and I think you might get a cosier win," he said.
Gibson's other runner, Gold-Fun, was brave again after doing plenty of work and hanging on for third, but causing a lot of interference down the last 200m as he laid in under Doleuze's strong riding.
Stewards took exception and the French rider left with a two-day careless riding ban and an HK$80,000 fine in lieu of two more days.
Sean Woods said Autumn Gold is on track for longer assignments in the Queen Mother's Cup and Champions & Chater after his solid sixth from the rear while the Caspar Fownes-trained Rainbow Chic ran well for fourth, despite being unable to get to the outside of runners.
Gibson wasn't being drawn on specific targets for Akeed Mofeed but is looking forward to the greater challenge of stepping him beyond his own-age group.
"The next stage is to see if Akeed Mofeed can beat the best horses in Hong Kong," Gibson said.
Correction: the story was updated at 10:25am March 19 to correct the headline -- Richard Gibson is the horse's trainer, not jockey.