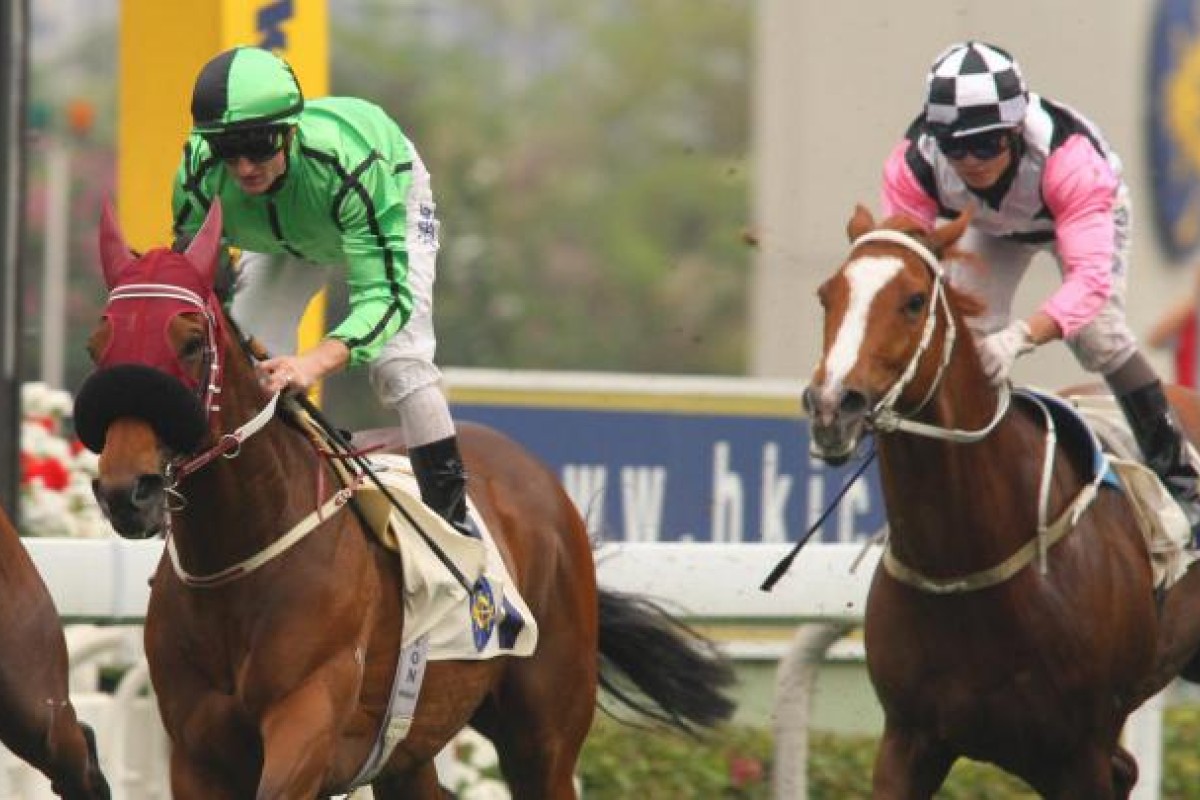 Zac Purton's ride on Military Attack to win the Premier Plate on Sunday showed Just how far he has come in Hong Kong and again showed up the malaise of slowly-run races which seems to have taken a complete hold.
Finding anything truly run nowadays is like searching for hens' teeth and many races have become a case of applying the old SAS motto: who dares wins.
Whoever is bold enough to put their horse into the race, instead of shrugging and accepting a bad hand dealt them at the draw, is going to win more races in this current tactical environment.
And "who dares" this season is frequently Purton.
Like most new jockeys, Purton spent his first couple of seasons playing a fairly straight line tactically but the change in him that has allowed him to be in a position to threaten Douglas Whyte's ownership of the championship has pretty much only taken place in the past 18 months.
Despite several successful enough years beforehand, it was only last season that Purton appeared to accept he belonged here and started to back his judgment more often in races.
There's room for an argument that, approaching 30 years old, he is coming to his riding peak and that this change might have arrived about now wherever he was based, not only Hong Kong.
But the key point is that it is so much more important here - where horses may have very few occasions in a season when they are fit enough, well enough and in the right spot for programming, venue, rating or draw, and today really does have to be the day. That's when a rider has to make his skills count.
Whether Military Attack would, or even could have won ridden any way other than how he was ridden does not matter any more. The task is complete.
As a race looking towards the QE II Cup, or any other future event, it was something of a non-event: a packed field at the finish, a time more in keeping with a Class Five (and not a particularly good one … if there is such a beast). The Premier Plate was significant only for the owner, trainer, jockey or anyone who made a collect.
As a guide to anything else, it goes straight in the bin, and the fact that such and such beat whatyoumaycallit is meaningless.
But it again showcased Purton's willingness to be a jockey, not just a tram driver, and to explore sensible tactical options. Until the Gold Cup, nobody thought Military Attack could sit up handy in a race even from a low draw, until Purton put him in the box seat and won. Now he looks a horse with options from anywhere, if someone dares to do it.
For all of that, though, Sunday was also a day of clarity, when the scale of the job ahead to deny Whyte a 13th straight championship this term became obvious.
However the perception of Whyte's form this season might be, he has ridden 26 winners from his last 100 rides, and holding a longer-term average over several seasons of 18 per cent. That's really low flying in this environment.
And on Sunday, the Durban Demon went to the races looking good for at least making an awful mess of the Jockey Challenge, which was suspended by the halfway mark and announced as "uncompetitive."
He rode four winners, but Little Men should comfortably have been five, and the possibility was out there that it might have been six or seven without anyone scratching their heads regarding how.
John Size wheeled out two more new, young horses - one that won, one that ran second - that will be winning races going forward, and he has a number waiting in the wings as well. Throw in Sea Dragon and there is another fistful of winners in waiting for Whyte from the Size yard, and he is chipping away at Purton's support base in other yards too.
Purton did his best with what he had on Sunday - two wins probably would have been a reasonable, even ever so slightly optimistic call, before racing - but he's at that point where his momentum is going to peter out if he can't find another clip or two of ammunition. His own 100-ride figure is sitting at 18, his average just over 17 per cent for this season but quite a bit lower over several seasons, and he trails.
This week is key - six behind and getting a free kick with Whyte suspended again. It is Whyte's third two-day careless riding penalty this season against Purton's two, and there was a three-day ban for Whyte not riding Tour De Force out to the line as well. Nine days lost against four: it isn't like he isn't keeping it exciting but there is a message in there.
Purton really needs to capitalise on that tonight and on the weekend, as there may not be many more such openings. Whyte has had as many as six careless riding charges in a season but probably an average tally would be three, which is where he's at, while Purton is probably sitting on his average figure at two suspensions.
It isn't that championships are the be-all and end-all, normally, and many jockeys dismiss them on the grounds that there is no cheque attached to the trophy. But Whyte wants it, be sure of that, and now we find out how much Purton wants it and how much ammunition he can find to chase it.