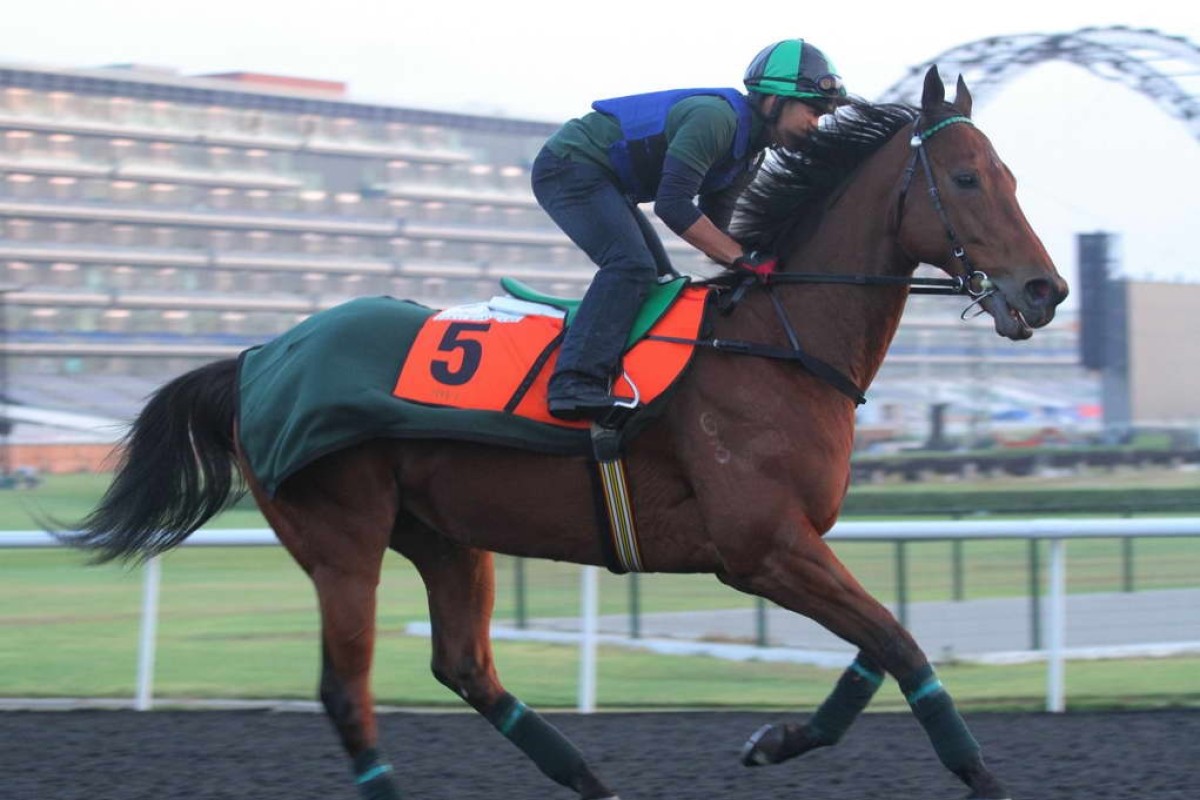 Trainer Derek Cruz says Joy And Fun has "nothing left to prove" and will be retired after Saturday's US$1million Al Quoz Sprint - a race fellow Hong Kong-trained runner Eagle Regiment seems increasingly likely to miss for the second straight year.
While nine-year-old Joy And Fun has travelled extensively and has survived multiple career-threatening injuries, he is thriving ahead of his swansong - as the relatively young Eagle Regiment flails.
Eagle Regiment will be given until this morning to overcome a hoof injury, but his chances of running seem slim after his condition had failed to improve yesterday. While the injury to his horse's near fore hoof wasn't serious from a long-term perspective, trainer Manfred Man Ka-leung admitted it would be difficult to get it right by raceday.
"It's a time factor. If the race was on Sunday or Monday he would be fine but Saturday makes it harder," Man said yesterday morning.
"It's nothing serious and he's been treated but we don't know if he will make the race. He's very sensitive on his near fore hoof after a small injury there."
Emirates Racing Authority veterinary steward David Sykes said there hadn't been much change in the condition of Eagle Regiment.
"He wasn't any worse, but he wasn't any better, it's just a waiting game," he said.
Making Man's job more difficult is the fact he cannot use anti-inflammatories between now and the race, and staff are treating the horse around the clock with poultices and soaking the hoof in warm salty water.
"They're just trying to improve the circulation and let the anti-inflammatories do their work," said Sykes, whose official inspection this morning will determine whether Eagle Regiment will take his place in the field.
"There's no obvious outward signs of the injury - just some heat and bruising. They're talking about maybe changing his shoeing, so maybe that will help him too."
Meanwhile, Joy And Fun's preparation has been perfect for a race he contested twice previously; he won in 2010 when it was classified as a Group Three in 2010, and finished an unlucky third last year - the first time it had been upgraded to Group One status.
"He is the same body weight as last year and just loves it here," Cruz said. "He'll run great. If he can break better than last year he can be in the frame again."
Even with a good run or win here, Joy And Fun's last two runs have been disappointing and Cruz feels the timing might be right to end the career of a horse he maintains is the "best I have trained ... easily". "He will go back to a nice paddock in New Zealand," he said.
John Moore's Golden Shaheen contender Frederick Engels will have a key gallop on the Tapeta this morning, as his improving condition pleased his trainer three days out from the US$2 million Group One.
Moore said Frederick Engels had lost between 20 and 25 pounds during his flight to Dubai, but would put most of that back on before raceday. "He has settled in well, he licked his bin out last night, and he will be back to close to his normal weight for the race," Moore said.