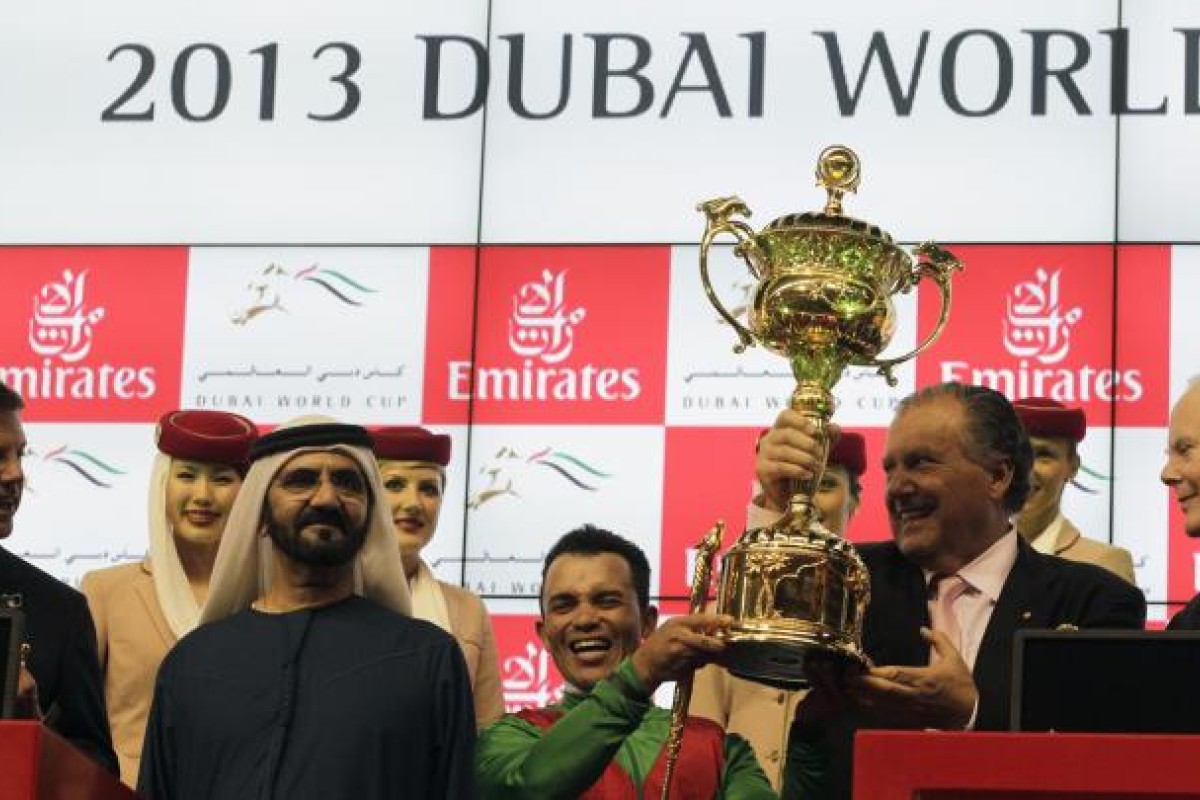 For those of us who have never witnessed a mirage in the desert, the announcement that Meydan Group will be part of the commencement of international racing in Chengdu later this year will do until one comes along.
Not that we doubt the ability of Meydan Group - or read Sheikh Mohammed in place of that company name - to fly in horses, jockeys and trainers who regularly compete in the United Arab Emirates, provide prize money and stage a race meeting. In Chengdu. In Kakadu. In Timbuktu, if it comes to that.
That's because putting on a race meeting is just a matter of money, and Meydan, the racecourse not the company, is proof definitive that throwing cash at something is a talent Dubai has in abundance.
But three years ago, it was Tianjin Horse City which was getting the Meydan backing in similar heroic vein so it's hard to get too excited about the Chengdu meeting, even if it has bypassed the whole racing industry infrastructure set up and gone straight to an international meeting.
Not having been to the race track in Chengdu, we've had to rely on notes offered by operators of "horse racing tours" in the Sichuan region.
These package tours take in the Litang festival in the area, which includes races over long distances, some with the rider under the belly of the horse and others with jockeys standing on their heads on the horses' backs. Talk about your Jockey Challenge. Yes, we're putting both hands up to see Douglas Whyte and Zac Purton getting down to tin tacks at that too, although it may not be part of the Meydan plan as the Litang festival is apparently in August, not October, for when the Chengdu international is vaguely intended.
And there's the thing. Big on fantasy, absent of detail.
We don't really know what is part of the Meydan Group plan. Details regarding programme, quarantine, prize money or any of the other nuts and bolts of a race meeting were not available. Perhaps while a poll of Meydan regulars is conducted to see how well subscribed the headstand event might be.
The president of the firm that built the car park at Dubai's racetrack suggested "small changes" to course facilities at Chengdu would be needed to bring them up to international standards. Yes, even if your international horseracing standards are the equivalent of those on Easter Island.
From what we could discover, the Jinma Horseracing Field at Chengdu was built in 1993 and has a track of 1,000m in circumference -two straights of about 340m front and back and two very tight bends - and a width slightly more than half of that of Happy Valley. Our guess is you want to draw low at Chengdu, but there is probably no option but to draw low since field sizes can hardly amount to much. The track has what has been described as a "temporary" grandstand.
Perhaps Meydan itself - not in use in October - could be airlifted to Chengdu and dropped on top of the existing facility, but then Dubai racing chief, Frank Gabriel, was quoted in one media report as saying there was no plan for investment in infrastructure.
Ultimately, though, the total fantasy of any new racing set-up is to neglect to include a betting aspect, if the scenario is to be anything but an occasional novelty event, and there are already a few of those across China.
The largesse of a very generous benefactor aside, there is no racing without betting, and there is no sign that laws on horserace gambling are about to change.
When colleague Michael Cox threw in a question at last week's press conference about gambling on the Chengdu races, the concept was dismissed with distaste as an "extra curricular" activity.
It's true, Dubai itself has staged high-class racing for many years without it requiring any commercial viability, thanks almost entirely to the largesse of the ruling family of Dubai. Perhaps the plan is to do something similar with a racing business in China, sans betting, and wholly underwritten by Dubai. The question that jumps out - why? The same question that jumped out regarding both the entry to, and quiet exit from, the Tianjin project.
Betting is about as extra curricular to racing as eating is to restaurants.
During the week, we did have a quote from a club vet regarding the whole Eagle Regiment foot problem thing, along the lines of "we have a duty to inform the public whether he runs or not as people are betting on these races".
And Dubai has always been happy to accommodate the big bookies, based in the UK or Europe, which operate on Dubai racing and no doubt pay fees for the live telecasts, at least.
So, while there's no doubt Dubai is a model, the only model really, for wagerless quality horseracing on any regular basis, it isn't like it has absolutely no contact with or recognition of the gambling dollar which drives, feeds and clothes racing in other parts of the world.
And which will be required for China to ever have "racing", and not just 'a race'.