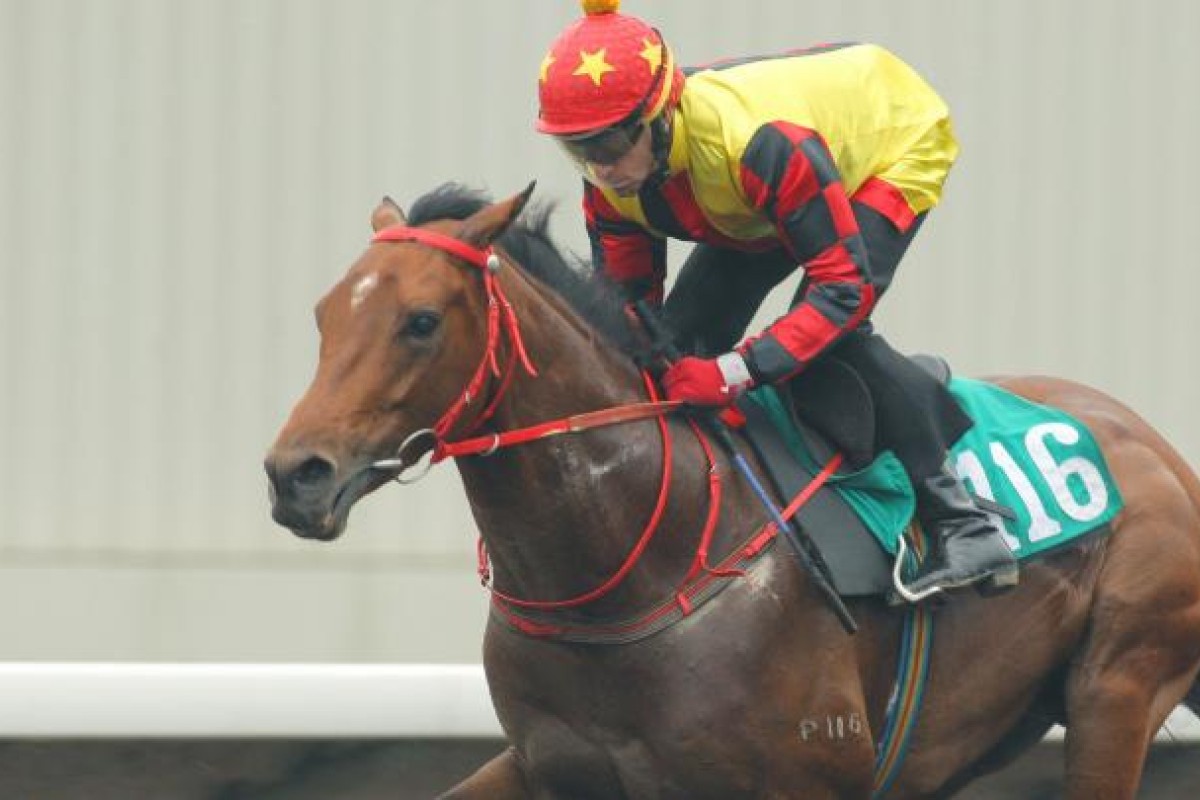 Douglas Whyte returns from a two-meeting suspension tomorrow and is the man to follow through the Triple Trio at Sha Tin, with all three of his rides standing out as bankers in their respective races.
Global Fame drops in grade in the first leg, Whyte reunites with All Bountiful in the middle pin, but it is Dennis Yip Chor-hong's Demokles that stands out as the best of his three rides, making his debut in the anchor leg.
It will be a TT well worth finding as it carries a HK$10.7 million jackpot and could be peppered with some value-adding outsiders - and hopefully there will be some value about Demokles, but Whyte's presence will probably squeeze any juiciness out of his odds.
Whyte has been with Demokles through four trials, the last of them a revealing 1,050m hit-out on the all-weather track - where he is entered over 1,200m in the Hong Kong Lions Cup.
Demokles form in France - a win over 1,400m and unplaced just once in four subsequent stakes races over a mile - and his breeding probably suggest 1,200m is short of this four-year-old's best. What he has in his favour is a liking for the dirt and the way he hit the line in his trial indicates he is ready for his first-up assignment.
Smart Man (Zac Purton) can be forgiven for his last-start seventh as 2.4 favourite at Happy Valley he was posted wide with no cover. Before that he was impressive though - both in winning on debut on the turf and then when running on for third two starts ago with a big weight.
Two others to throw in are Winnie's Horse (Gerald Mosse) from a low draw and Smiling Watch (Keith Yeung Ming-lun), whose last-start win looked like a return to form.
Whyte climbs back on board All Bountiful in the second leg - a horse that went unwanted in betting last time when Ben So Tik-hung took the reins, but still finished third over 1,600m. Two starts back the penny finally dropped for All Bountiful as he threw his legs out like a good horse at the end of 2,200m at Happy Valley.
Races over 1,800m at Sha Tin can be muddling run affairs and All Bountiful's ability to take up a prominent position will help him.
Also include Full Value (Mosse), Super Strike (Tye Angland) and Super Horse (Olivier Doleuze).
The last time Whyte was on Global Fame it was when he dropped into Class Five and he was an unlucky third over a mile. This time he drops again, to the same course and distance, and Whyte gets a favourable three-pound weight turnaround on Bamboo Dance (Brett Prebble), who beat him into second that day.
Global Fame's two runs up in Class Four since haven't been bad as he was runner-up to Heco Rider two starts ago and then ran on steadily in the worst part of the track last start.
Gate six should be good enough for Whyte to find cover and even though these doesn't seem much speed for the backmarker to run off, his class edge should see him find the frame.
Bamboo Dance goes in, along with Mega Posh (Alvin Ng Ka-chun). Horseshoe Fortune (Andreas Suborics) should be included after he ran on well last start over 1,800m. Since then he has been freshened up and is coming back to a distance which might be more to his liking.
---
TRACK STARS
RACE 1:
(2) Golden Deer, (4) One More Knight, (5) Smart Beauty, (6) You Read My Mind.
RACE 2:
(1) Double Moon, (2) Gold Tartini, (3) Spectacular Award, (12) Beautiful Scenery.
RACE 3:
(2) Brave Brother, (5) Po Ching King, (6) Southern Cross, (10) Winning Advantage.
RACE 4:
(2) Hypersonic, (4) Expedite, (5) Glacier Blue, (9) Darpana.
RACE 5:
(3) Horseshoe Fortune, (5) Cosmo One, (7) Follow The Money, (13) Sunseeker.
RACE 6:
(1) Let's Goal, (3) All Bountiful, (4) Full Value, (13) Hong Kong Fat.
RACE 7:
(1) Smart Man, (2) Lord Sinclair, (4) Demokles, (8) Smiling Watch.
RACE 8:
(1) Xtension, (4) Packing Whiz, (6) Helene Spirit, (9) Dominant.
RACE 9
(1) Silver Grecian, (2) Cosmic Boom, (7) Fionn's Treasure, (10) Masquerader.
RACE 10:
(1) Level Player, (7) Little Men, (13) Precision Era, (14) Towering Storm.
RACE 11:
(3) Secret Sham, (4) Choice Treasure, (9) Aerovelocity, (14) Uwillbeglorious.
Read Michael Cox's blog – Joy And Fun's last hurrah still to come. Go to: http://www.scmp.com/author/michael-cox-0