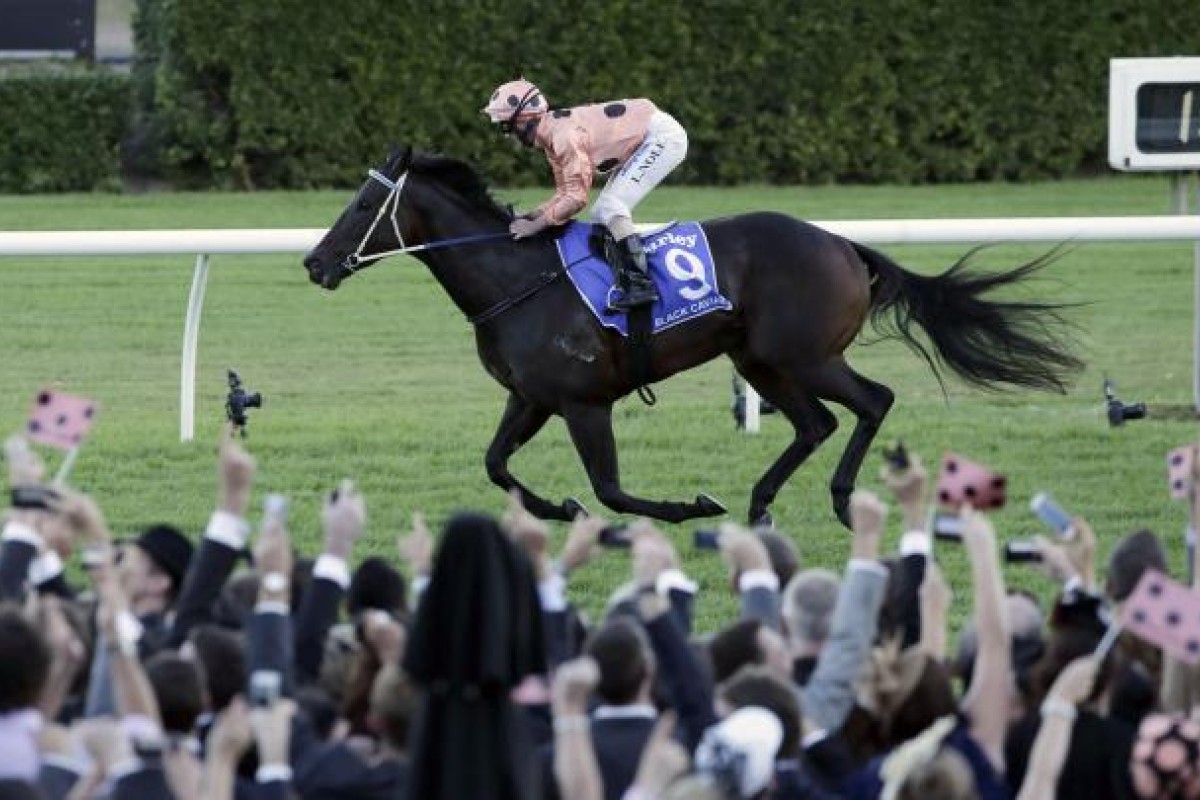 Champion mare Black Caviar, widely considered the world's greatest sprinter, was retired yesterday after 25 consecutive race wins and will now begin a lucrative breeding career.
"We thought long and hard about racing on but we believe she has done everything we asked of her and felt it was the right time to call time on her wonderful career," trainer Peter Moody said.
"She's in great shape and that's the way we wanted her to bow out. It was a hard decision."
She's in great shape and that's the way we wanted her to bow out. It was a hard decision
The powerfully built six-year-old, who has won nearly A$8 million (HK$64.3 million) in prize money, beat a top international field in the Diamond Jubilee Stakes over six furlongs at Royal Ascot last June.
The journey to England for that race took its toll on the horse, a household name in Australia, and it was several months before she was back to her old self.
But she showed her resilience to smash a quality field of sprinters in the TJ Smith Stakes in Sydney last Saturday, prompting talk of a return to Royal Ascot or the possibility she would race on in Australia for another season.
Moody said Black Caviar's Australian campaign this year, which also netted wins in the Lightning Stakes and William Reid Stakes, had been a bonus after Royal Ascot.
"We got three more runs than we thought we were ever going to have," he said. "We thought she would be retired post-Ascot.
"But we have been fortunate to bring her home here and I think the owners are to be congratulated on allowing me to race her on and give the Australian public three more opportunities to see her."
Jockey Luke Nolen rode Black Caviar on all but three of her 25 starts since her first win at Flemington in Australia in 2009 and part-owner Neil Werrett paid tribute to him.
"We would like to thank Luke Nolen for doing a fantastic job," Werrett said. "It's not easy coping with the pressure he goes through every week."
The mare will now begin a breeding career, with her foals potentially worth many millions of dollars.
Last week, her half-brother sold at auction for A$5 million - which was A$2 million above estimates.
"She's going to embark on a new career," Moody said of a horse that won the World Champion Sprinter award in 2010, 2011 and last year and attracted sell-out crowds to racetracks.
"We've done our job and she's more than done hers. She's been a great advocate for the sport.
"She brought interest to our sport that hasn't been there for decades. Black Caviars don't come along every day."
Werrett would not speculate on who her stallion might be amid rumours that it could be Frankel, another of the world's top racehoreses.
"We've got a bit of time to decide. We'll start thinking about that probably from tomorrow," he said.