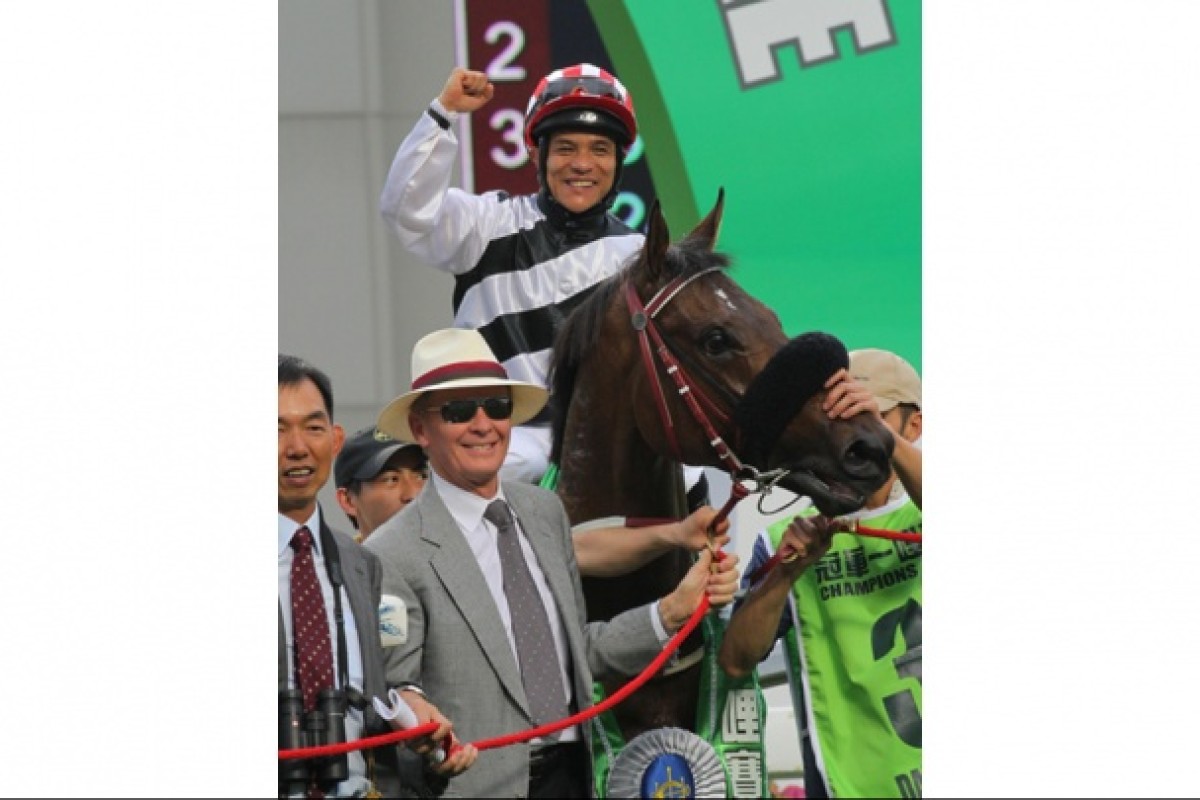 Hong Kong's leading big money trainer, John Moore resorted to the gods to improve his luck last week and they answered unequivocally yesterday with a winning treble and his fifth Champions Mile in the past seven years as Dan Excel kept the HK$12 million international event at home yet again.
"I had the whole stable up at the temple - we beat the drum, we turned the fan, we did the joss sticks, and it looks like it worked," Moore said after Dominant scored back-to-back Queen Mother Memorial Cup wins and honest five-year-old Dan Excel finally got the Group One he deserved in the Champions Mile.
"With the QE II Cup and now this, it has been a fantastic week. I've got a fabulous team around me in the stables and these kinds of days, they're a team effort. I can train the horses, but it all falls apart if the team around you don't do their job correctly."
Moore had another win with Secret Sham, the three-year-old looking a Group horse of the future as he beat stablemate Destined For Glory in the final race, giving Dan Excel's owner, David Boehm, a rare double for the day.
"It's always any owner's dream to win a Group One, particularly in such gutsy style," said Boehm, who also raced former top liner Happy Zero, after Dan Excel's heroics.
"I've had horses with John for 25 years and this is only my second Group One. It means the world to a horse owner."
Boehm noted that Dan Excel got a lot of support late in the betting as he added: "I'm glad all the punters had something on Dan Excel - this was a win for all of Hong Kong."
And Boehm's day improved a little later with news that Dan Excel had been lifted from the reserve list for the international race in Singapore next month and into the field.
"David's got an office in Singapore so he was very enthusiastic about going there and now Dan Excel will be on the plane with Military Attack and Lucky Nine next week," said Moore.
Moore's day had a glow to it anyway after stayer Dominant had come back from injury to win his second successive Queen Mother Memorial Cup, with jockey Zac Purton held up for a fair part of the straight before clearing the traffic in time to launch a late successful bid in a blanket finish.
"I've never seen an injury like the one he had," said Moore. "He did it in November when he was getting ready for the international meeting and the all-weather track was in terrible shape and he injured his left hind suspensory, up near the hock. He missed the international and he missed quite a bit of racing and I only had one race in him to get ready."