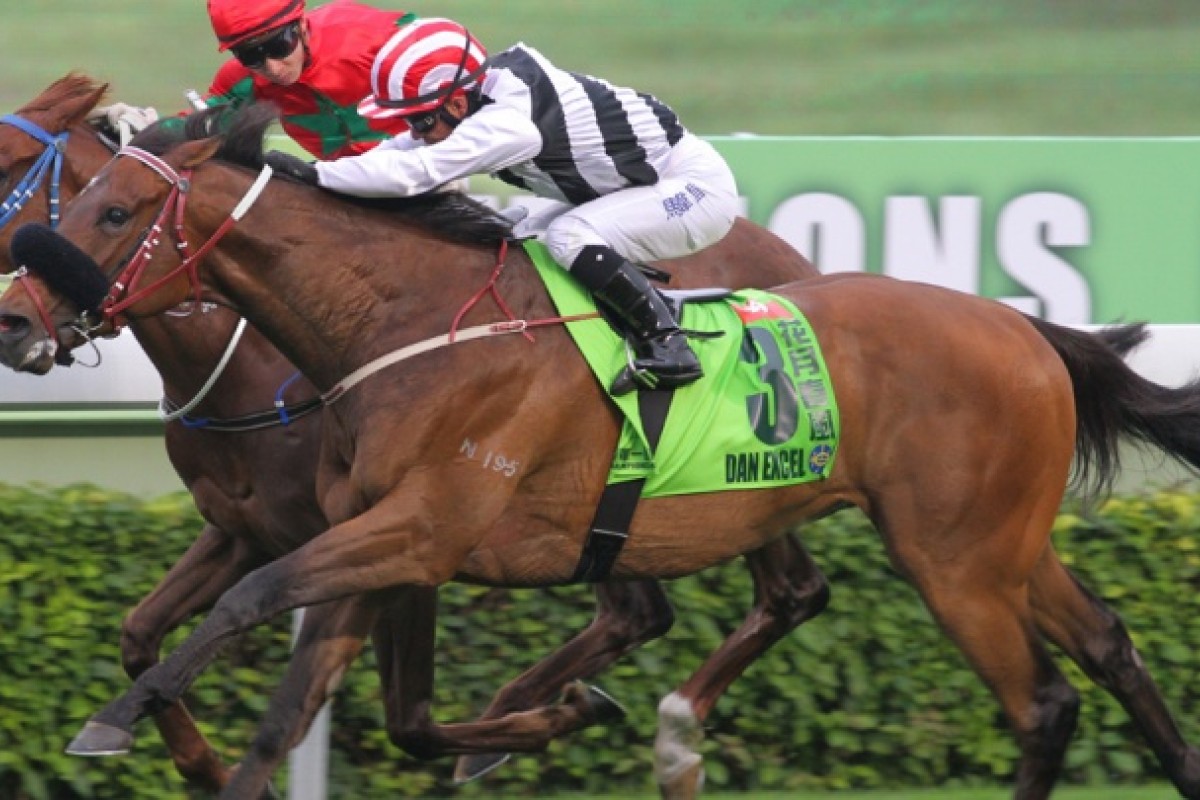 One international bid was launched but others thrown into disarray as rugged trier Dan Excel upset the flashy names and the HK$12 million Champions Mile stayed at home once more.
The race has never been won by a visitor and nothing changed as John Moore won it for the fifth time in seven years, adding Dan Excel's name to double wins by Able One and Xtension.
The gelding had won just one of his 15 starts here and had another 10 first-four finishes, but Dan Excel (Weichong Marwing) had knocked at the door long enough and finally it opened as he fended off a similarly under-rated character Helene Spirit (Matthew Chadwick) in a race that refused to go to script.
"It was his turn," said Marwing. "He's ultra consistent and always in the mix. When they're like that and time goes by without winning a Group One, people start to have doubts and wonder if he's good enough. Now they know - today was his day. A perfect run, we know how hard he tries and he's got his reward."
Dan Excel had been entered for the Singapore Airlines International Cup (2,000m) at Kranji later this month, but Moore was surprised to find he was on the reserve list - an hour after yesterday's win word came through that he would now start. "I thought he might have been in the field ahead of one or two others but now he's in and, barring injury, he'll be on the plane next week," Moore said. "And if he draws a barrier again, he'll be a live chance there, too."
Dan Excel had often suffered with tricky draws at times but barrier one was gold on a track suiting horses on the pace.
"I thought we might get the box seat behind Helene Spirit and King Mufhasa and we did. Helene Spirit went further than I expected him to take us - took us right to the post - but Dan Excel really kicked well," Moore said.
The two-horse war between that pair was a thrilling denouement but there were disappointments trailing them home.
The John Size-trained favourite Glorious Days (Douglas Whyte) looked to have his chance and didn't finish the race off in fourth. "I would call his run just OK, a tad disappointing," said Whyte. "I had the run of the race following the winner but he didn't produce that brilliant acceleration we know he has."
Size had planned to take Glorious Days to the Yasuda Kinen in Tokyo next month and said nothing had changed, but he would wait on how the gelding came out of the race.
Pure Champion also held an entry for Tokyo but trainer Tony Cruz scrapped the idea after he was well beaten.
Third-placed Packing Whiz finished off well enough for the minor placing but jockey Brett Prebble reported the five-year-old "just wasn't himself. Maybe there's two of him."
"I had the stick on him before the turn and thought he wouldn't finish anywhere. Then he's picked up and run home," Prebble said.
New Zealand's King Mufhasa dropped out of the race sharply and had a significant amount of blood in his windpipe afterwards. "Maybe that's retirement," said trainer Bruce Wallace.