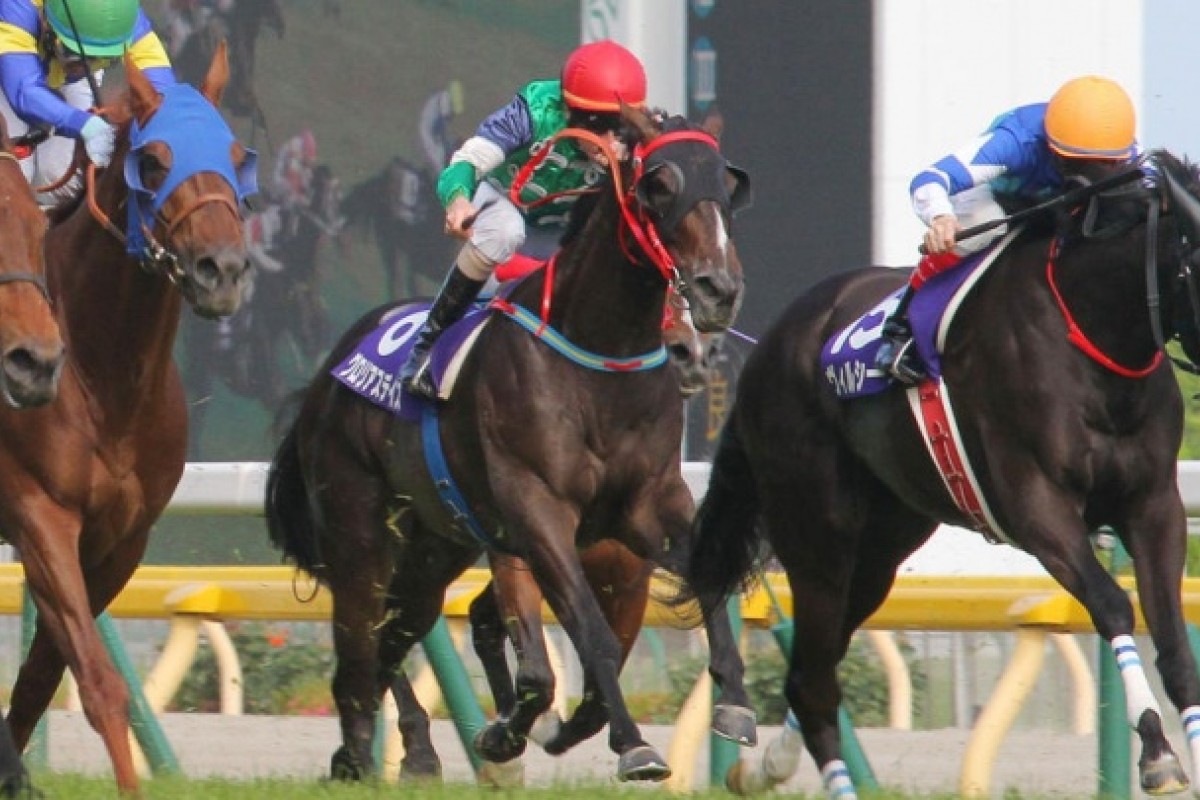 Lord Kanaloa's stirring victory in yesterday's Yasuda Kinen in Tokyo set up a possible tilt at the Hong Kong Mile.
The stallion emphatically swept aside pre-race doubts he could run a strong 1,600m as two of his potential rivals in December - Glorious Days and Helene Spirit - finished down the track.
After dominating the Hong Kong Sprint last December, Lord Kanaloa looks an ominous threat should his trainer Takayuki Yasuda convince the owners to return to Sha Tin for the longer race later this year.
"After winning this race today, the Hong Kong Mile looks attractive to me," Yasuda said after his five-year-old sent the 60,000-plus crowd at Fuchu into hysterics.
Lord Kanaloa started 3-1 favourite and beat Shonan Mighty and Danon Shark, while the Hong Kong-trained pair Glorious Days (11th) and Helene Spirit (16th) were left in the locals' wake - and left lamenting a challenge that was over before it began.
Glorious Days "cat-jumped" in the air at the start after which jockey Douglas Whyte declared, "the race was over", while Helene Spirit didn't handle the laborious pre-race parading, anxiously sweating and obviously irritated, and subsequently overraced early and faded late.
Lord Kanaloa had placed over a mile previously, but not at top level, and going into the race Yasuda admitted even he had doubts about whether his stand-out sprinter could get the trip. Yasunari Iwata positioned Lord Kanaloa midfield from gate 10, racing three wide with cover, and his sustained finishing burst was a scary sight for potential rivals come December. Even though the winner shifted ground once clear in the concluding stages, Iwata assured media, "There was plenty left in the tank".
"If he's alone in the lead, he tends to lose momentum … the way he drifted was because he was alone and nothing to do with his energy," he said. "It's a relief to win today, there are so many options now for him."
Last year Glorious Days did everything wrong and finished 14th, this time he did one thing wrong and it cost him any chance of winning.
Even so, Whyte suggested the five-year-old might have been below his best anyway, given the lacklustre way he finished off.
"It was a little bit disappointing," said Whyte, who gained some consolation when he won the following race on the card, giving the champion jockey his 50th victory in Japan. "He bungled the start, he half cat-jumped in the air and the race was over," he said.
"I was five or six lengths further back than I wanted to be. Up the straight I was pinching ground, and I thought 'I'm a chance here'- but he hadn't gone halfway up the straight and his run was over already."
Caspar Fownes' fifth shot at the race went the way of his first four - all unplaced efforts - as Helene Spirit became uncharacteristically agitated. "He was on the bit the whole way pulling. He just didn't chill out," he said. "He has been good during the week, but obviously facing the crowd he got a bit fired up."
Gerald Mosse added: "They run the race 40 minutes after they put the saddle on here … he sweated up."