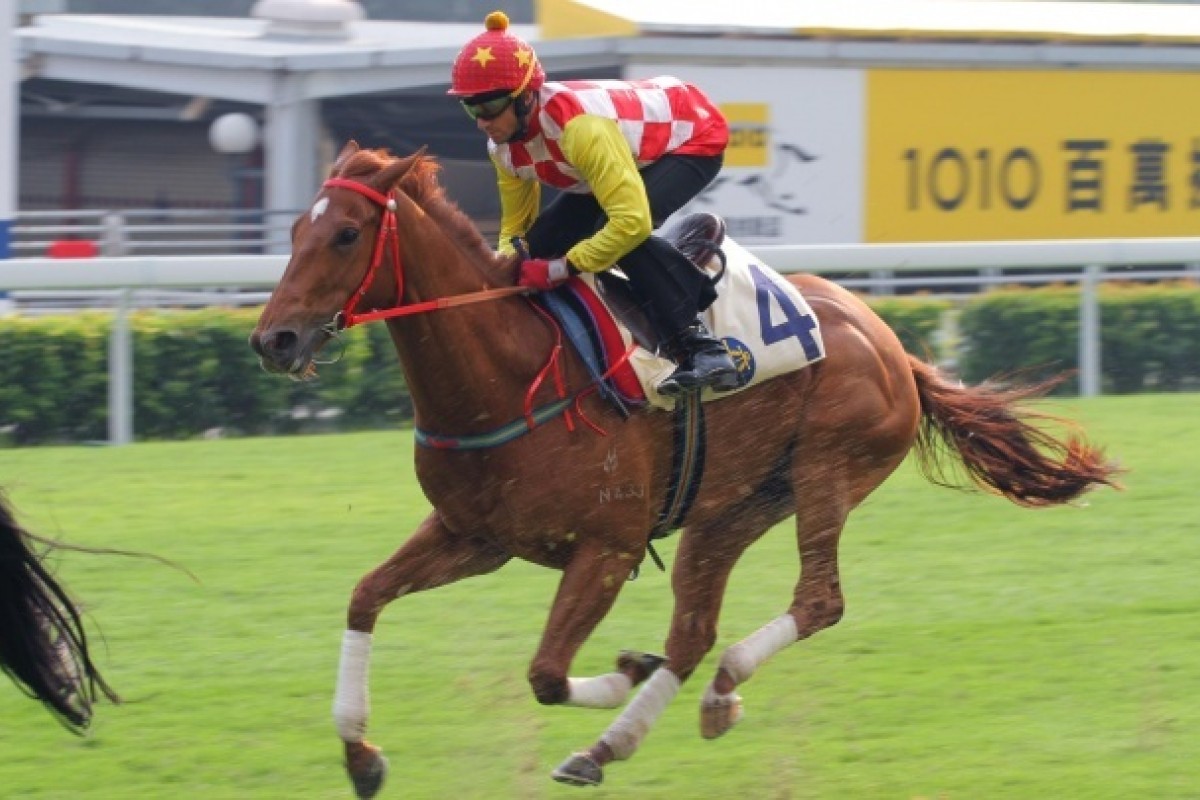 John Size has slipped from first to fourth in the trainers' championship chase in the past five weeks, and while he remains favourite for an eighth title, he will need to break a bad run soon if he is to stay in the hunt.
Sunday might be the day and Size has two standout picks in a tough Triple Trio that can help bring him closer to leader Dennis Yip Chor-hong.
Forever Ahead steps back onto the turf and up to 1,400m in the anchor leg and looks to have found the race to end his 11-start winless run. First-starter Access Years gets the gun draw and the right type of race to use it in the opening leg.
Size led by three wins going into Audemars Piguet QE II Cup day in late April, but then won just four races in May (compared to 10 in the previous month). He lost his lead to Yip before Tony Cruz and Caspar Fownes also reeled him in. The Australian has not won a race in the last three meetings - sending around 15 runners in that time - and he now trails Yip by four with 10 meetings remaining.
With Douglas Whyte suspended, Size has gone to Brett Prebble on Forever Ahead - a horse that has been mostly disappointing, but cursed with bad draws of late. Forever Ahead has drawn five and 1,400m seems to be his best trip. He is a horse that gets back, but there should be suitable speed.
Dicky Lui Cheuk-yin would seem the logical choice to take up the running on Double Dragon, Matthew Chadwick will hunt forward on Little Rainforest, and who knows where Apollo Cavalier might end up - he is always first three, but might not get there from a horror draw for a horse that can overrace. Gerald Mosse will be reluctant to dig him up from gate 12.
Next in is King On Earth (Richard Fourie). He comes off three straight Class Five wins, but both Fourie and trainer Andy Leung Ting-wah believe there could be more in store.
Michael Chang Chun-wai's Boy Oh Boy (Olivier Doleuze) is the horse open to the most improvement. The three-year-old raced greenly on his debut five weeks ago, but still, finished off well for third. He has trialled well since, showing improved manners and he cannot be left out.
Win It (Zac Purton) could appreciate coming back in trip and should be considered.
When a Size horse has five trials and then draws two on debut, it almost guarantees a prominent spot in betting markets. There are some question marks over some of Access Years' trial efforts, but from the draw Tye Angland should be able to get the right run to see him go close in the first leg, a 1,200m Class Four.
Access Years has the gate speed to hold a handy position and should be able to box seat behind leader K-Moochi.
There is still plenty of room for improvement with K-Moochi's racing manners, but he will need to have rectified a few things as he steps up in class. If Howard Cheng Yue-tin can get him travelling on the rail, he could make it three straight. Access Years is the safer banker though. Also include How Speedy (Purton), Creative Union (Fourie) and Pearl Win (Doleuze).
The middle pin is the toughest and there is no standout banker, but play around with Time Winner (Angland), Joyful Luck (Lui), Sight Believer (Keith Yeung Ming-lun) and Bullish Boy (Doleuze).
Read Michael Cox's blog – Japanese know how to put on a fan-tastic show. Go to: http://www.scmp.com/michael-cox
---
Track Stars
RACE 1:
(4) Happy Goal, (8) Young Happy, (10) Brilliant Light, (12) Barcelona Too.

RACE 2:
(5) Spectacular Award, (6) All My Kingdoms, (8) Money Wins Wins, (10) Fun Faster.

RACE 3:
(3) Expectator, (6) Life Of Beauty, (7) Diligent III, (10) Dragon Pins.

RACE 4:
(3) Pearl Win, (4) Access Years, (7) Triumphant Dragon, (11) Star Of Wai Bo.

RACE 5:
(2) Bullish Boy, (3) Time Winner, (7) Let Me Go, (9) Sight Believer.

RACE 6:
(2) Supreme Winner, (3) Apollo Cavalier, (5) Boy Oh Boy, (14) Mighty Equus.

RACE 7:
(1) My Name Is Bond, (3) First Sight Love, (5) Able Friend, (6) Master Sommelier.

RACE 8:
(3) Plentiful, (5) Exciting Dream, (6) Fujian Spirit, (11) Winning Mascot.

RACE 9:
(2) King Of Scots, (4) Travel Brand, (6) Great And Beyond, (12) Towering Storm.

RACE 10:
(1) Bullish Friend, (3) Tai Sing Yeh, (5) Roman Soldier, (10) New Deerfield.