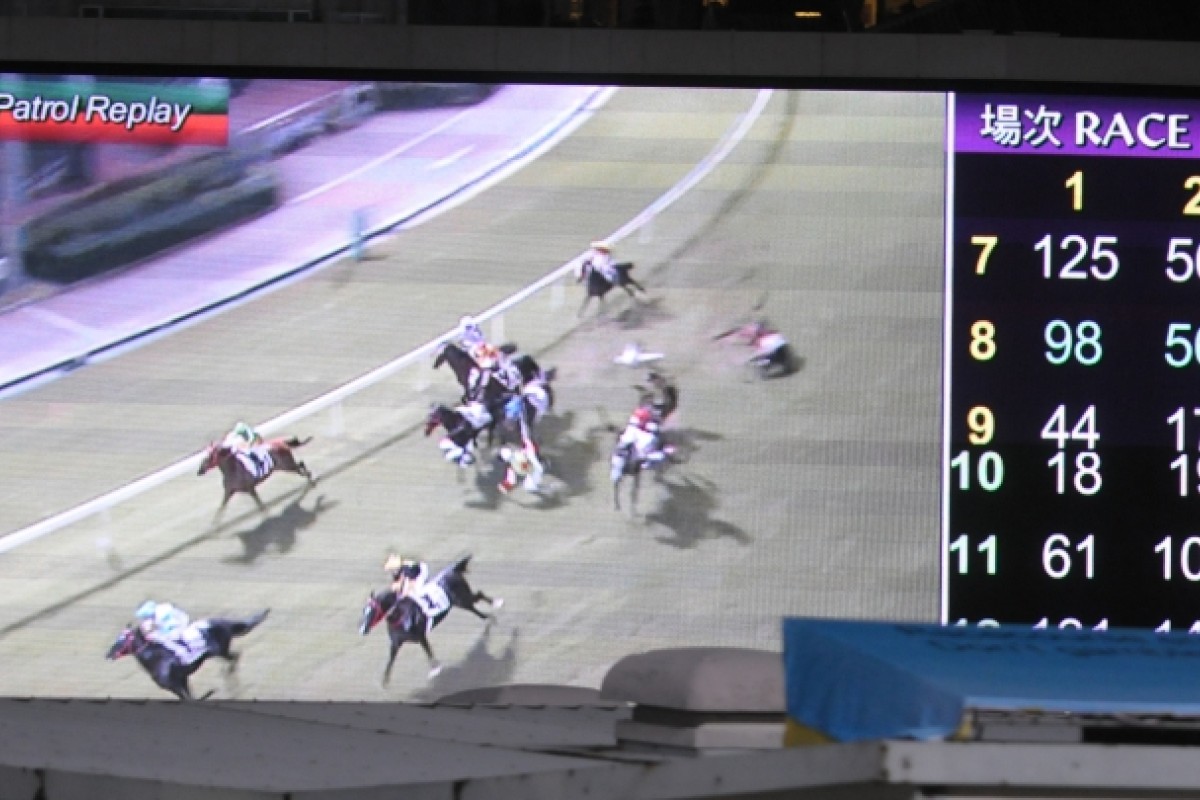 Every now and then an incident like last night's ugly five-horse fall at Happy Valley snaps us out of a slumber and reminds everyone what an incredibly dangerous and brutal sport horse racing is.
Week after week horses hurtle around the coliseum-like Happy Valley circuit, a stadium made to seem even more claustrophobic by the towering skyscrapers that surround it, centimetres apart as daredevil jockeys fight and scrap for every little advantage.
It looks, and is, dangerous, but once caught up in the meeting-to-meeting grind it's easy to take things for granted and think of racing as a numbers game.
How many of the punters consider the dangers to horses and their riders? Certainly not the few who cheered wildly when China Angel won race two – as a trail of wreckage lay behind him.
The tight and tactical nature of racing at the Valley puts jockeys in a vulnerable position. Once Fortune Together broke down in front, jockey Howard Cheng Yue-tin and those behind, as they steadied to take the final bend, were powerless to avoid what happened next.
As far as race falls go, there might not be a worse scenario than the leader falling unexpectedly, especially on a saucer-like track. Cheng and Vincent Ho Chak-yiu were hospitalised with a broken arm and sore neck respectively.
Douglas Whyte and Eddie Lai Wai-ming were unable to finish the meeting and another – Tye Angland – considered himself lucky. He was catapulted through the air but managed to roll on impact and avoid serious injury. Luckiest of all was Andreas Suborics on Master Rio as he was three back the fence and somehow squeezed through a narrow gap, eventually finishing third.
It would be cold not to mention the two horses that had to be put down: Fortune Together, whose trainer Me Tsui Yu-sak was shattered, and Ocean Wide.
It is truly only luck the jockeys are all with us today. How tough are these guys? They might be some of the smallest athletes in the world but a case can be made for jockeys being the bravest.
To return to ride after a fall like this is among sports' greatest tests of nerves, however long it takes to get back in the saddle. But to ride in the next race is astonishing. Angland somehow fulfilled his obligations, while Lai finished third in the following event before he realised how much pain he was in.
Whyte's response later was fascinating to watch from a sports psychology standpoint. He emerged from the jockeys' room late in the meeting and was met by more than a dozen photographers and reporters. He used words like "strong" and "fit" to describe his condition and even flexed his muscles in the manner of a strongman for the cameras.
A couple of hours earlier he was lying prone on the track, dazed and winded, and as he put it "waiting for my next breath to come". Was he trying to send a message to his rivals – or himself – that he was ready to go again on Sunday?
It's worth mentioning Zac Purton was at home, still suffering from spasms from kidney stones, probably caused or at least exacerbated by wasting to lose weight. It's a sport where the attrition rate for jockeys doesn't just come through accidents.
Falls are part of racing, but is there anything that could be done to prevent last night's fall? Rest assured that members of the Hong Kong Jockey Club's veterinary department are determined to find out whether an injury like Fortune Together's is one that could be predicted through precautionary bone scans.
As the summer months descend and the excitement of the feature races becomes a fading memory, there is a tendency to count down the remaining meetings. On the nature of the extended and demanding season, one jockey recently remarked: "We should be on holidays now."
Heading into last night plenty of jockeys were counting down the days until they could board a plane to Phuket, but today there are a few, with their families, simply counting their blessings.