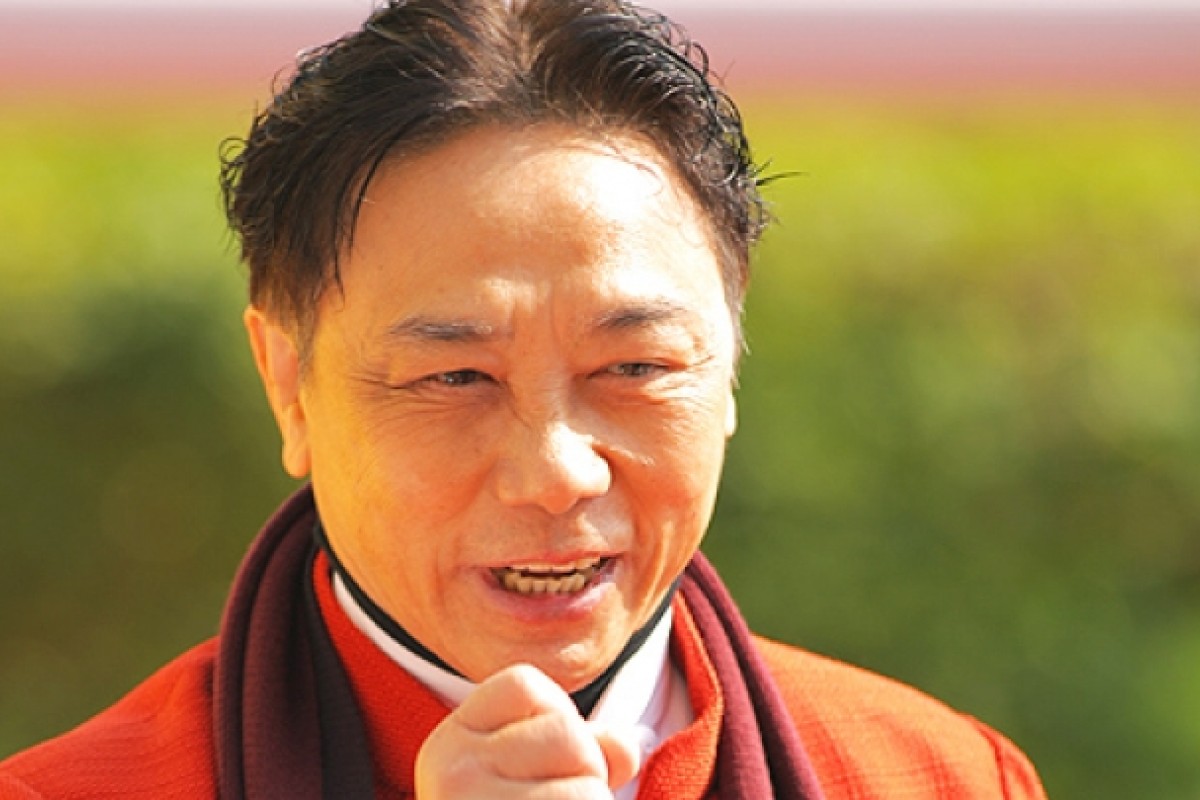 The Hong Kong Jockey Club will get in early with its awards this season – presenting Champion Horse of the Year, other category winners and champion jockey and trainer trophies on the second last day of the season – which could be tricky, given how close the chase for the trainers' championship remains. But we thought we would get in even earlier and provide our own awards – not for who was best this season – that's boring and we know who most of the winners will be anyway – but for who and what was most entertaining and made our job easiest to file an off-beat blog after every race meeting.
Trainer of the year ... Andy Leung Ting-wah
If Dennis Yip Chor-hong hangs on to win this season's trainers' championship it will rank as one of the greatest racing upsets of all time. John Size keeps doing what he always does and could win his eighth title in 12 seasons. John Moore shrugged the international Group One monkey off his back with a Singapore International Airlines Cup winner. But no participant has provided more entertainment than the soon-to-be-retired Andy Leung Ting-wah.
Moore had to have the Jockey Club's rules changed to get the chance to train past the age of 65, but Andy required no such assistance. He simply drove down to the Immigration Department and had his date of birth changed on his Hong Kong ID. Many proclaim Size's patience, but try taking a ticket from the machine at immigration and watching the numbers tick down as the hours, then days, while away. Size was never going to be able to do it. The time and effort spent trying to wrangle the extra year by changing his date of birth is probably part of the reason why Andy only trained nine winners last season – he was queuing up for most of it. And it must be said, the fact he only trained nine winners last term is a big part of the reason he has busted out and trained 17 this time round – his horses are bouncing up off too-low handicaps (which he delights in reminding everyone of). Andy has been pressuring us for a guest columnist role for next season, promising to "reveal all" on the secrets of Hong Kong racing – but we really can't afford the legal costs and trouble that would result in. Speaking of lawyers, last we heard, Andy was seeking advice regarding the fairness of the new criteria for older trainers – have we heard the last of Andy yet?
Jockey of the year ... Terry Wong Chi-wai
When Terry Wong Chi-wai fronts the licensing committee to "show cause" as to why he should continue to ride in Hong Kong, what exactly is he meant to say? What is the format? Can he use a PowerPoint presentation? Can he call on eye witnesses that will verify he actually won some races? Wong has four winners this term – three of them coming in a "hot streak" since the start of April. The last of those hardly endeared him to punters, a 157-1 long shot, Alpha Grand, befuddling everyone at Sha Tin on Monday. Usually there is some sort of feel good factor about a triple figure winner on a racecourse – not at Sha Tin, just unreserved anger. Even the winning trainer is usually upset, as he has to explain to the now suspicious owners (if they are even there) why he had such little confidence in his runner. In short, Alpha Grand did not make Terry Wong Chi-wai more popular. He has also had more careless riding suspensions than winners.
Douglas Whyte may well be about to clinch a 13th straight jockeys' championship, but he wins everything. As we heard one jockey complain when asked to do on of those naff pieces to camera for the HKJC website, asking fans to vote for them in the "Most Popular Jockey" contest: "Why? I don't want to do it, Douglas always wins and it's a waste of time", and then, when his arm was twisted to do it – "Please vote for Douglas Whyte for Most Popular Jockey, because he will win anyway." The brilliant piece is forever on the cutting room floor, no doubt, but the jockeys' creativity should be an inspiration to Wong, because he is going to need it.
So by way of assistance, here are a few key points for Terry to take into the show cause hearing.
Wong has ridden more winners than Tom Queally (Three) in Hong Kong this season, and more than legendary riders Christophe Lemaire, Ryan Moore, Craig Williams, Christophe Soumillon, Felix Coetzee, Johhny Murtagh and Olivier Peslier combined (this is, of course, ignoring the fact Queally was here on a three-month stint, and the rest rode for only one or, at most, two meetings. But we're clutching at straws here).
Wong's departure would rob the HKJC of one of its great rivalries and marketing ploys: Terry Wong Chi-wai versus fellow battler Jacky Tong Chi-kit and the "Wong-Tong challenge". While many scoffed when we floated the exotic head-to-head jockeys' championship bet earlier this season, who is laughing now? While Whyte versus Purton is done and dusted – Tong (six wins) is hanging on by a thread from a late charging and inspired Wong (four) with three meetings to go.
That's all we've got. Good luck Terry.
Horse of the Year ... Intellectualstride
Again, let the officials deliver the plaudits to Military Attack, Ambitious Dragon et al. We want to honour a horse that stood up for himself. When jockey Tim Clark accidently slapped the nose of rival Intellectualsride in the closing stages of a November race at Happy Valley, the horse launched a vicious attack to a stunned Clark – gnawing at his forearm. Later in the season, remarkably, Affluence Of Rain attacked Clark in a similar manner – this time without provocation. While Clark cited family reasons for his premature departure from Hong Kong, was the real reason a growing feeling that the horses of Hong Kong had it in for him? We may find out this weekend when the lightweight Aussie returns for a one-day stint. If he is sitting even wider than Gerald Mosse in races, you'll know why.
Best dressed trainer or jockey ... Olivier Doleuze
While this category doesn't have an official equivalent, it should, and it may be the toughest prize to win. John Moore has been consistent with his safari suits and panama hats this season, and Andy Leung Ting-wah has continued to wheel out an array of blinding suit jackets – but neither can match the style of the flamboyant Frenchman Olivier Doleuze.
Every Sunday afternoon Doleuze strides out of the Sha Tin jockeys' room impeccably dressed in tailor-made outfits, topped off with custom made ostrich skin boots, in gold, no less. All he needs is a martini to complete the look, although he is probably on his way to wherever the coolest people in the world hang out to have one. It's a look we've described as retro-chic, which passed muster with Doleuze himself. What gets him the gong, though, is the trackwork outfits – his two sets of wet weather gear are reflective, metallic-looking silver and gold spaceman outfits that catch the eye, and the rising sun, each morning.
Quote of the year … Me Tsui Yu-sak
While achievements, or lack of them, give us something to talk about, and racetrack fashion is high on the agenda in this blog, nothing beats a classic one-liner.
Again, the irrepressible Andy Leung Ting-wah leads the way with these gems: firstly, after a win by Creative Union, where jockey Richard Fourie followed detailed instructions to "perfection" – "It was like a perfect war plan – we creep up behind, then catch, and then boom!" And then, after Leung trained his 400th career winner he provided some perspective: "You try counting from one to 400," he said. "And see how long that takes you. It's a lot of winners."
Then this from HKJC head vet Chris Riggs, who was breathing fire after trainer David Hall questioned the club's guidelines surrounding cortisone joint injections: "What do you think of racing in America? It's an absolute waste of time, and why is it a waste of time? Because vets inject anything and everything all the time. Do you want racing to go like that?" The comments sparked an animated discussion on drug use in the racing world, one that still continues on online racing forums 10 months later.
Even more sensational, and in the end, expensive, were Sean Woods' comments after Free Judgement won an all-weather track race in March, referring to the horse's condition after its last-start effort.
"His eyes were dilating and there was something seriously wrong with him before he ran and he was virtually pulled up more than 22 lengths behind Akeed Mofeed. The whole thing stunk to me."
He would have got away with that – but this next part cost him a $100,000 rap over the knuckles from chief steward Kim Kelly and co.
"There was something very sinister about his run last time and I complained, but I was shot down," Woods said.
The winner though is Me Tsui Yu-sak and a simple one-word response to the question, "Can we please have a quick word in English Me?"
"No."
We couldn't argue, it was quick, and it was in English.