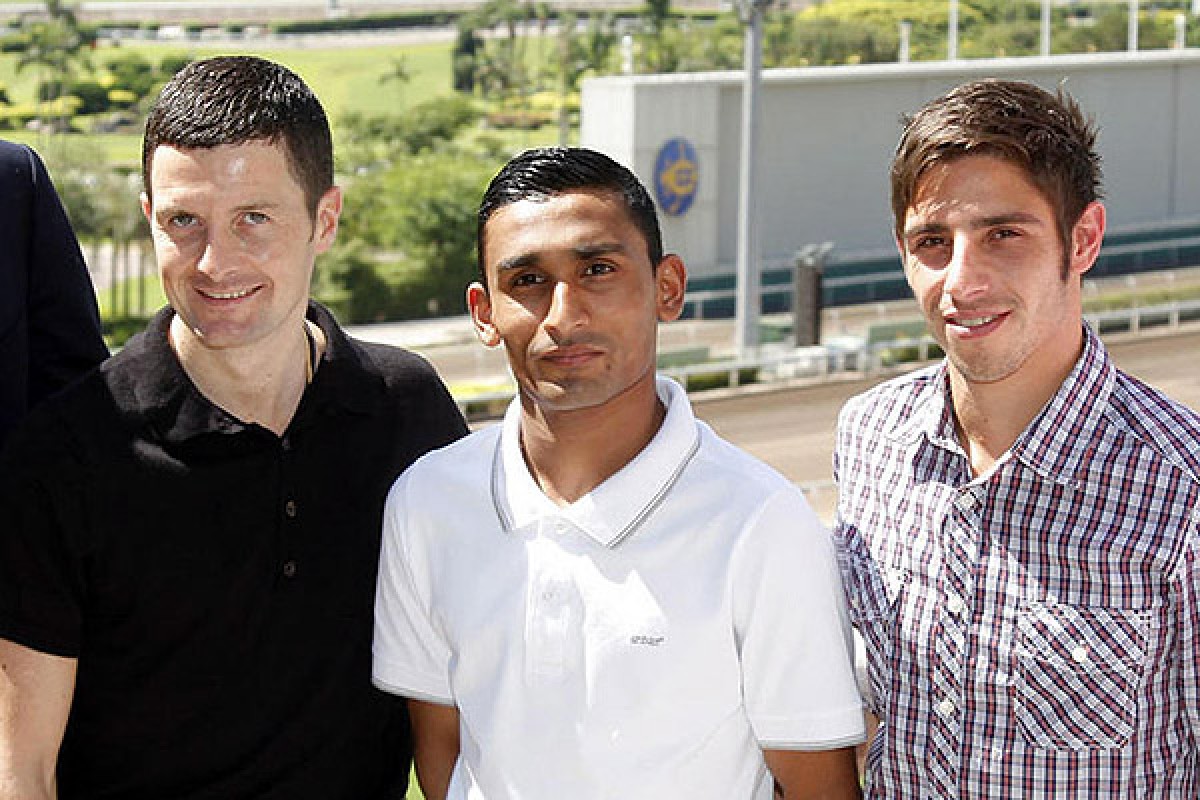 The three new additions to Hong Kong's jockey ranks know they face a baptism of fire in the season opener at Sha Tin in 11 days, and none of the trio can be accused of being under-prepared after doing extensive homework.
Lightweight Mauritian Karis Teetan, Irishman Colm O'Donoghue and Italian Nicola Pinna have all sought guidance from riders with experience of the pressure-cooker environments of Sha Tin and Happy Valley.
Perhaps facing the highest expectations is the youngest of the trio: 23-year-old Teetan is a graduate of the South African Jockeys' Academy and a five-time Group One winner in his adopted homeland.
He cites those on the long list of South Africans to succeed in Hong Kong - Douglas Whyte, Felix Coetzee and Anthony Delpech - as role models, and looms as a like-for-like replacement for fellow lightweight Richard Fourie, who departed after one impressive term.
"I spoke to Richard first and he gave me a lot of advice. He said 'It's not like South Africa - it's very different'," Teetan said. "You have to be very sharp. You have to get your timing right at trackwork and in races be very careful. You have to ride them right to the line. He gave me a lot of detail - but I don't want to give too much away because I have these two fellows sitting next to me."
You have to be very sharp. You have to get your timing right at trackwork and in races be very careful. You have to ride them right to the line
Pinna took his research to the next level when he visited friend Umberto Rispoli for a week at Sha Tin last season. He saw enough to keep his expectations in terms of results low.
"Hong Kong is very different to Italy or Japan. When I was watching the races here last year while visiting Umberto it was very tight," the 24-year-old said. "Of course, I hope to win a big race, but if I can just win four or five races in my first five months I will be very happy. I know it will be very difficult - jockeys like [Maxime] Guyon and Umberto, very good international jockeys, have come and not won a lot."
The most experienced of the newcomers, in age, miles travelled and big-race wins, is the 32-year-old O'Donoghue - a longtime backup to the likes of Kieron Fallon, Johnny Murtagh and Mick Kinane at the Coolmore stables of Aidan O'Brien.
"I spoke to Michael Kinane … he was a champion and came here and did very well," O'Donoghue said. "There haven't been an awful lot of Irish jockeys to come to Hong Kong though, and I see it as a challenge.
"I've been lucky enough to travel quite a lot throughout the years - whether it be India, America, Dubai, Japan - and I think I am a person that has adapted quite well. I have been more successful travelling than I have been at home.
"Coming here is something I've always aspired to do from a very young age. I'll work hard and hopefully I can bring something to the table. It's a very competitive environment and I'm looking forward to the task."
O'Donoghue said he had fully recovered from a shoulder injury suffered in a June fall that sidelined him for six weeks. "I arrived here last Wednesday but I had a ride at The Curragh the Sunday before that. I'm back riding trackwork and keeping up my fitness," he said.