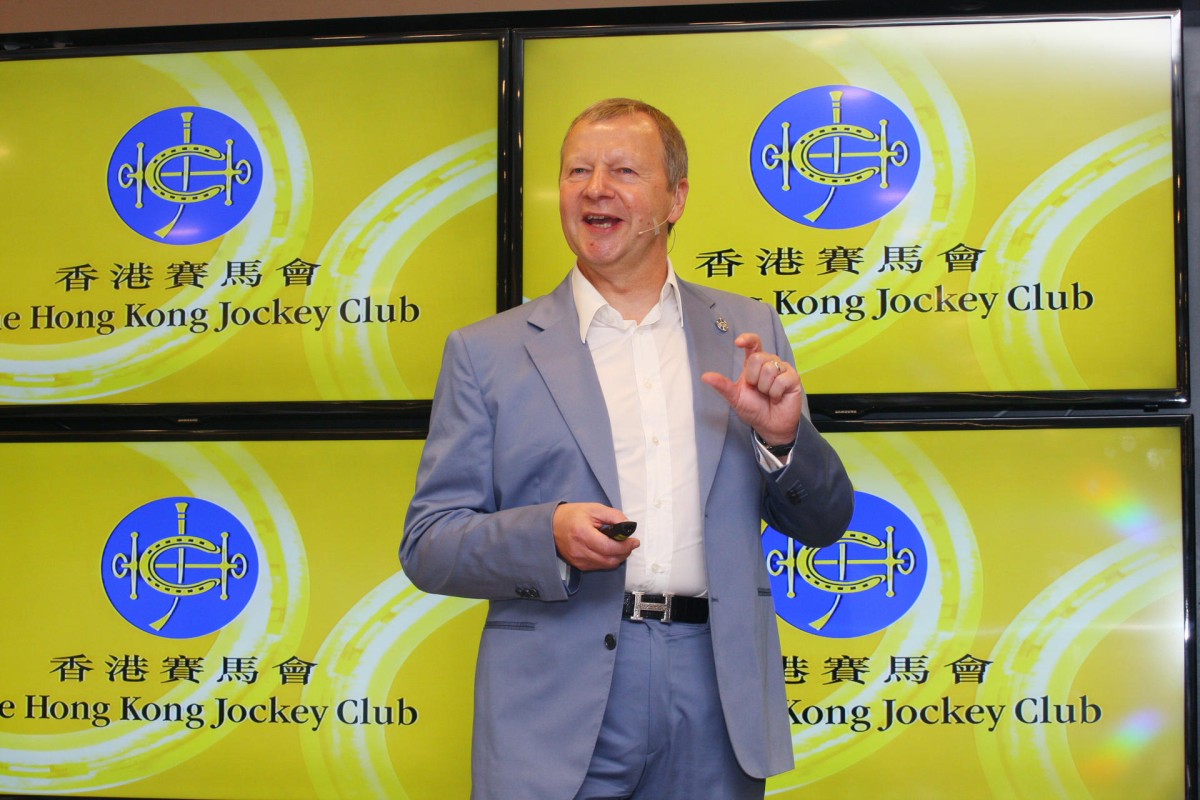 With the new season just a week away, Jockey Club officials are hosing down the anticipation of three of the 2013-14 term's most eagerly awaited new ingredients - commingling, Trakus and single-pool wagering.
The ground-breaking single-pool wagering concept will have a low-key beginning, as expected, but more surprising is the "soft launch" for commingling of overseas bets into Hong Kong pools and the serious question marks over the use and worth of the new timing system, Trakus.
It will be HK Internationals time before we'll be ready to do any marketing
Jockey Club chief executive Winfried Engelbrecht-Bresges surprised by saying the present sectional timing mechanisms would continue even when Trakus is in place.
"For me, Trakus is more about innovation and enhancement of the race experience for fans - the graphical translation of the race - and it can be available on a platform for people who are not at the races," he said. "But I don't think Trakus is accurate enough to be used for sectional times, not just individual horses but even the leader-to-leader times, so we will continue using the current system for those."
The question of when Trakus begins, whatever its purpose, is an open one as far as Happy Valley is concerned, with preliminary testing revealing a high level of interference to the signals sent from horses' saddlecloths to antennae around the track which then calculate their positions.
"We weren't taking the job of installing Trakus lightly at all, but it has still proved more difficult than we expected," said executive director Bill Nader. "Happy Valley certainly won't have it in September. We need more testing and more antennae to reduce the interference, but the Trakus people are very determined to make it work at both tracks. Sha Tin is going pretty well but when we start to use it there depends on how many meetings of live testing we feel we need."
Commingling - the funnelling into local pools here of bets placed on Hong Kong races with overseas operators - has been a buzzword for half a decade, but its commencement next week is not certain, and its initial impact expected to be minor.
"There are a lot of technical things to sort out with different jurisdictions regarding commingling. There has been plenty of testing, but it will be a soft opening to ensure everything works properly under real conditions and it will be Hong Kong Internationals time before we think we'll be ready to do any marketing," said Engelbrecht-Bresges.
"Some of our prospective partner jurisdictions won't be ready to commingle until late in the season, some won't be ready until next season. The one jurisdiction we have commingled with previously is Macau, but the code over there seems to have been lost and Macau won't be ready for some time.
"Our first commingling partners will be Australia, New Zealand and the United States and, early on, we have an estimate of maybe HK$20 million to HK$30 million a meeting commingled with Australia."
Nader said the club had been on the back foot getting ready to commingle for the first meeting of the new season due to government approval arriving only in early July.
The club will also take a softly-softly approach with the single-pool wagering system, which will be introduced some time this season, but its effects will be kept separate from the major dividend pools. Most likely a new bet type, requiring the first four placegetters in order, will be added and used for real data testing.