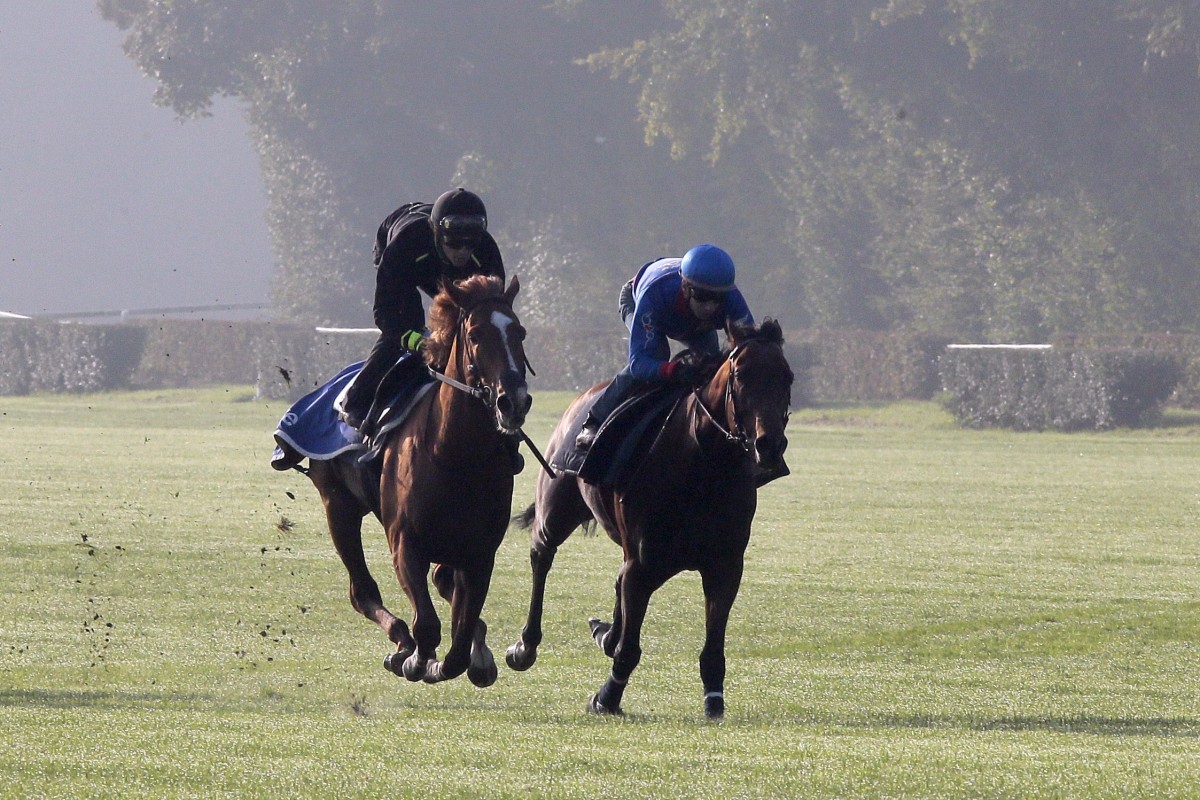 Yasutoshi Ikee came agonisingly close last year to achieving Japan's dream of winning Europe's most prestigious race, the Prix de l'Arc de Triomphe, and on Sunday he intends to set that right with the same horse, Orfevre.
The 44-year-old, who was born the same year (1969) that Japan first had a runner in the Arc when Speed Symboli finished 11th, said he had disappointed the Japanese people last year when Orfevre's contrary temperament cost him the race at Longchamp.
Orfevre, who captured the Japanese Triple Crown (2000 Guineas, Derby and St Leger) in 2011, burst clear in the final two furlongs, only to lose concentration and veer towards the rails almost coming to a stop, allowing unheralded filly Solemia to steal the honours.
"The Arc counts a lot to me, but it is not just about me because it also counts a lot for the Japanese racing world and the Japanese people," said Ikee.
"It is the big dream of Japan to win this race - it is the best race in the world - and I hope to be the person who brings that dream to fruition.
"Last year I disappointed hugely the Japanese people; this year they are counting on me for victory.
"I have all but finished my part, the preparation, then it will be for Orfevre and his jockey, Christophe Soumillon, to execute the plan to perfection."
Ikee, whose father Yasuo also suffered Arc disappointment as a trainer with his Triple Crown winner Deep Impact in 2006, admitted his greatest challenge has been to try to rectify Orfevre's habit of losing concentration when he hits the front.
"I don't fear any of his rivals on Sunday," said Ikee.
"I fear Orfrevre, for he is his biggest rival."
To that end Ikee along with Soumillon, who rode Orfevre last year and described him as a 'War Machine' recently, galloped him on Wednesday with three other horses with the goal of bringing him through the middle of the front two to see how he reacted once he passed them.
"I was pleased and relieved with what I saw, as was Soumillon," said Ikee.
"He didn't look at either of the two horses as he passed them and he kept to a straight line once he took the lead in the final 300 metres.
"Now we must hope that what he did in practice he will also do in the heat of battle."
Ikee, who in hiring two-time Arc winning jockey Soumillon to ride Orfevre last year broke with tradition as previous Japanese runners were all ridden by Japanese jockeys, said last year's race remained etched in his mind.
"When they turned into the finishing straight I too thought we were going to win, and like me the stands exploded with joy," he said.
"As it turned out it was premature. This year it is the return and I am hoping that this time the explosion of joy will take place after the finishing post."
Ikee, who coincidentally was in the same year at school of jockey Yutaka Take who rides Japan's other hope Kizuna, said the pressure was not getting to him.
"I have a lot of pressure but it is not at a level where I'm not eating or unable to sleep. I am going out every night with the team and eating good food and drinking some alcohol, leading a normal life," he said.
Ikee, who learnt his trade with English training great Michael Stoute and in California with leading handler Neil Drysdale, is almost inseparable from a cap bearing the name Orfevre and with three trophies adorning the side of it celebrating his Triple Crown success.
However, that headwear is likely to change should Orfevre win on Sunday.
"Only seven horses have won the Japanese Triple Crown, but if Orfevre wins the Arc he will be the only Japanese winner of the Arc so I will have a special cap made and I will give one to everyone I meet," he said with a broad grin.