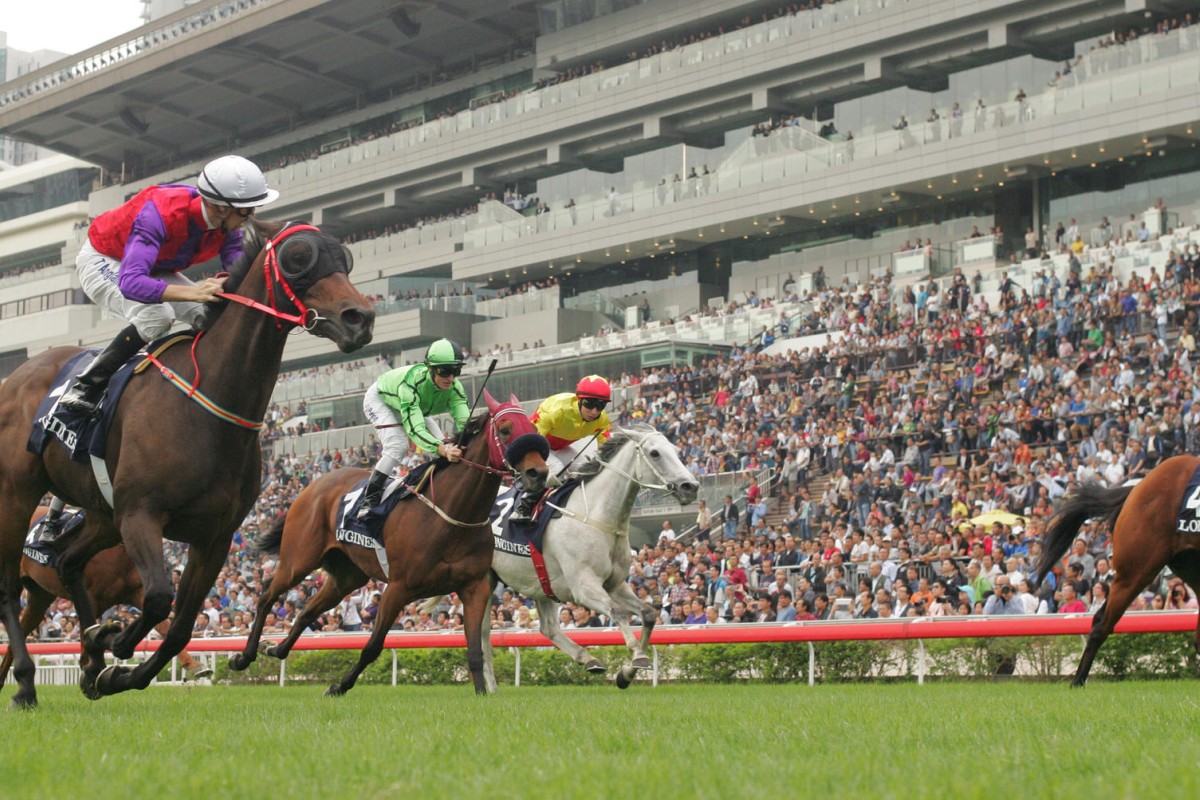 Even as the much-maligned 2013 classic crop took charge of Hong Kong's international fortunes in Sunday's Group 2 Longines Jockey Club Cup, John Moore still declared Military Attack the one everyone has to beat in the grand final in three weeks' time.
The Horse Of The Year and runaway winner of the Singapore International Cup earlier this year, Military Attack was expected to beat California Memory, winner of the last two Hong Kong Cups, and stamp his authority ahead of the December 8 internationals but Moore admitted to getting the tactics wrong as this year's Derby quinella Endowing (Tye Angland) and Akeed Mofeed (Douglas Whyte) headed off their older, established rivals.
The first surprise came as the gates opened and Zac Purton surged Military Attack out of a wide gate to press forward, and as the race progressed and Liberator led and turned it into a staying event it became obvious that would test the favourite.
"In the end, the gate made the difference to whether Military Attack could win or not. I probably gave the wrong instructions in hindsight, especially considering our target is December 8," Moore said.
"We should have been out the back with Akeed Mofeed and given him the chance to finish off. We should have ridden him quietly. He is a European horse, and any European horse asked to do that will not finish off. His run was full of merit though, considering that, and he will be the one to beat in the Hong Kong Cup."
Last season, there were many questions raised about the quality of the Derby horses, who emerged from that event with the lowest handicap ratings in memory for a four-year-old crop.
So far this season, though, they have continued to prove all those perceptions wrong.
Angland gave Endowing an ideal ride from gate one, as the Derby runner-up gained revenge on Akeed Mofeed and continued to exceed the expectations of trainer John Size.
"He's made good use of gate one the few times he's had it and it's a good sign that he keeps going up in class and winning," Size said.
"The two top-rated horses weren't in the finish today and maybe next time they will be and then Endowing will have to improve again but you have to remain optimistic when horses keep winning. Winners are usually capable of more next time."
Angland has been in sizzling form this term but said Endowing wasn't altogether one for the scrapbook after he lost his whip in the straight.
"I didn't have to do much work in the run and when I looked over and saw I was going better than Military Attack, I was feeling pretty good," Angland said.
"I was held up a little getting past the leaders, which probably helped preserve his finish for longer in the end, but I dropped my whip when I went to go for him. The panic button was hit and I went from looking pretty to kicking him and slapping him and doing whatever I could to get him across the line!"
A trimmer-looking Akeed Mofeed improved sharply on two disappointing efforts and Whyte was thrilled looking forward to the international meeting: "He's back. That turn of foot we saw last season was all there again today."
The solid tempo set up by Liberator, who really turned the screws on the chasers from the 800m, saw Endowing post a final time just 0.5 seconds outside the course record set by Jim And Tonic 14 years ago.