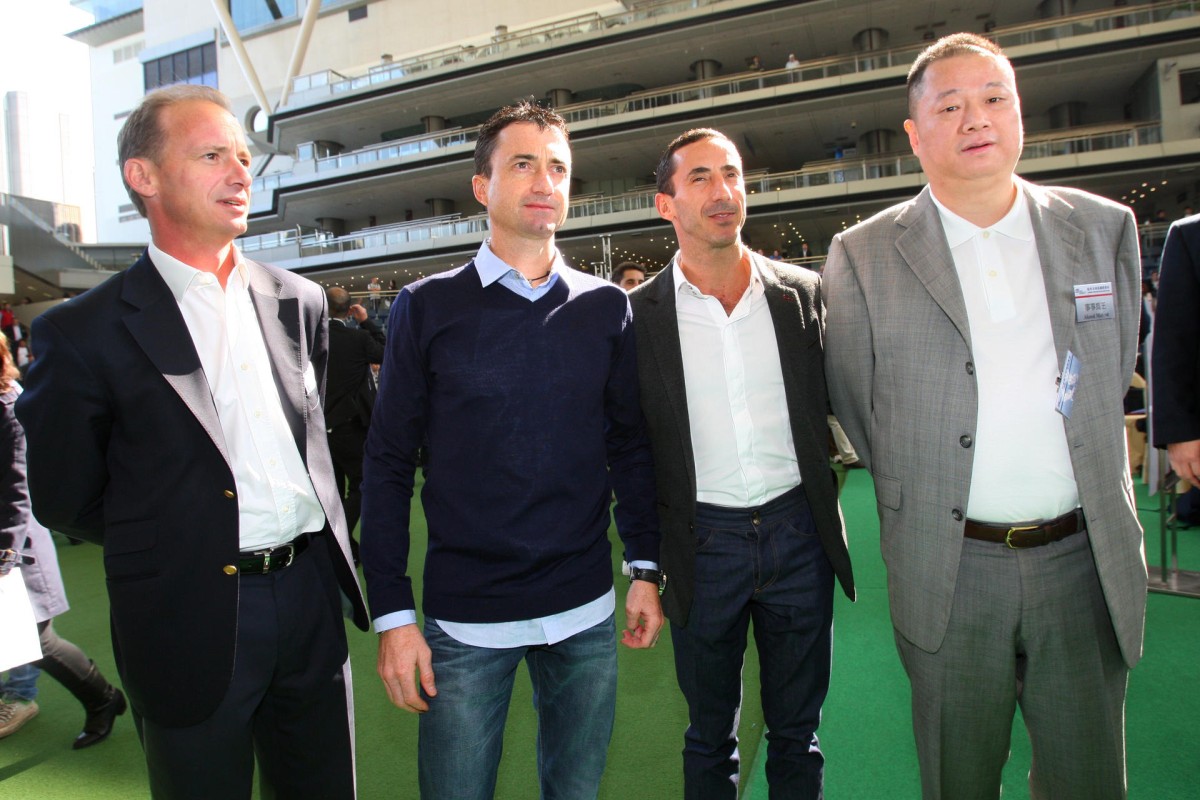 There were no disputed islands, only a barrier draw for a horse race, but the heated clash between Japan and Hong Kong that will be fought in the HK$15 million Longines Hong Kong Sprint on Sunday swung back unexpectedly towards the locals yesterday after Lord Kanaloa's nightmare draw.
The Sprint is one leg of the turf world championships that Hong Kong has very much regarded as its territory, defending it against the foreign invaders on nine of the last 11 occasions.
But the towering presence of defending Japanese champion Lord Kanaloa dominated discussions on the race right up until he was handed barrier 12 in the field of 14 and Hong Kong's 2011 winner, Lucky Nine, was granted barrier five.
"That's just what the doctor ordered," said Lucky Nine's jockey, Brett Prebble. "He is in top form, all he needed was a gate and now he's got one. And it doesn't hurt that Lord Kanaloa is out in the sticks either."
Since the Sprint went to 1,200 metres around a turn in 2006, no horse has won from wider than barrier nine from an awkward starting point that has brought unstuck the likes of Miss Andretti, Apache Cat, All Silent, Rocket Man, Curren Chan and even Lucky Nine 12 months ago.
Two other key locals, Frederick Engels (four) and Sterling City (two) drew well and trainer John Moore said they would have no excuses, although middle gates have been the most successful and stablemate Charles The Great (seven) is in the right place, historically.
In the other critical draw, for the Hong Kong Cup, the Richard Gibson-trained colt Akeed Mofeed may not seem the ideal horse for the barrier but he will look to extend the winning streak of gate one after California Memory's wins in 2011 and 2012.
"Better to be in than out," said Gibson, although he intimated he would have preferred something slightly wider, but single-figure draws have owned the race in the past decade.
Gibson could have mused about a swap then with the Moore-trained Military Attack (nine), who was not ideally served but likely leaders Tokei Halo (five) and Little Mike (six) looked well-placed.
"Perfect. Our horse and the Japanese horse are the fastest in the field and Little Mike will be able to come out and have a look at the pace, then lead or sit off the other one," said Dale Romans, trainer of Little Mike.
French galloper Cirrus des Aigles (10) is another with a tricky launch pad but things read well for speed-tracking Side Glance (two). Rainbow Chic's draw in 12 looks nasty on paper but was the winning draw for the event in 2001, 2002 and 2004.
The draw changed little in the Hong Kong Mile, although perhaps a faster early pace might ensue from designating leader King Kreesa in 11, but the favourites Moonlight Cloud (six) and Sky Lantern (eight) have middle draws and options in a race, which has been won from anywhere.
"Gold-Fun is versatile and I am not that worried about gate 10. We'll be positive," said jockey Olivier Doleuze. Helene Spirit appeared well served in five, while John Size had a mixed bag, Glorious Days in 13 and Real Specialist in two.
"I'm pleased now that we put the blinkers on Real Specialist because he needs them in between horses and now he will definitely be in between horses," said Size. "Glorious Days would have been better suited lower but the main thing is the horse and if he's travelling well enough he can still win from there."
Likely Hong Kong Vase favourite The Fugue probably confirmed that status with an ideal barrier three, while Luca Cumani's travelling foreman, Charlie Henson, was happy with six for Mount Athos. "It's great. I've had a terrible record drawing gates in these big races but I can't complain about that," he said.
Only four Vase winners have come from double-figure draws in 19 editions of the race so Dandino (five) also has the right draw, while the past two winners, Red Cadeaux (11) and Dunaden (12), will have history against them.
"He's better out than in, and Gerald Mosse will deal with it," said Ed Dunlop's foreman, Robin Trevor-Jones, of Red Cadeaux's draw.