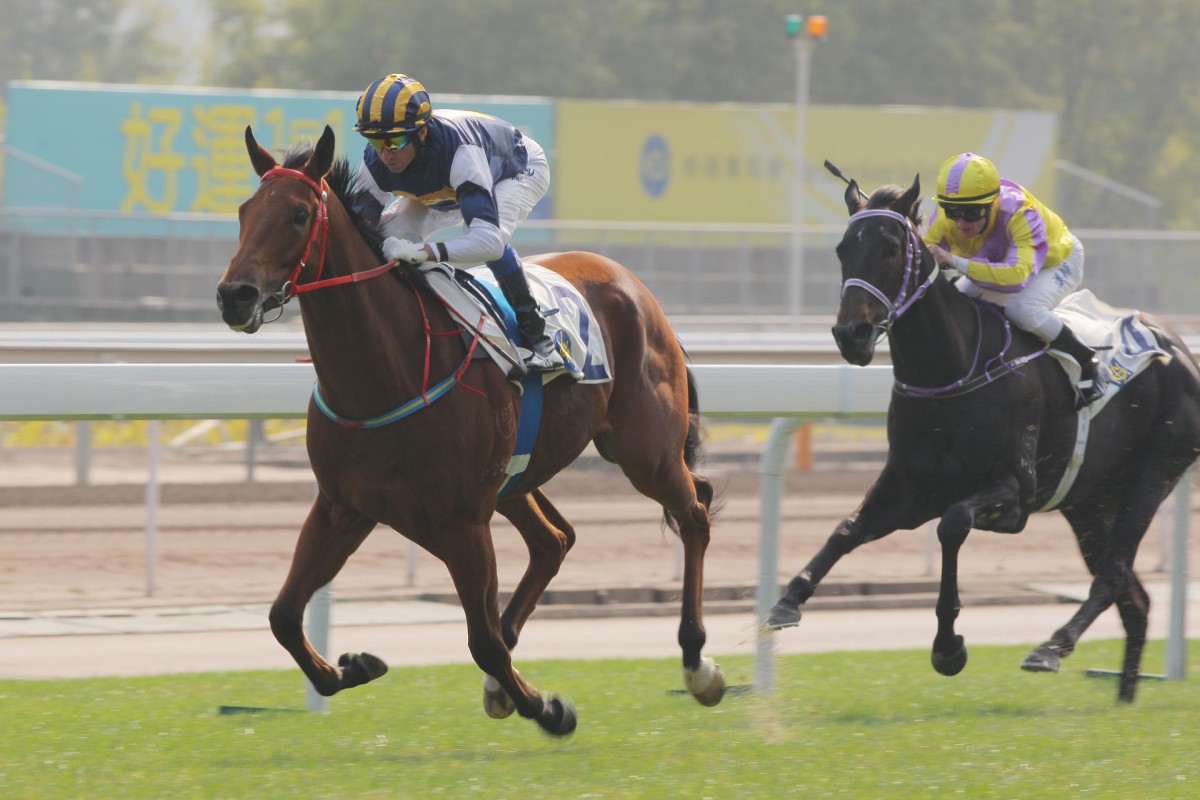 The Jockey Club's International Sale buyer, Mark Richards, can take a bow after Sunday's Griffin Trophy, even though the sales horses had to play second fiddle to Luger in the HK$2 million race.
Actually, second fiddle, third fiddle, fourth fiddle, cello and bass if you want to get right down to it - although Crimson Heart, who was declared a non-runner owing to an incident at the start, actually finished sixth past the post. (And by the way haven't we been here before? The full details of that run are gone from Crimson Heart's form when all that needs to be done is to put N/R in his finishing position. He is showing as a normal scratching. We gave you a wrap last week Jockey Club, don't make us take it back. How hard can it be?) But we digress.
In fact, the Griffin Trophy would have been a sad little race, perhaps not even a race at all, without the International Sales Griffins (ISGs) that made up 60 per cent of the field.
And while they found Luger too good, all six are worthwhile horses who either have or will win races.
And while it might seem a pretty simple job to go around the world buying horses with the Jockey Club's money, there is enormous, even unreasonable pressure within the club for Richards to "get it right".
Accountability will be a hot-button word in the corridors at Sports Road this week after the zilpaterol fish-food fiasco
As yet, we are still struggling to find someone who can outline what "get it right" even means - in past years, when Mark Player was the buyer, club officials seemed embarrassed if the sale made a profit when owners lined up to pay double or triple the right odds for virtually untried horses, but miffed if it didn't make money. That ambiguity remains today.
And, as for the quality of the horses' race careers, well let's just say that neither Richards, nor Player before him, have or had any control over where the horses ended up. Not all trainers have the same skills or agenda.
So a bouquet for Richards, also the buyer of final-race winner Sichuan Exec, who has his share of talent, has needed time and was a lucky little horse that he ended up with John Size.
Of course, the argument will be made that pressure on Richards is just making him accountable for his performance. Fair enough, and accountability will be a hot-button word in the corridors at Sports Road this week after the zilpaterol fish-food fiasco that had chief executive Winfried Engelbrecht-Bresges promising on Sunday that heads would roll.
It should make a great yarn when it is revealed how thousands of bags of contaminated horse feed - dear reader, cast your mind back to June and the rash of zilpaterol positives and scratchings and endless drug testing - ended up being handouts for halibut, meals for mullet, and not landfill.
Wouldn't it be great if accountability in Richard's area of effort, buying horses, was spread to some of the others peddling horses about town.
And we're not saying buying horses is easy or any exact science, far from it, and a lot can happen along the way but we have noted in this space in recent seasons how many Private Purchase horses are utterly useless for competition purposes for lengthy periods after arriving.
Several of them ran around at 200-1 and 300-1 on the weekend. There was recently one that went out at 500-1 - at Happy Valley of all places, where it should be rare to find a 100-1 chance, given the large slice of luck involved there.
Turnover is booming for other reasons, but it can be better still if 12- or 14-horse fields aren't just a handful of actual runners padded with goats.
Whatever their form rating from somewhere else, the handicapper usually gives them a decent discount when they land and it still isn't enough to make them competitive because plenty of them are rubbish being passed off in quick-buck land as worthwhile bets for unsuspecting owners.
There are some agents who are legitimate and diligent - they know who they are and so do their satisfied clients - but there are also some shockers and it's a shame the Jockey Club can't take a peek over their shoulders to see if they are performing, too.