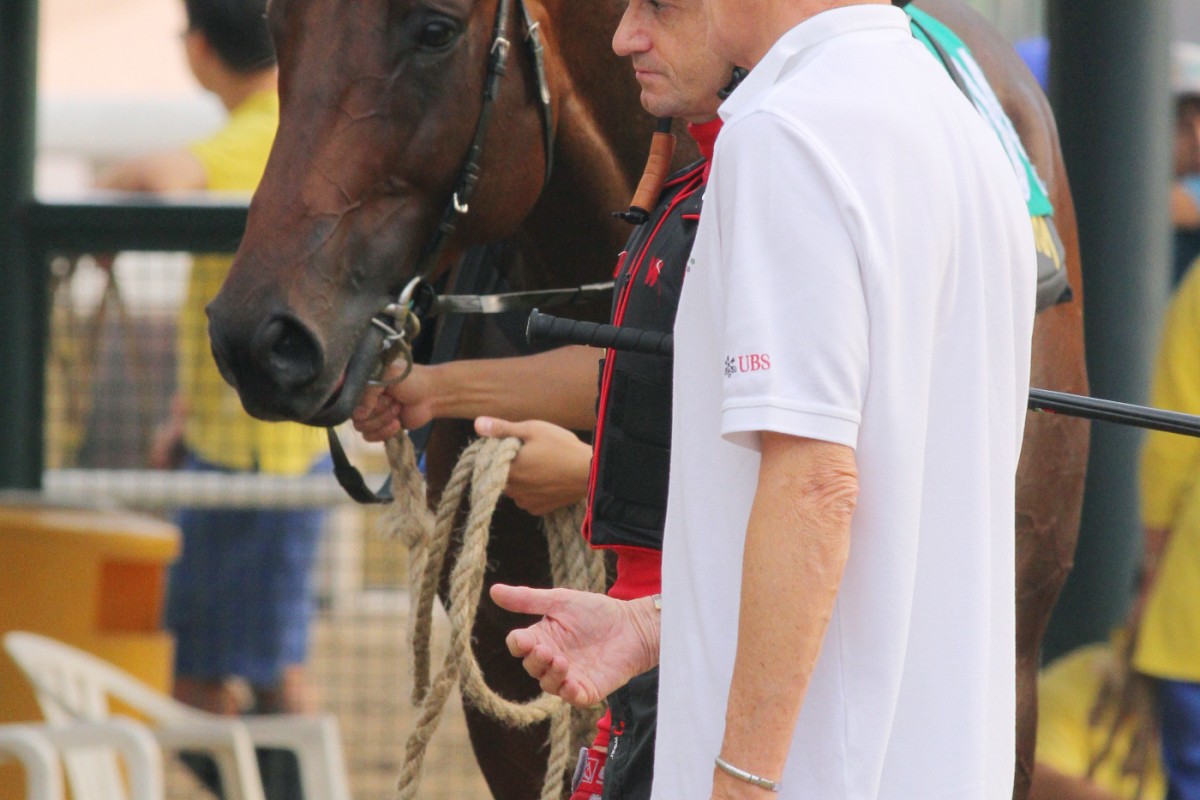 John Moore is not mincing his words when it comes to his iron grip on Sunday's HK$6 million Hong Kong Classic Mile - they're as good a group of young horses as he has sent into a four-year-old classic.
Flagship Shine, Designs On Rome, Able Friend and Secret Sham will dominate discussions in the first leg of the classic triple crown, where they tower over most of their rivals in terms of handicap ratings and race performances. And their trainer isn't arguing with any of the hype.
"It's a dream to go into a race like this with a group of horses like this - we're talking horses with potential international Group One-winning ability at level weights with their own age group," Moore said. "It's the best Classic Mile I've seen."
That was a very good bunch of horses, but I think this one could be even better. These are going to be the best horses in my stable eventually
It' is not an unfamiliar position for the leading trainer to hold all the aces in a high-grade race and, looking back, it would be hard to better his mob-handed assault on the 2012 Hong Kong Derby, although he did not win that one.
Moore sent out Military Attack, Dominant, Dan Excel, Same World, Smart Giant and Zaidan for that race. And, aside from Same World and Smart Giant, three went on to win international Group Ones, while Zaidan was runner-up in the Singapore International Airlines Cup at that level.
"That was a very good bunch of horses, but I think this one could be even better. These are going to be the best horses in my stable eventually," said Moore.
"And three of them are horses that my son, George, and I bought as yearlings, which is what it's all about for me now. I've had great success with the tried horses, but it's probably even more satisfying to buy them as babies and be with them right from the start through to being top-class horses.
"We've bought some very nice yearlings in the past, horses that have made it to Group One races but none better than these. They had a terrific foundation with John Hawkes and his sons training them in Australia before they came up here and they have all gone right on with it since they arrived," he said.
There are no weak links in the foursome, says Moore, with the possible exception of Designs On Rome. "I guess the draw can always play a part, as can the speed, but they have no soundness issues. They'll all run the distance strongly, they are fit and racing well," he said.
"If I went looking for a fault in any of them, so far as this particular race is concerned, it is that Designs On Rome is going to be a better horse over more distance.
"The other three are absolutely milers, he's more of a stayer and he's here because it's a nice race that fits his programme perfectly going to the Classic Cup and Derby afterwards.
"But, in saying that, you see quality horses all the time still run well in races that are supposed to be too short for them - he'll switch off like a stayer but he does have a change of gears and he'll keep coming at the finish."