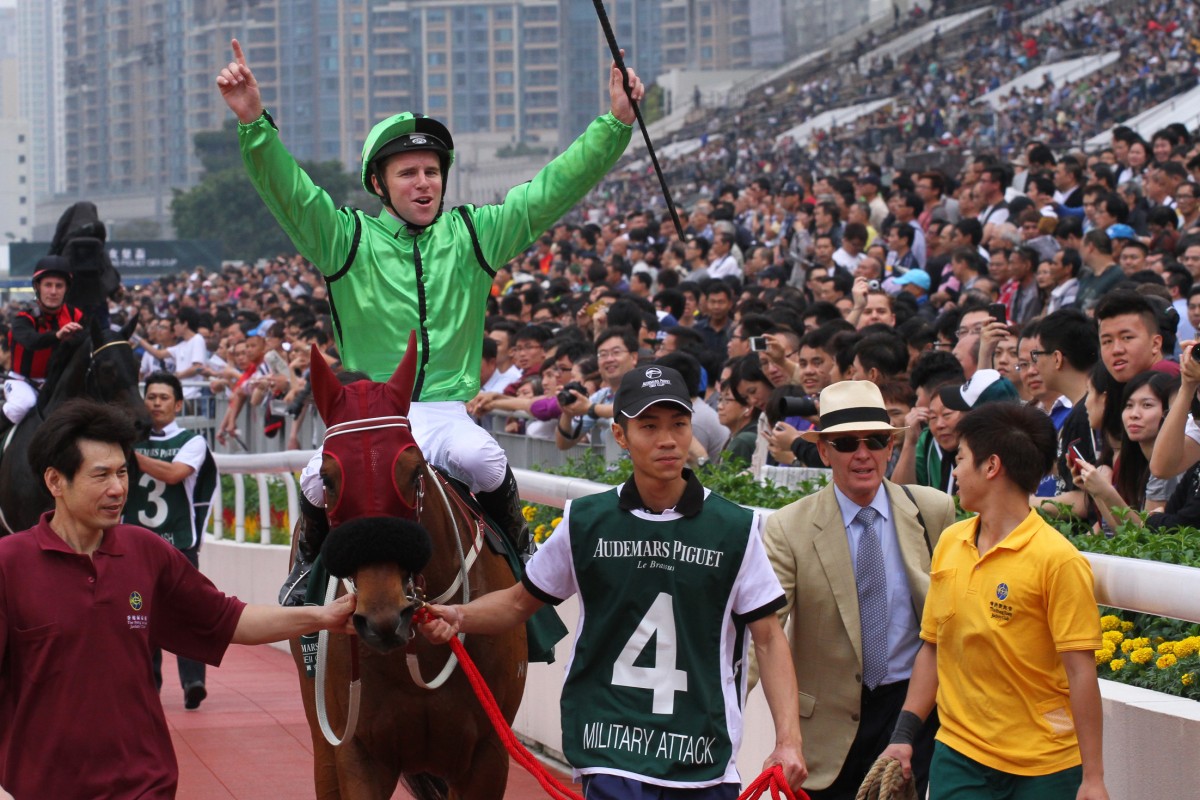 As strong as the Hong Kong jockey ranks look at the moment, they will only get deeper in the final months of the season following the licensing of top Australians Hugh Bowman and Tommy Berry on Monday.
With a number of the current part-season jockey contracts due to run out next month and in March, the Licensing Committee met to consider applications for extensions and new applications.
Lost from the current roster will be Weichong Marwing, Gerald Mosse, Neil Callan, Mirco Demuro, Nicola Pinna and Umberto Rispoli, who is already effectively finished due to suspension.
Karis Teetan and Andreas Suborics have been granted an extension of their half-season permits until the end of the season, and Berry and Bowman will join the jockey's room personnel. The mathematics of that list of turnovers would suggest there may be further fresh additions to the jockey roster, too.
Berry's return for the QE II Cup until the end of the season in July was generally expected, but the addition of 33-year-old Bowman, considered by many to be Australia's best jockey, came as something of a surprise.
"It's our job to improve the total racing experience where we can - and that means the best facilities, horses, trainers and jockeys," said executive director of racing Bill Nader.
"We want to field the best riding talent and I don't think I've seen before the kind of depth we have here now. Berry and Bowman are going to be great additions to give us a big finish to the season. I think Bowman has said for a while this is something he wanted to do, he was just waiting for when he felt it was the right time for him."
Bowman said Monday he had an open mind on whether the end-of-season stint could become something more permanent, but welcomed the challenge of getting "outside of my comfort zone" and the chance to perform on an international stage.
"It's something I've been keen to do and I have been asked before but I wanted to really consolidate my place in Australia, especially at the big carnivals and in the major races, and I'd say I've done that," he said.
"I don't enjoy the winter much here, so it's a good time of year to go away.
"I've ridden in England twice in the last six years at that time of year, and what I really enjoyed was getting out of my comfort zone and really testing myself in a different environment.
"I've got a lot out of that and I'm sure I can get a lot out of riding in Hong Kong too. Australian racing is fantastic but, geographically, we're a long way away. Racing is a global sport now, Hong Kong is a global city and who knows what can come of me riding there."
The winner of more than 1,500 races, including two Sydney jockey titles, and 31 Group One events, Bowman is a heavier jockey, with the Jockey Club publishing his riding weight as 120 pounds. He has ridden in Hong Kong previously as part of the 2009 International Jockeys' Championship, and piloted Red Oog in the 2006 Hong Kong Sprint and Racing To Win in the Hong Kong Mile three years later.