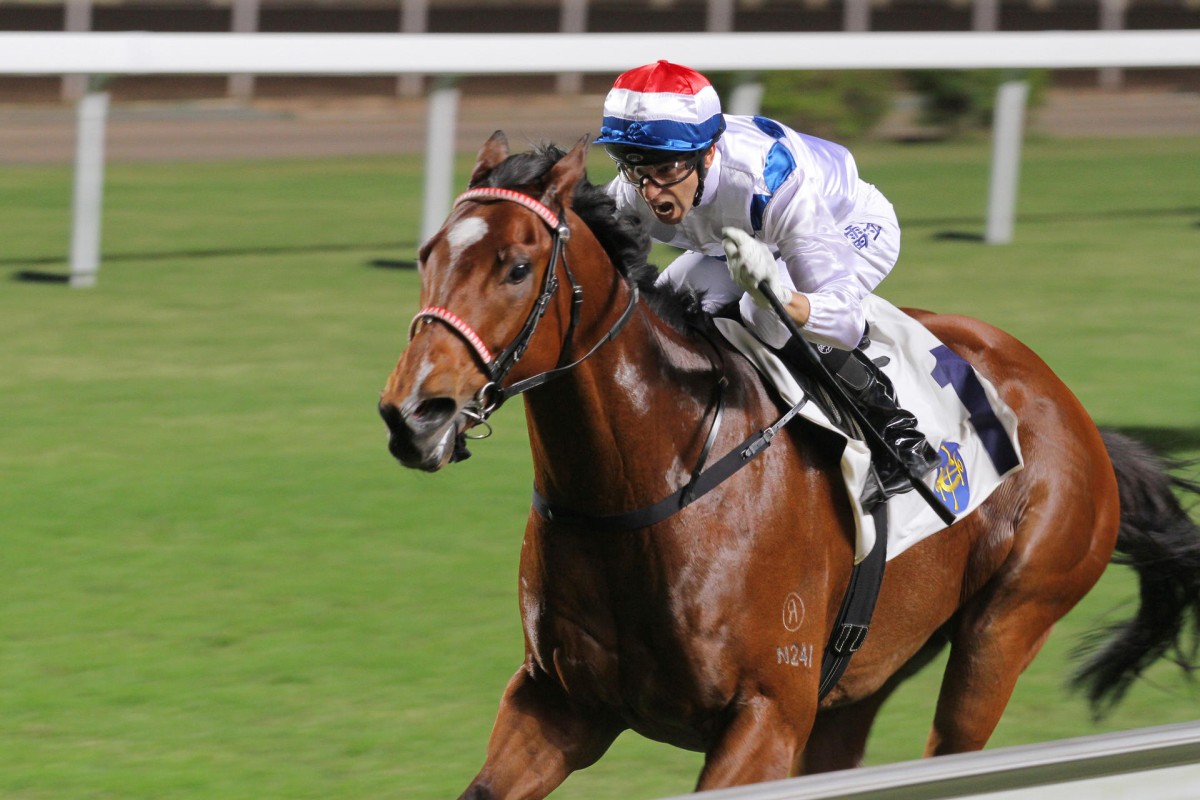 Trainer Ricky Yiu Poon-fai has almost become resigned to the need for Amber Sky to stick to straight racing but is confident the four-year-old can earn the consideration of Dubai officials when he returns to that scenario in the HK$6 million Kent & Curwen Centenary Sprint Cup (1,000m) on Sunday.
The straight sprint is the first leg of the Hong Kong Speed Series but Amber Sky won't be a part of the rest of that series after failing to reproduce his straight form around a turn at 1,200m.
The gelding had veterinary excuses when he failed at 1,200m last May, but it was all about the turns when he disappointed as a heavily-bet favourite in November in the Jockey Club Sprint.
The problem is that this horse accelerates through the middle of a race
"The problem is that this horse accelerates through the middle of a race, which works in the straight race and wins the race for him," Yiu explained. "But over 1,200m, he starts to increase the tempo to his top speed in the middle of the race and he is already on a turn. So he can't take the turn properly. I don't know what the future is for him - maybe he'll adjust or maybe we just have to accept it and find some straight 1,200m races."
That carries an implication that Yiu is keen to travel with Amber Sky - with major 1,200m straight events available at Royal Ascot or in Melbourne - but, in the meantime, the trainer is eyeing Dubai and the Al Quoz Sprint over 1,000m.
He will get a good guide on Sunday when Amber Sky lines up with last year's Centenary Sprint winner and Al Quoz minor place-getter, Eagle Regiment.
"I know he doesn't have the record to get selected for Dubai and he probably needs to win, but I'm really very confident the horse will run well," Yiu said. "I've followed the same training pattern as early in the season when he won so well up the straight - a trial 10 days before and the same kind of schedule - and I'm more than happy with how he is going. He'll run a good race for sure."
And Yiu has returned to the Magic Man, Joao Moreira, who rode him in a thrilling Class Two victory in late October.
"He's the king, isn't he?" the trainer smiled.
The Centenary Sprint has serious implications for Hong Kong's Dubai representation, with Eagle Regiment also looking to justify a trip for the Al Quoz and Frederick Engels and Charles The Great in line to go to the Golden Shaheen (1,200m) if they run well enough.