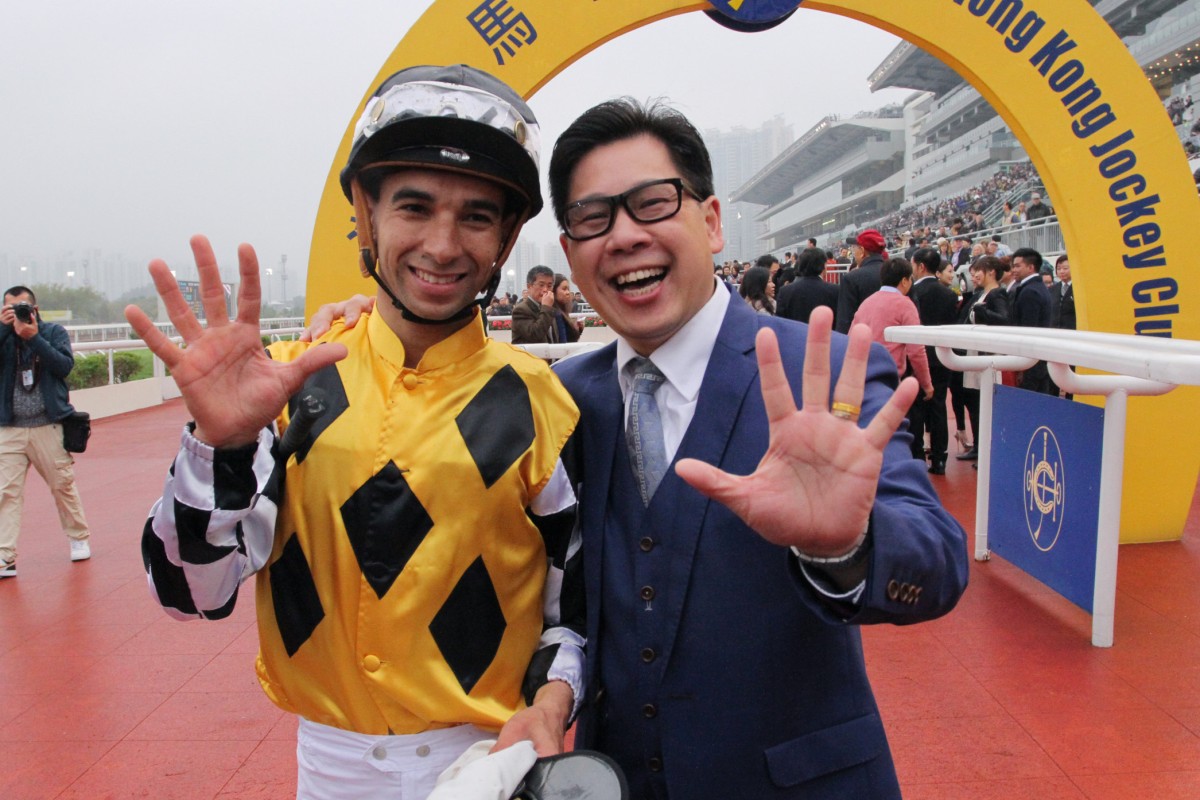 Dennis Yip Chor-hong knew the comedown from his fairytale Trainers' Championship of last season would be tough but after a slow first half of the term a double at Sha Tin got things moving in the right direction for the stable.
Yip had just 11 wins, and a frustrating 27 seconds, coming into Saturday's meeting but G-One Leader and Telecom Prince gave the trainer something to smile about. Not only did it boost his win rate this season, but the second leg of his double brought up his 500th winner as a trainer.
"We have been a bit unlucky with a lot of seconds, so it feels good to get some things go our way," Yip said. "We also have a lot of new horses in the stable this and I think we will go better in the second half of the season."
Yips wins came in back-to-back races in the middle of the day, from vastly different rides. After Tye Angland's two early successes heading to the outside fence, most of the field went there again in the Heung Yee Kuk Cup, leaving Ben So Tik-hung with open ground in front of him on G-One Leader, who had been last to turn.
"All of the jockeys get an idea and go to the outside fence, and we got lucky," Yip said.
G-One Leader had produced six unplaced runs so far this season to drop from a rating of 66 down to the bottom of Class Four, but now that he has broken through Yip expects further improvement.
"He is still a baby, still very nervous, and we will take time with him to let him develop," he said. "That's why we put him in a trial, let him relax and made him finish off."
And even though Yip believes the four-year-old's future is over a mile, the trainer said he would be kept at 1,200m for now. "He will get further but he won't be stepping up from 1,200m yet, we need to get his body and mind stronger," he said.
Telecom Prince made it back-to-back victories after his last-start Class Five breakthrough, and despite So's success of sticking to the inside, Joao Moreira made a beeline to the outer part of the track and helped ensure the trend continued throughout the rest of the day.
"I was heading straight to the outside, after seeing Angland winning those two races down the outside I wanted to be there, too," the jockey said. "I probably went a bit too early on him to try and get on the best ground of the track, but that might have worked perfectly for him because he was carrying a light weight. We were behind the favourite, Celestial Smile, in the run and when we turned for home we were two in front of him and in the best part of the track."