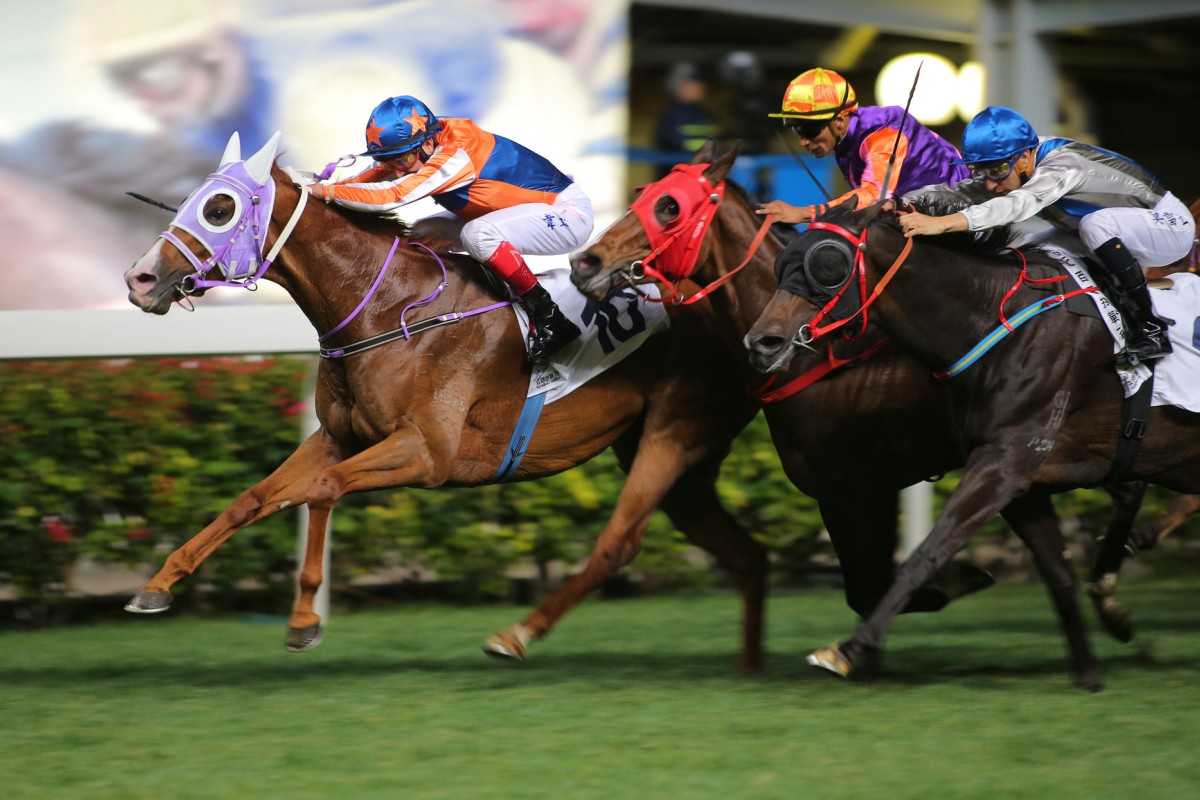 Reality must have got the better of Joao Moreira after Redwood Baby was involved, for the second time this season, in a careless riding inquiry that ended questionably last week at Happy Valley.
The Redwood Baby connection may or may not be more than circumstantial but the case shone a light on inconsistency in the handling of careless riding cases, and on the appeals process.
Redwood Baby's inexperience and greenness were put forward in mitigation when the stewards reported last December on Ryan Moore, for want of a better description, knocking half the field senseless down the Happy Valley straight. Head down, rear end up, he was a wrecking ball that would have given Miley Cyrus a good run for her money. It was more reckless than careless but no charge, no penalty.
Moreira took plenty of care to keep Golden Addiction straight, there was no contact. And the intimidation line gets silly very quickly
Last Wednesday, Moreira's mount Golden Addiction was more than a little green himself, running in and out and back in again, with Moreira changing the whip from side to side to try to keep him correct. He didn't hit Redwood Baby but was deemed to have dictated his line - intimidated the young, green horse into rolling in and causing a check to Noble Boy on the line.
It was reprimand stuff and hardly belonged under the banner of careless.
Moreira took plenty of care to keep Golden Addiction straight, there was no contact. And the intimidation line gets silly very quickly.
At midnight last Wednesday, Moreira was certain to appeal, as he felt innocent in the first place but also concerned about the roll-on effect of a fourth suspension in four months.
In the 24 hours Moreira had to lodge notice of his appeal, somebody hosed him down with the "can't beat city hall" argument and the grim statistical prospects of success.
Does Hong Kong racing have a just appeals process? We wouldn't take issue with the integrity of those who consider appeals, but is the system itself above question when the Jockey Club stewards impose the penalty and their employers then hear the appeal?
There have been successes with reducing fines or bans for reasonable and permissible measures, misconduct and the dropping of hands, but few major victories.
The standout is Glyn Schofield's successful quashing of a six-month ban for his handling of Win Hunter in May, 2004 - on appeal the stewards' flimsy case was rightly thrown out.
There are about 70 to 95 careless riding charges every season and, in the last nine years, 27 of them were appealed - for one success and one partial success. The latter was Matthew Chadwick's appeal two years ago that saw his two days and HK$40,000 fine reduced to just two days, but the only actual success belongs to Marco Chui Kwan-lai, who had his guilty finding thrown out in 2008.
There have been more than two, but the most egregious stewarding errors of the last decade have been reasonable and permissible measures findings against Robbie Fradd on Healthy Fruits in 2006 (his ban was cut from 11 days to six on appeal but should have been zero) and the unforgivable one-month ban for Thomas Yeung Kai-tong on Packing Winner in 2009 under the same charge.
Yeung's was a case in point in any discussion of appeals - he was sufficiently intimidated by the process that he didn't bother to appeal, served his time and quit riding at the end of that season. There's that word again, intimidation.
So is it healthy that appeals are perceived as pointless?