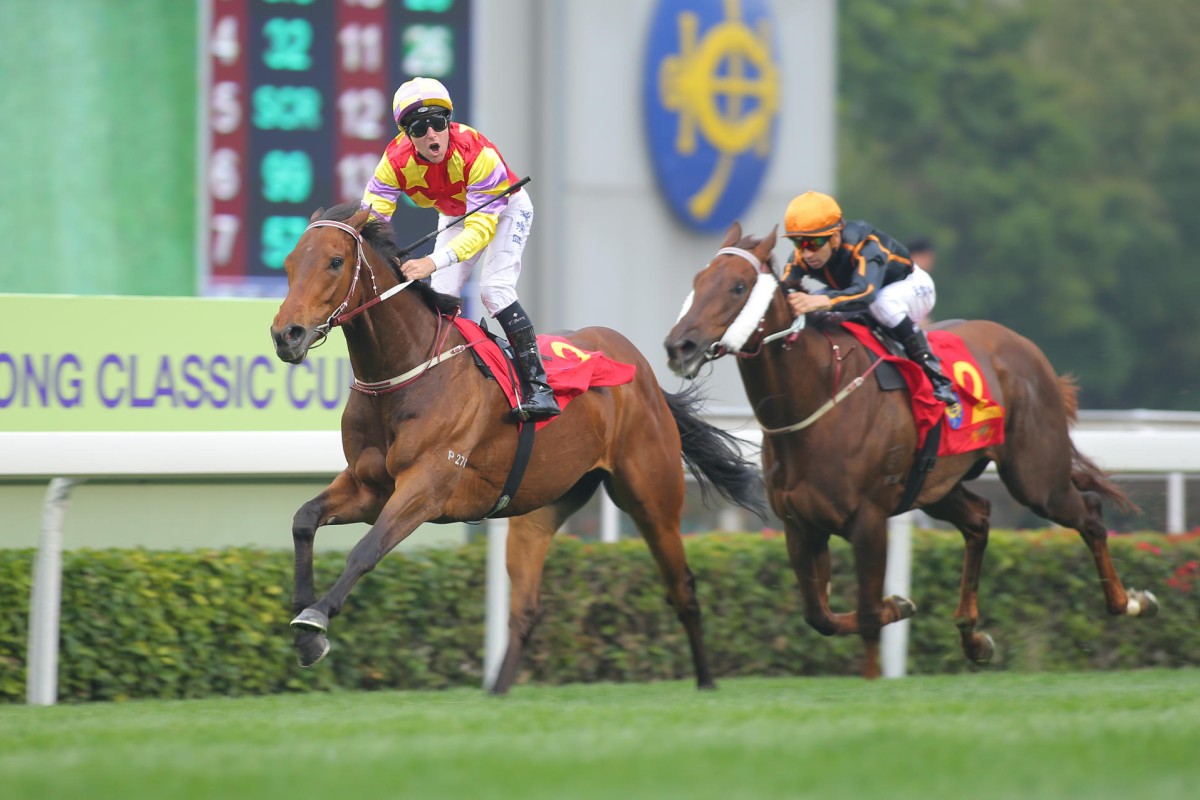 The Classic Cup was notable for many things: the riding match-up between Tommy Berry and Joao Moreira, the fact that Moreira acknowledged that in as many words, and the realisation that Able Friend and Designs On Rome might not be just the best four-year-olds here but the best horses.
Full stop.
How else can anyone explain the massive spread of margins in the two four-year-old Group Ones, or the final sectional split produced by Designs On Rome?
And full credit to Moreira, a class act, who was not stinting in his praise of Berry's ride despite being beaten
A horse like Dr Good Habit, for instance, is the equal of last year's Classic Cup winner, It Has To Be You, but he was beaten eight lengths on Sunday when he probably had a better trip than the first two home.
But what sticks out from a post-race analysis point of view is the sectional times, particularly in light of the fact that Able Friend and Designs On Rome made long, energy-sapping runs that began well before the point where those last 400m sectionals are recorded.
Just 30 minutes earlier, in a slowly run Group One 1,200m sprint, the best sectional time was produced by Frederick Engels at 21.95 seconds for the final 400m.
Now, two things about final sectional times: it is easier to run a quick sectional off a slow tempo and, as a rule of thumb, sectionals have a correlation to distance - i.e. an average-run 1,200m will produce a faster final 400m than an average-run 1,800m race in the same class.
Naturally, there are myriad variations on that but for the sake of looking at the Classic Cup, that's all we need to understand.
So, Frederick Engels has had the ideal scenario to return the fastest sectional of the day - we are talking just his time not his finishing position - a slow tempo, a high-quality horse, a short distance and no exertion until he straightened for home.
On the other hand, Designs On Rome has taken off after less than 1,200m of an 1,800m race run at a reasonably even tempo, burning up gas even before he hit the mark from where he closed his race out over a length faster than Frederick Engels closed his out.
Horses like Military Attack and Akeed Mofeed can finish middle distance races off that fast, but not faster, and we haven't seen either of them do it yet circling the field from before the 600m. That is a true sustained sprint.
In most of the past 10 seasons, Able Friend or Designs On Rome would now - solo - be a hot favourite for the grand final, Derby day. In many years, hot favourite wouldn't cover it - we'd be looking at prohibitive odds-on.
In the context laid out above, Able Friend's final sectional of just over 22 seconds would have made him a standout in the Derby too, but this year we still have a contest because both of them will be there.
The extra distance of the Derby screams Designs On Rome, but distance isn't everything. The Derby is a completely different style of race.
The Classic Mile and the Classic Cup are both a lengthy straight run to the first and only turn, while the Derby has two turns and an unforgiving start almost straight onto the first 600m bend. They tend to be more eventful races as a result.
As was highlighted in previewing the Classic Cup, whenever the Derby winner had been in that race the Derby winner had also been beaten in it in every year - except 2011 when Ambitious Dragon burst onto the Group scene in the Classic Cup then swept the boards.
There isn't much doubt the Derby winner ran in Sunday's Classic Cup, but there will be another tactical showdown between Berry and Moreira on March 16, on a completely different field of battle.
And full credit to Moreira, a class act, who was not stinting in his praise of Berry's ride despite being beaten on Sunday, the kind of credit the beaten jockey is not always ready to give.